/ Source: The Associated Press
A massive drilling machine called Sissi is about to chew through the last few inches of rock standing in the way of the creation of the world's longest tunnel.
The expected completion Friday of the 35.4-mile Gotthard Base rail tunnel is being hailed as an environmental triumph as much as an unprecedented engineering feat.
The $10 billion tube bores through the Gotthard massif, including the 8200-foot Piz Vatgira, along the route to Italy. It's part of a larger project to shift the haulage of goods from roads to rails, spurred mainly by a concern that heavy trucks were destroying Switzerland's pristine Alpine landscape.
Swiss voters, who are paying over $1,300 each to fund the project, approved its construction in a series of referendums almost 20 years ago and will have to wait several more before it is ready for rail traffic.
Conservationists say the money was worth spending even if after 23 years of construction it will only shave one hour off the time trains travel between northern Europe and Italy.
"The Swiss love their mountains," said Thomas Brolli. The former journalist is a campaigner with the group Alpen-Initiative, which claimed a surprise victory in 1994 with a referendum to limit the number of heavy goods trucks allowed to cross the Alps each year to 650,000 — halving the current load — within two years of the tunnel's opening.
"Every Swiss has a link to the Alps, whether they were born there or go there on holiday," said Brolli.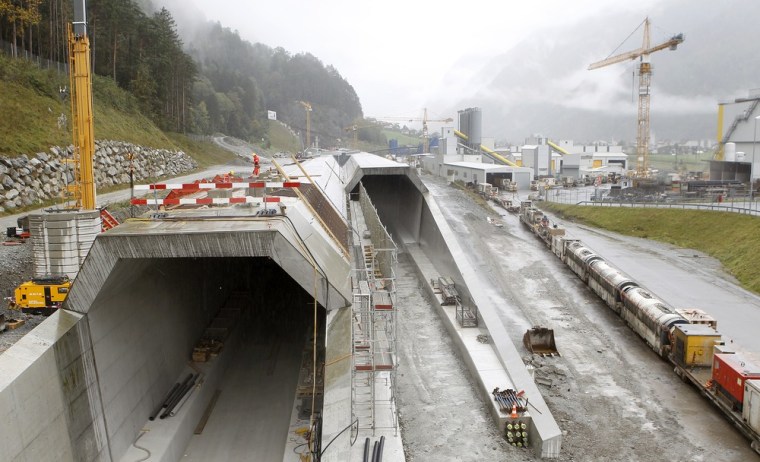 Some 1.2 million trucks currently thunder through Switzerland's mountainous countryside every year, harming rare plants and animals while adding to the erosion that is the Alps' worst enemy.
With their beloved mountains crumbling, the Swiss decided that instead of simply stopping foreign trucks from passing through the country they would put their tunnel-building expertise to good use by completing a plan first conceived over 60 years ago.
When it is opened for traffic in 2017, the Gotthard Base Tunnel will supplant Japan's 33.5-mile  Seikan Tunnel as the world's longest — excluding aqueducts — and allow millions more tons of goods to be transported quickly through the Alps by rail.
A further $14 billion is being spent on a series of shorter tunnels and high-speed rail links that will ultimately allow high-speed trains from Germany to continue on through to Italy at up to 155 miles an hour, making rail journeys increasingly economically competitive.
For European transport ministers, who will be watching the breakthrough ceremony live Friday from a meeting in Luxembourg, the project represents the first of a series of major rail tunnels meant to take the strain off congested Alpine road links. A second would connect Lyon, France, to Turin in Italy, while a third would largely replace the Brenner road tunnel between Austria and Italy — currently one of the main transport arteries through the Alps.
Those projects are still a long way from completion and could yet be derailed by spending cuts as European governments scramble to fill holes in their budgets rather than drill new ones into the mountains.
Although Switzerland has weathered the financial crisis better than most of its neighbors, cost considerations might have tipped the scales had there not been a strong concern for the future of the mountains.
"I am full of admiration for the Swiss ability to combine a modern advanced economy with pristine Alpine beauty, even when it is expensive to do so," said Jeffrey Frankel, an economics professor at Harvard and former Clinton adviser. "I suspect no other country would have paid for this project."
According to Brolli, the conservation campaigner, green ideas were inserted at every step of the tunneling process.
Some of the 459 million cubic feet of rock hewn from the mountain — enough to fill 13 Empire State buildings — are being used to restore Alpine lakes that were dredged for gravel.
And warm water, which flows deep under the mountains and can reach 122 degrees Fahrenheit, will be used to run fish farms, with one entrepreneur even hoping to provide Switzerland's own source of sustainable caviar.