/ Source: msnbc.com staff and news service reports
Islamic insurgents including a suicide bomber stormed Chechnya's Parliament on Tuesday, leaving at least four people dead and 17 injured in one of the most brazen attacks on the provincial capital in months, officials said.
Ten years after the latest separatist war in the volatile region in southern Russia and after a decade of roundups and disappearances of Islamic suspects, it appears that Chechnya's Kremlin-backed administration still can't stop separatists from trying to blow up Parliament.
Three rebels burst into the parliament compound in the Chechen capital of Grozny at 8:45 a.m. local time as deputies arrived for work and began the attack, which lasted until government forces stormed the building.
One blew himself up and two others went on the rampage inside, spraying bullets around as they screamed "Allahu Akbar" ("God is Greatest"), a Reuters source who spoke to a witness at the parliament building said.
The remaining two attackers holed themselves up on the ground floor and then blew themselves up when forces loyal to Chechen leader Ramzan Kadyrov stormed the building.
While Reuters reported that at least four were killed, The Associated Press reported at least six, with t wo police officers and one parliamentary official killed in the attack and at least two insurgents slain in the ensuing firefight, according to unnamed officials.
'Security and stability' in Grozny? Russian Interior Minister Rashid Nurgaliyev, who was in Grozny for talks with Kadyrov about recent violence, said the insurgents had tried to get into the main parliamentary hall.
"As always, they failed. Unfortunately, we were not able to avoid loss of life," he said in a televised speech. "The situation we saw today is extremely rare. Here, there is stability and security."
Russian news agencies said six of the wounded were police and 11 were civilians.
An AP reporter at Parliament saw ambulances take away two bodies, along with the severed head of an insurgent.
Earlier reports said the attackers had taken hostages, but officials later dismissed that information. Russian media also reported earlier that a separate group of attackers stormed the Ministry of Agriculture building.
Shooting erupted near the office of the parliament's speaker, Interfax reported, citing a security source. The speaker, Dukvakha Adburakhmanov, was unharmed, the news agency said, citing one of its sources.
The storming of Parliament appeared to be part of a larger, coordinated attack. Russian media reported that insurgents also attacked the Agriculture Ministry building in the same complex.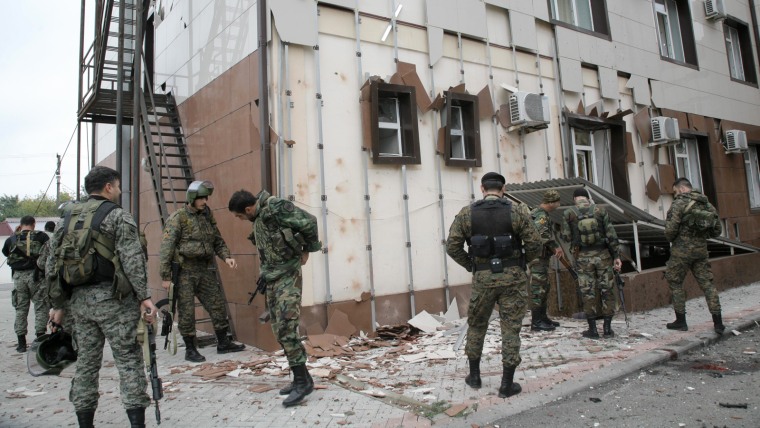 Islamist insurgency
Russia's leaders are struggling to contain a growing Islamist insurgency in the North Caucasus, a strip of impoverished, mainly Muslim provinces along predominantly Orthodox Christian Russia's southern border.
The Kremlin had declared victory in its battle with Chechen separatists following two wars in Chechnya to crush separatists since the 1991 fall of the Soviet Union.
The federal government has poured money into rebuilding Grozny, which was devastated in the wars, and Kadyrov boasts that Chechnya is more peaceful than the neighboring regions of Dagestan and Ingushetia.
Lawmakers decided not to cancel Tuesday's parliament session in Grozny despite the attack. Interior Minister Nurgaliyev spoke before the lawmakers, insisting the rebels' days were numbered.
"The leadership of the insurgent underground has practically been taken out. A significant portion of its arms supplies and financial resources have been cut off. The work of emissaries from foreign terrorist centers has been contained," he declared.
Kadyrov recently has boasted that peace has returned to Grozny. Human rights activists, however, say the price has been too high, because Kadyrov's administration has backed extra-judicial killings, kidnappings and torture under the pretext of fighting extremism.
President Dmitry Medvedev said last November that strife in the North Caucasus was Russia's biggest domestic problem.
Human rights activists say the Kremlin has relied for far too long on local leaders and security forces whose heavy-handed tactics have exacerbated the insurgency.
Prime Minister Vladimir Putin's policy in Chechnya has been to back Kadyrov, a former rebel who switched sides at the outbreak of Moscow's second war in Chechnya.
"The bet on Kadyrov, who promised to place everything under control, proved wrong," said Yevgeny Volk, a political analyst at the Yeltsin Foundation, a Moscow-based think tank.
Both Putin and Medvedev spoke to Kadyrov by telephone about the attack, a sign of support for the Chechen leader. Kadyrov's spokesman was not immediately available for comment.
Local leaders say a mix of clan feuds, poverty, Islamism and heavy-handed tactics by law enforcement agencies has driven youths into the hands of rebels who want to create a Sharia-based pan-Caucasus state.
"The potential of this insurgency is immense, it is constantly fostered by unemployment and poverty," said Volk. "In my view, the Kremlin has run out of ideas for a solution to this problem."