/ Source: The Associated Press
Any taxi can take you to one of Bangkok's glitzy new shopping malls, but you'll have to poke around and trod carefully down a crumbling, fetid old alley in a working-class district to find a true artifact of genuine Thai culture.
The neighborhood used to be a thriving community of makers of Khon masks, the keystones of ornate glittering costumes used in the stylized classical Thai dance form known as Khon. A street sign for tourists boasts of its glorious past, but most workshops in the Saphan Mai ("Wooden Bridge") area were shuttered years ago.
Come to a small, tin-roofed house some weekend, however, and you'll find 56-year-old Prateep Rodpai, one of Thailand's last traditional Khon mask makers.
The Khon tradition was imported from India around the 10th century. It evolved from a Hindu religious ceremony into a morality play in Siamese royal courts, and has since enjoyed royal favor. The cultural equivalent of Japan's kabuki, Khon used to be performed in important social functions such as funerals.
A typical Khon performance recounts an episode from the Hindu epic Ramayana, called the Ramakien in Thailand. Dancers dressed in glittering costumes perform carefully modulated acrobatic moves to classical Thai music,
The exquisitely painted Khon masks are essential to conveying the characters and moods of a Khon performance. But in a case of trickle-down culture, the masks are also used as decorative objects — displayed in many homes and even Thai restaurants abroad — and as objects of worship.
'I am the last one'
Prateep can usually be found most weekends at his Bangkok abode working on his masks as he waits for customers to pick up their orders.
"I am the last one to still be doing this here," said Prateep, noting that the food vendor whose stall is a few yards away had been a cutter of glass ornaments — a crucial element that gives Khon masks their sparkle — when he was a boy.
Though some years ago he followed most craftsmen to nearby provinces, moving his workshop to Ang Thong about 70 miles (110 kilometers) north of Bangkok, he still keeps a tiny space here, borrowing an old neighbor's room for storage.
"Some customers refuse to go all the way to Ang Thong to pick up the masks," he explains.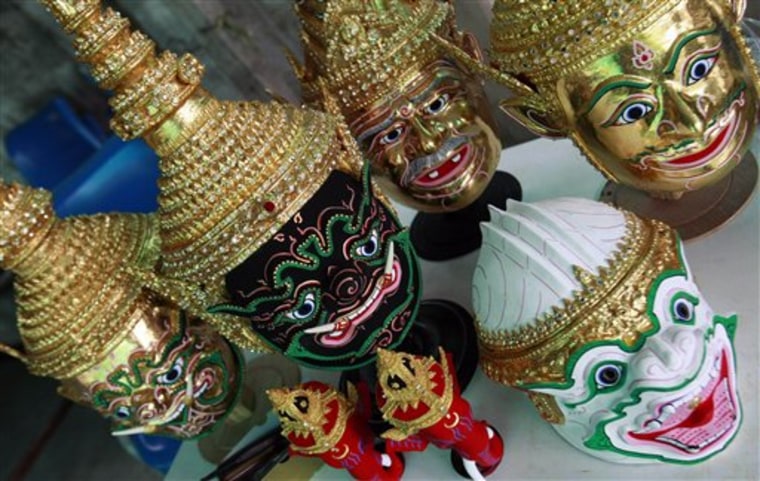 One recent rainy Saturday, Prateep sold three masks, all of them representing characters from the Ramakien. Two were for a Khon troupe and the other for a shaman to use in his ritual.
Some customers come from as far away as the United States. Prateep said that many Thai restaurants abroad display his masks. "Each culture has its distinct motif. And the Khon mask is probably most representative of Thai culture," said Prateep. "Masks do not have to be worn to retain their cultural significance."
In their Bangkok workspace, Prateep and wife Pinthip are putting the final touches to some masks, painting a spot here, gluing some ornaments there. The whole process is an intricate one, with the masks requiring three days to dry in the sun. He can work on two to three masks a day, if inclement weather doesn't back up the production line.
Prateep's uncle, the late Sakorn Yang-keawsot, a Khon performer more famous as a puppeteer, taught him the rudiments of Khon mask-making. Prateep still uses the formula passed down from his uncle for his clay — a mixture of rice powder, some paper starch, a pinch of calcium talc and plenty of cement; he keeps the proportions a closely guarded secret.
Chalermchai Chimchanvej, who rents Khon costumes to media productions and manages a troupe that performs at private functions, has been Prateep's customer for many years. "I come back for the quality. It much more difficult now to find masks with good value."
"We were lucky that factory-made Khon masks are impractical and not permeable," comments Prateep. "Only the handmade masks are breathable. So dancers prefer ours. That leaves us with some room to survive."
Sponsored by the queen
Fortunately for Khon, it can still count on Queen Sirikit, wife of King Bhumibol Adulyadej, as a major patron.
"Without Her Majesty's interest, Khon might have disappeared altogether," said Pramate, a Khon lecturer at Banditpatanasilpa Institute. "Gone are the days when you get Khon broadcast on TV in Saturday morning."
It was the 78-year-old Queen who footed most of the bills for this year's epic performance of Nang Loi, an episode from the Ramakien.
All seven performances of Nang Loi, sponsored by the Queen, were sold out in matters of days. It was so well-received that the organizer decided to put on nine additional performances this November.
Pramate said in days gone by, aristocratic families would sponsor their own Khon troupes as a status symbol.
"Since we're living in a capitalist society, art is (now) often seen in terms of profit and loss," Pramate said.
"While I was working on Her Majesty's Nang Loi production, the queen through her secretary thanked the performers for their sacrifice, knowing that these dancers could have been doing something more profitable, but chose to preserve this national art," he said.
The situation may be critical, but it's not hopeless.
Eight students between the age of 9 and 13 recently braved the morning rain to arrive at Bangpakok Primary School at 4 a.m. It was not so much the notorious Bangkok traffic jams that forced them to wake up so early dawn — the Mother's Day performance was scheduled at 11 — but the need for preparation.
Getting properly dressed for a Khon performance can take up to 45 minutes per student. There are 16 steps to fit a boy with his costume, and the clothes must be sewn on the spot, since there are no buttons or zippers.
The boys won great applause for their athletic performance of an episode in the Ramakien where monkeys — one of the many protagonists in the epic — show off their vigor.
Funding from the Bangkok city government pays for the students' costumes and masks. "A costume can cost as much as 20,000 baht (about $640). Without any state funding, all these talents and knowledge would go to waste," said teacher Pornchai Sripraram, who hails from a family of Khon performers.
"The renewed interest in Khon gives us a lifeline," says Prateep. "Without Khon performances, I won't have a livelihood. But without Khon masks, there'd be no Khon. That's the dilemma."
Without young blood, Prateep predicts his craft would be extinct in two generations.
"I hope that there will be a resurgence of interest in Khon. I believe deep in the heart of every Thai there's an urge to explore our past and identity, and Khon is part of who we are."