/ Source: The Associated Press
Election Day is already over for more than 3 million Americans, and a surprising number of them are Democrats.
Republicans clearly are gaining ground in turning out early voters compared with their showing two years ago, but figures from the first batch of states that offer clues about 2010 early voting patterns still give Democrats an edge in a number of states and big counties.
"If people thought the Democrats were just going to roll over and play dead in this election, that's not what we're seeing," said Michael McDonald, a George Mason University professor who tracks early voting nationally. "They've got to be feeling a little bit better with the numbers that they're seeing."
While it's impossible to tell for whom people are voting, so far more Democrats than Republicans are casting ballots in Iowa, Maryland, North Carolina, Louisiana and Nevada's heavily Democratic Clark County, which supplied two-thirds of the state's voters in 2008.
Republicans are flexing their organizational muscles and leading the pace in Florida, even though Democrats have the edge in registered voters there, and in Colorado. The parties are running about even in Maine. Ohio's early voting trends reflect the state's swing-voting status: Democrats are ahead in the party stronghold of Cuyahoga County around Cleveland, while Republicans lead in GOP territory of Hamilton County, which is home to Cincinnati. Ballots are virtually even in Franklin County, which anchors fickle central Ohio.
With 30 percent or more of all votes likely to be cast early, both sides are going all-out to lock in supporters' ballots early. And for the first time in a midterm election, they're combining traditional shoe-leather canvassing and get-out-the-vote rallies with technological tools like Facebook and text messaging.
Strategies run the gamut: In Washington state, Democrats held a "tweetup" to rein in young early voters. In Illinois, a voter-education group posted a YouTube video about the state's early-voting law highlighting the ability to vote naked — from the comfort of home, please. In Florida, Democrats e-mailed a notice that "Today is Election Day. No, that's not a typo, because every day between now and November 2 is Election Day."
Ground game vs. enthusiasm edge
With nearly every indicator in a new Associated Press-GfK poll pointing toward big GOP victories, the Democrats' ground-game advantage is squaring off against the Republicans' enthusiasm edge — and the outcome could determine who wins close races.
Democrats hope they can minimize sweeping coast-to-coast losses with a retooled get-out-the-vote operation that's been tweaked since Barack Obama's groundbreaking 2008 presidential campaign and tested during several special House elections the party recently has won. Republicans, by most accounts, have a less sophisticated program, but they are banking on their loyalists — as well as GOP-leaning independents and disaffected Democrats — turning out in droves simply because they are fired up to vote against the party in power.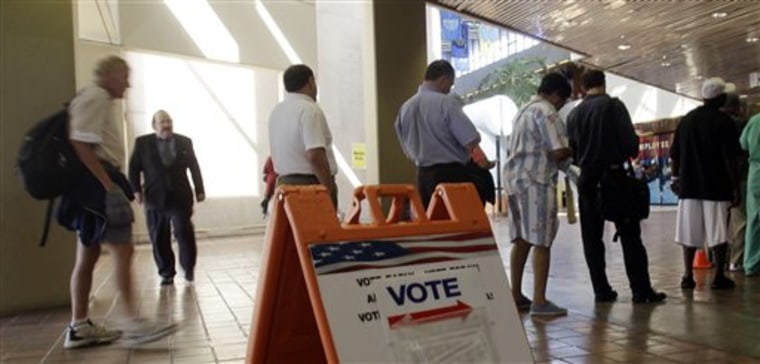 There's still plenty for the Democrats to worry about as they pore over early-vote statistics in places such as Nevada, where Senate Majority Leader Harry Reid is in a tough re-election race against Republican tea party favorite Sharron Angle.
While Democrats so far make up about 46 percent of those who've cast ballots in Las Vegas' Clark County, compared with 38 percent for Republicans, the Democrats' 8-point advantage is down from 22 points in 2008. And Republicans, who make up a third of the county's registered voters, are turning out in numbers that exceed their share of the electorate this time.
In Reno's Washoe County, where voter registration is about evenly split between the two parties, early voter turnout favors Republicans 47 percent to 40 percent. The two Nevada counties make up more than 80 percent of the state's electorate; the rest of the state's counties are sparsely populated and heavily Republican.
Ramped-up interest in early voting
Early voting also has been strong in a number of states that don't break down turnout by party. In California, for example, nearly 570,000 ballots have been cast. In Texas, 316,000 have voted, compared with 157,000 at this point in 2006, according to totals from the 15 counties with the largest number of registered voters. In Washington, where virtually everyone casts a mail-in ballot, the state estimates roughly 240,000 have voted.
"This is a phenomenon that's here to stay and it's going to continue to increase in popularity, even in the midterms," McDonald said.
Those looking to read the election tea leaves also keep an eye on which party's voters have submitted the most applications for early ballots.
Twenty days out from Election Day, requests for vote-by-mail ballots in Florida favored Republicans over Democrats 48 percent to 36 percent, with 16 percent coming from independents. But Democrats are quick to point out that vote-by-mail is an area that Republicans traditionally have dominated and where Democrats have narrowed the gap this year.
The big test in Florida will be whether Democrats can overcome that advantage now that in-person voting has begun, as they did in 2008, when they led among all early votes cast by nearly 360,000. The state GOP's first analysis of early voters Wednesday showed Republicans leading by nearly 130,000 ballots, far exceeding the party's showing in 2008.
Republicans were smiling in Colorado, too, where the number of Democrats on the state's list of permanent early mail-in voters has slipped by nearly 34,000 since 2008, while the number of Republicans has grown by nearly 22,000. So far, about 195,000 voters have cast ballots, with about 42 percent coming from Republicans and 36 percent from Democrats.
When applications for early ballots are parsed into smaller segments, Republicans see cause for cheer in tight House races.
Gentry Collins, political director at the Republican National Committee, said there are 71 vulnerable Democratic House seats where there is data available on absentee ballots. In 51 of those, Collins said, Republicans have requested more absentee ballots than Democrats for the first time in several elections.
Other snapshots of early voting:
—In Iowa, more than 189,000 people have cast ballots, about 46 percent of them Democrats and 38 percent Republicans. That's a somewhat narrower gap than the Democrats' 11-point advantage in registered voters.
—In Maine, about 31,000 people have voted, roughly evenly divided between Democrats and Republicans, although Democrats have a 5-point advantage in registered voters.
—In North Carolina, more than 220,000 people have cast ballots. Democrats account for 44 percent of votes cast so far, about matching their overall voter registration percentage. Republicans comprised 38 percent of votes cast through Wednesday, outpacing their 32 percent representation in the entire electorate. The Democratic numbers fall far short of two years ago, when Democrats cast 51 percent of all early votes.
—In Louisiana, more than 33,000 people have voted, 47 percent Democrats, 43 percent Reupblicans.