With just days left before midterms, the search is on for clues about the races that could help decide which party is holding the House gavel come January. 
In one of those contests, Indiana's 2nd Congressional District, the campaign can be reduced to a simple formula — a contest between organized labor and the Tea Party.
Labor is backing the incumbent, Democratic Rep. Joe Donnelly, while Tea Party activists and other conservatives are pushing for his Republican challenger, state Rep. Jackie Walorski.
As in many other House races, dueling television spots are creating a media din. Still, the decisive difference may be not advertisements, but which side talks to more voters in person and makes sure they cast their ballots.
The race is one of several contests that should serve as early indicators on election night,  suggesting the forces at play that, if predictions hold, would change the dynamics of Washington for the next two years.
A big Republican wave — as national polls are suggesting — could pull a candidate, like Donnelly, down to defeat. But if he beats Walorski, Democrats may have reason for hope as results spread West on election night.
Until this week, the nonpartisan Cook Political Report had rated this race "Lean Democratic," but on Wednesday it moved it to the tossup category.
Donnelly, who first won this seat in the Democratic wave of 2006 by ousting Republican Chris Chocola, "is still in better shape than many other Democrats in comparably GOP-leaning districts in the industrial Midwest, but even internal Democratic polling shows him with a mid-single digit lead under 50 percent," the Cook report said.
Democratic sources in Indiana say the Donnelly campaign for months has run door-to-door canvassing and phone banking and, as Election Day gets closer, will have "a very aggressive" get-out-the-vote effort.
Getting out the vote in Kokomo
As a powerful ally, Donnelly is counting on the power of the United Auto Workers, which has mobilizing expertise that goes back to the 1930s in Indiana.
"We have had 40 to 50 people in leadership putting in 40 hours each over the last several weeks doing phone banking, handing out literature, and putting in yard signs," said Rich Boruff, the president of the UAW Local 685 in Kokomo which represents workers at the city's Chrysler transmission plant.
The federal aid to Chrysler that Donnelly voted for as part of the $14 billion domestic car industry rescue has allowed the 4,200 members of local 685 to keep working. Without it, Boruff said, Chrysler "would have been liquidated and there would have been no (UAW local) 685. Kokomo would have been crushed."
Indicating the close ties between the union and the Democrat, Boruff said, "Joe Donnelly announced his re-election campaign from our podium right in our union hall. He has stayed in contact with us better than any politician in history. I'm a second-generation Chrysler worker and I used to see (1980s Democratic congressman) Jim Jontz at the plant gates when I was picking my mom up with my dad. We haven't had a congressman treat us as well since then."
Tea Party newcomers campaign for Walorski
For her part, Walorski can count on the newly energized partisans on the right. Tom Grimes, founder of the St. Joe County Tea Party Patriots, said, "99.9 percent of the Tea Party is behind her."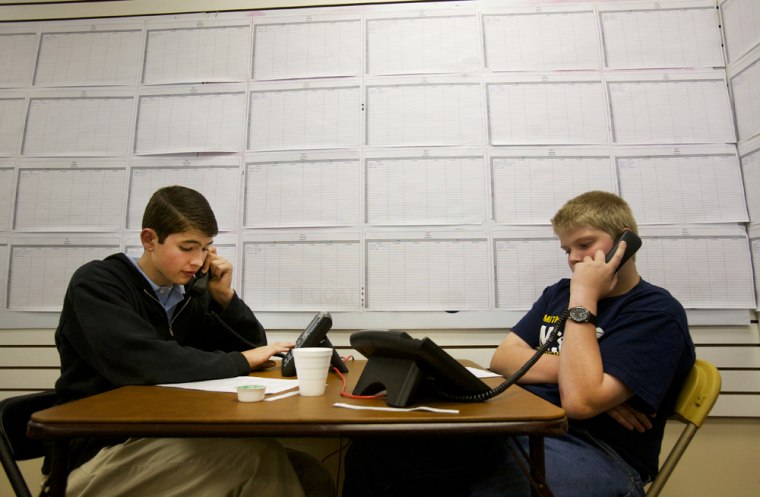 Like many Tea Party members, Dick and Mickey Mechling, who live on 10 acres outside of Monticello, Ind., say they have never worked on a campaign before. They were inspired to take action after meeting Walorski at a gun rights rally.  (The National Rifle Association has endorsed Donnelly.)
The Mechlings have been working the phones for the Walorski campaign once a week throughout the election season. Dick Mechling is also training to work at the polls for the first time on Nov. 2.
At a Walorski campaign office in Mishawaka, Ind., on a recent Monday evening, about a dozen phones were staffed by a group of friends and family of Tim Wesco, a protégé of Walorski who is running for her seat in the state legislature.
Some of the canvassers, calling on behalf of Walorski and Republican Senate candidate Dan Coats, were students as young as 7th grader Noah Hanlon.
Advantages for Republicans
Indiana Republicans have three major advantages this November.
One is the still-ailing economy. Despite high-profile stimulus spending such as the electric truck project President Barack Obama touted on his trip to northern Indiana in 2009, the 11.4 percent unemployment rate in the largest county in Donnelly's district, St. Joseph County, is nearly unchanged from last year.
Another factor favoring the GOP is a Democratic president who has only a 40 percent approval rating in Indiana, despite narrowly winning the state two years ago.
The third is state legislative contests being decided right before the legislature is to redraw the lines for congressional districts using the new Census data. With a gain of just three more seats in the state house, the GOP would entirely control redistricting in Indiana, putting the Republicans in position to draw maps limiting Democrats to only two U.S. House seats instead of the five they hold today.
Tea Party activists are especially keen on beating long-serving Indiana House Speaker Pat Bauer, who represents a district in South Bend. They have mobilized for Duane Beals, a former missionary and professor of religion at evangelical Christian Bethel College in Mishawaka, who is running against Bauer.
Acknowledging Obama's unpopularity, Donnelly has run TV ads putting distance between himself and the president.
A TV spot which Donnelly aired in August featured a photo of Obama, House Speaker Nancy Pelosi, and House Republican Leader John Boehner. In the ad Donnelly said he favored stringent measures to deter illegal immigrants and to punish businesses that hire them. "That may not be what the Washington crowd wants, but I don't work for them. I work for you," Donnelly said in the ad.
(Despite this distancing from Pelosi, Donnelly's campaign has taken $7,000 from her campaign committee and her leadership PAC.)
Donnelly's support for Obama program
On most of the significant votes since Obama become president, Donnelly voted for his agenda: for the stimulus, the health care overhaul, the "Cash for Clunkers" plan, and the overhaul of financial industry regulation.
In 2008 Donnelly also voted for the Troubled Asset Relief Program, or Wall Street bailout, as did Obama.
Walorski says flatly, "I'm not in favor of the government bailing anybody out."
Donnelly split with his party on global warming as one of 44 House Democrats to vote against the cap-and-trade plan to curb greenhouse gas emissions.
The Walorski-Donnelly battle ranks in the top 20 among House races for the amount of money from outside independent groups being lavished on it.
Groups such as American Crossroads have hit Donnelly with a barrage of TV attacks. American Crossroads has just finished airing a $147,000 ad buy in the district, with a TV spot slamming Donnelly's votes siding with Pelosi and Obama.
Another group, the 60 Plus Association, has run ads reminding voters of Donnelly's vote for the health care overhaul.
In the summer of 2009, Donnelly signaled that he was reluctant to vote for a comprehensive bill, saying that it might be better to pass an incremental bill rather than an all-inclusive overhaul.
The 60 Plus ad says Donnelly "betrayed Indiana's seniors. Instead of protecting us, he supported Nancy Pelosi's liberal agenda. Donnelly voted for Pelosi's health care bill, which cuts $500 billion from Medicare. These cuts will hurt the quality of our care."
The nonpartisan Congressional Budget Office has estimated that the law will cut $430 billion from Medicare spending over the next ten years.
Like many Republicans in this election cycle, Walorski has offered herself as the uncompromising smaller government candidate: "This Constitution that I have raised my right hand to defend is under direct assault and I will not stand for it."
To be sure, Donnelly and Walorski offer voters a stark choice. A Walorski victory in this district, which Obama carried with 54 percent of the vote in 2008, would be a clanging statement that much has changed since then.
Msnbc.com's Kari Huus contributed reporting to this story