/ Source: msnbc.com staff and news service reports
The victim of a fatal shark attack at a beach northwest of Los Angeles cried out to his friend for help as the shark flashed out of the water with no warning, bit into his leg and pulled him under in a tide of red blood, the friend said Friday.
Matthew Garcia was two feet away from his friend, 19-year-old Lucas Ransom, when the shark attacked with no warning, he said. The whole attack lasted seconds while the pair were bodyboarding about 100 yards from the shore.
"When the shark hit him, he just said, 'Help me, dude!' He knew what was going on," Garcia told the AP. "It was really fast. You just saw a red wave and this water is blue — as blue as it could ever be — and it was just red, the whole wave. Even the barrel was red."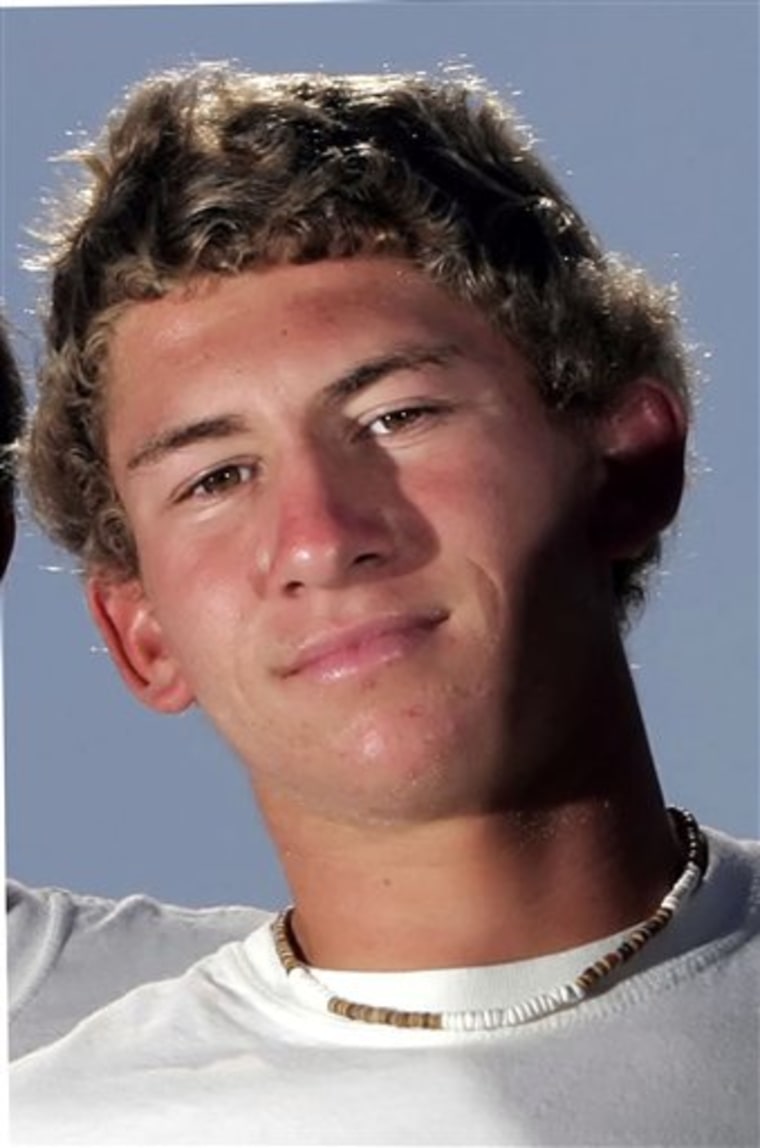 As huge waves broke over his head, Garcia tried to find his friend in the surf but couldn't. He decided to get help, but turned around once more as he was swimming to shore and saw Ransom's red body board pop up. Garcia swam to his friend and did chest compressions as he brought him to shore.
Ransom already appeared dead and his leg was mauled, he said.
"He was just floating in the water. I flipped him over on his back and underhooked his arms. I was pressing on his chest and doing rescue breathing in the water," Garcia said. "He was just kind of lifeless, just dead weight."
The University of California, Santa Barbara, junior had a severe wound to his left leg and died a short time later at Surf Beach, the Santa Barbara County Sheriff's Department said in a statement. The beach, 130 miles northwest of Los Angeles, is on the property of Vandenberg Air Force Base but is open to the public.
Sheriff's deputies patrolled the coastline to search for Ransom's missing leg but were only able to recover the boogie board, which had a 1-foot segment on the side bitten off.
Ransom was from Romoland in Riverside County, in southern California.
Federal and state Fish and Game officials were working to identify the type of shark that attacked Ransom. -
Officials closed three beaches after the shark attack.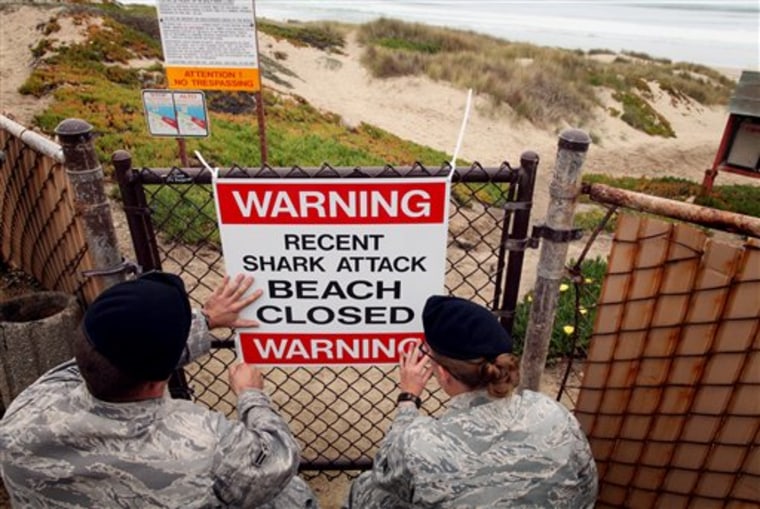 The victim was a University of California, Santa Barbara student studying chemical engineering.
Federal and state Fish and Game officials were working to identify the type of shark that attacked. It was described by witnesses as being 14 to 20 feet in length.
Officials at Vandenberg closed Surf, Wall and Minuteman beaches for at least 72 hours, Lt. Ann Blodzinski told the Santa Barbara Independent.
In September 2008, base officials issued a 48-hour warning to beach users after a shark bit a surfer's board at Surf Beach, according to the Santa Maria Times. 
Base officials said at the time that they believed it was the first shark incident off Vandenberg, the newspaper reported.
Fatal shark attacks are rare in the area. A great white shark killed a woman in 2003 at Avila Beach, about 30 miles north of Vandenberg.
Great whites also killed two men in 2004 and 2008 at beaches in Mendocino and San Diego counties.