/ Source: The Associated Press
Zoo Atlanta's 13-year-old giant panda is pregnant with her third cub and expected to give birth early next month.
An ultrasound examination has confirmed that Lun Lun is pregnant. If all goes as planned, the mother's cub would become the only giant panda born at a U.S. zoo so far this year, said Rebecca Snyder, curator of mammals for Zoo Atlanta.
Snyder said the panda is expected to give birth in about two weeks and has been under round-the-clock monitoring since Monday.
"We're thrilled," Snyder said. "Giant panda reproduction is challenging, especially when you don't have pandas that breed on their own."
In June, Lun Lun was inseminated with sperm from her partner, Yang Yang, after the two had failed to mate. Her two previous cubs also were produced by insemination, leading to the birth of Mei Lan in 2006 and Xi Lan in 2008.
The zoo said Lun Lun was exhibiting changes associated with pregnancy, including eating very little and sleeping most of the day. Giant pandas typically eat up to 30 pounds of bamboo daily.
Pandas sometimes act pregnant even when they are not, which can keep zoos guessing until the animal actually gives birth. But Snyder said this was the first time the zoo has been able to use an ultrasound to confirm a pregnancy with Lun Lun.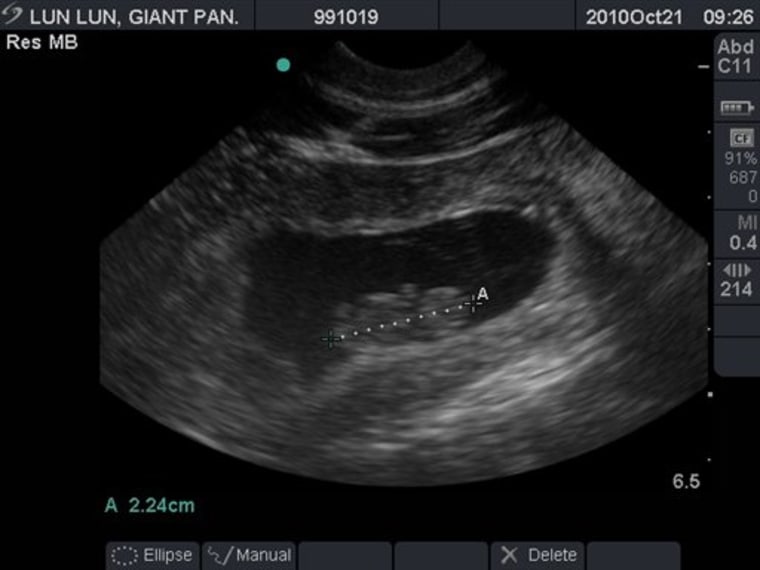 The panda is trained to cooperate with medical procedures and tests, but refused those steps during her last two pregnancies.
Zoo Atlanta is one of only four U.S. zoos with the endangered animals. The others are in San Diego, Memphis and Washington, D.C. Researchers estimate only 1,600 to 3,000 of the endangered species remain in the wild, and another 200 in captivity.