/ Source: The Associated Press
The three opponents of Democratic gubernatorial candidate Frank Caprio criticized him in a televised debate Tuesday for saying President Barack Obama can "shove it," with one calling him a "knucklehead" and another saying he acted like a "petulant little child."
The debate, co-sponsored by WPRI-TV and The Providence Journal, was the first for the candidates since Caprio said Monday that Obama could "take his endorsement and really shove it" after he learned the president wouldn't endorse anyone in the race.
Obama, during an interview Tuesday with American Urban Radio Networks, said he understood Caprio was upset and downplayed Caprio's comments, calling them "not a big deal."
The White House has said the endorsement decision was made out of respect to Caprio's independent opponent, former Republican Sen. Lincoln Chafee, who made a high-profile endorsement of Obama before Rhode Island's 2008 Democratic primary. Caprio, the state's general treasurer, endorsed Hillary Rodham Clinton.
The candidates are vying to replace term-limited Republican Gov. Don Carcieri on Nov. 2.
'You're not behaving like a governor, Frank'
Republican John Robitaille said Caprio's response was immature and compared the reaction to that of a "petulant little child" who doesn't get his way.
"I would never disrespect our president the way this man did," he said. "You're not behaving like a governor, Frank."
Chafee was less harsh, calling the comment unfortunate and regrettable and saying it reflected poorly on the state. Moderate Party candidate Ken Block went further, calling Caprio an "absolute knucklehead" but also saying there was too much focus by the media on things that don't matter to voters.
As Caprio has done several times since he first made the remark on WPRO-AM on Monday morning, he defended himself.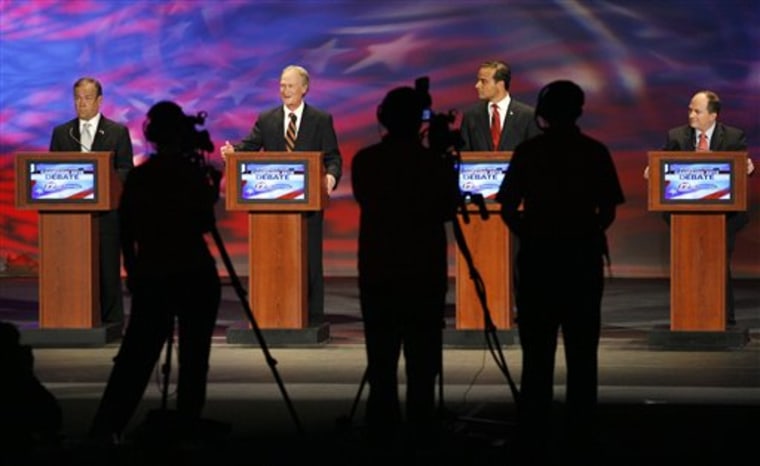 "It was a political answer to a political action the White House took," he said, adding that when it came to politics, "words like that are not uncommon."
Later in the debate, the candidates were asked to give a grade to Obama. Caprio and Chafee rated him an incomplete, and Robitaille gave him a D.
"We're going backwards as a country," Caprio said. "We have unemployment that's just been way too high here in Rhode Island and across the country."
Chafee releases ad featuring Obama
Chafee on Tuesday tried to capitalize on his ties to Obama by releasing a new TV ad that features Obama on stage in 2008 talking in glowing terms about Chafee's stand against the war in Iraq. Chafee said he didn't ask the White House's permission before running the ad, which also features independent New York City Mayor Michael Bloomberg praising Chafee's leadership and integrity.
Chafee is trying to build a broad coalition of voters in a state that went 63 percent for Obama in the 2008 general election. There have been no reliable polls in the race, but Chafee and Caprio have led in fundraising and name recognition. Caprio has raised $2.7 million and has been helped by more than $1 million in TV ads from the Democratic Governors Association just this month.
Chafee has loaned $1.6 million to his campaign but has not had the help of outside groups. Robitaille has trailed in fundraising but recently got the help of the Republican Governors Association, which this week started running more than $400,000 worth of TV ads.
Caprio continues to maintain he never asked for Obama's endorsement in the race, even though the White House said otherwise.
White House: Caprio asked for endorsement
White House senior adviser David Axelrod told MSNBC on Tuesday that Caprio asked for the endorsement, and a White House official told The Associated Press that Caprio e-mailed on Oct. 7 seeking a presidential campaign visit. The official demanded anonymity to speak about a private conversation.
Caprio's campaign manager, Xay Khamsyvoravong, told the AP that Caprio e-mailed Axelrod on that date. Khamsyvoravong didn't release a copy of the e-mail but read it to the AP.
"I would like to speak with the president about making a stop on my behalf when he is in Rhode Island," the e-mail said in part, Khamsyvoravong said.
He maintains that was not a request for an endorsement but simply was a request for the president to make a stop with Caprio.