/ Source: NBC, msnbc.com and news services
Yemen on Sunday freed a woman held on suspicion of involvement in a plot to send parcel bombs on U.S.-bound planes after her arrest sparked protests by her fellow students.
"Another woman had used her name and ID. Authorities are looking for that woman," the government official said.
Governments, airlines and aviation authorities around the world are reviewing security after two parcel bombs sent from Yemen were intercepted on planes in Dubai and Britain on Friday. The bombs had all the hallmarks of al-Qaida, U.S. officials say.
Yemeni police late on Sunday released Hanan al Samawi, 22, a female computer engineering student suspected of mailing the packages. She was detained Saturday after her telephone number appeared on one of the packages.

Police said the release was conditional and she could still be taken in for further questioning.

According to a Yemeni security official, at least five other suspects have been arrested and interrogated since Saturday over who might be behind the mail bombs and a number of employees of the shipping companies, including two from FedEx, are being investigated.

Yemen is also asking for more information from Saudi Arabia, which the U.S. said provided the tip-off which thwarted the bombing.
Earlier Sunday, the lawyer representing al Samawi said she was being set up, NBC News reported.
Attorney Abdul Rahman Barman confirmed that al Samawi's phone number was on the packages, but he said he believes it was used by some other entity, NBC News said. He also said al-Qaida does not leave obvious traces in its operations.
Several U.S. officials identified the terrorist group's top explosives expert in Yemen as the most likely bombmaker.
Passenger planes On Sunday, a spokesman for Qatar Airways said one of the two powerful bombs mailed from Yemen to Chicago-area synagogues traveled on two passenger planes within the Middle East.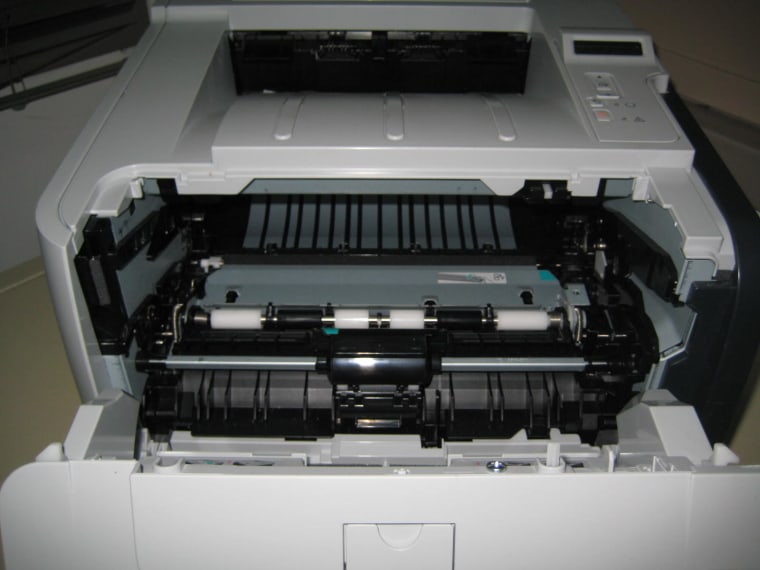 The airline spokesman said a package containing explosives hidden in a printer cartridge arrived in Qatar Airways' hub in Doha, Qatar on one of the carrier's flights from the Yemeni capital San'a. It was then shipped on a separate Qatar Airways plane to Dubai in the United Arab Emirates, where it was discovered by authorities late Thursday or early Friday. A second, similar package turned up in England on Friday.
The airline spokesman disclosed the information on condition of anonymity in line with the company's standing policies on conversations with the media. He did not give any timeframe for the two flights in question.
For its part, FedEx said the shipment originated in Yemen and was confiscated at its shipping facililty in Dubai.
The plot was the latest to expose persistent security gaps in international air travel and cargo shipping nearly a decade after the Sept. 11, 2001 attacks and showed terrorists appear to be probing those vulnerabilities.
"The security gap is now for things leaving Yemen," said Riad Kahwaji, head of the Dubai-based Institute for Near East and Gulf Military Analysis. "On the Yemeni said, they'll have a lot to answer for to regain their credibility."
In Washington, President Barack Obama's counterterrorism adviser said Sunday that authorities "have to presume" there might be more potential mail bombs like the ones pulled from planes in England and the United Arab Emirates.
Al-Qaida's offshoot in Yemen is suspected of mailing the bombs. The group was behind a failed bombing on a Detroit-bound airliner last Christmas that bore some of the same hallmarks as this plot.
Deputy national security adviser John Brennan told NBC's "Meet the Press" that al-Qaida in the Arabian Peninsula was a "dangerous group."
"They are going to try to identify vulnerabilities in the system," he said.
Connection to Dubai crash?
Also on Sunday, investigators in the United Arab Emirates said there was no evidence a UPS jetliner that crashed in Dubai in September was brought down by an explosion.
The discovery of two parcel bombs sent from Yemen at airports in Dubai and in England on Friday led to speculation the UPS crash might have had a bomb on board.
The UAE's General Civil Aviation Authority said in a statement sent to state news agency WAM on Sunday that the wreckage and flight recorders showed no indication of an onboard blast.
It says investigators found no "acoustic evidence or any forensic signature supporting the detonation of an explosive device."
The cause of an onboard fire that preceded the Sept. 1 crash is unknown. Both pilots died.
Authorities on three continents thwarted the mail-bomb attacks when they seized explosives on cargo planes in Dubai and England on Friday. The plot sent tremors throughout the U.S., where after a frenzied day searching planes and parcel trucks for other explosives, officials temporarily banned all new cargo from Yemen.
It still wasn't clear whether the bombs, which officials said were wired to cell phones, timers and power supplies, could have been detonated remotely while the planes were in the air, or when the packages were halfway around the world in the U.S.
The packages were addressed to two Jewish institutions in the Chicago area. But British Prime Minister David Cameron said Saturday that he believes the explosive device found at the East Midlands Airport in central England was intended to detonate aboard the plane.
British Home Secretary Theresa May added that the bomb was powerful enough to take down the plane.
"I can confirm the device was viable and could have exploded. The target may have been an aircraft and had it detonated, the aircraft could have been brought down," May said.
A U.S. official said authorities believe a second device found in Dubai was similarly potent.
Christmas Day bomber
Al-Qaida's Yemen branch, known as al-Qaida in the Arabian Peninsula, took credit for a failed bombing aboard a Detroit-bound airliner last Christmas. The bomb used in that attack contained PETN, an industrial explosive that was also used in the mail bombs found Friday.
The suspected bombmaker behind the Christmas Day attack, Ibrahim Hassan al-Asiri, is also the prime suspect in the mail bomb plot, several U.S. officials said. Al-Asiri also helped make another PETN device for a failed suicide attempt against a top Saudi counterterrorism official last year. The official survived, but his attacker died in the blast.
"The forensic analysis is under way," Obama's counterterror chief John Brennan said Friday. "Clearly from the initial observation, the initial analysis that was done, the materials that were found in the device that was uncovered was intended to do harm."
Officials said the plot was discovered thanks to intelligence passed from Saudi Arabia. Without that tip, it's unclear whether anyone would have discovered the bombs before they were airborne — or on U.S. soil.
Currently, American officials do not get details about the contents of a U.S.-bound cargo plane until four hours before it's scheduled to land. In the case of long distance flights, those planes would already be airborne. Once a plane lands, officials screen packages that they feel warrant a closer look.
The failed attack should be a "wake up call" that the U.S. needs to step up security on cargo planes, the top Republican on the Senate Intelligence Committee, Kit Bond, said.
U.S. inspectors were heading to Yemen to monitor cargo security practices and pinpoint holes in the system.

An internal government report, obtained by The Associated Press, said the team of six inspectors from the Transportation Security Administration will give Yemeni officials recommendations and training to improve cargo security.