/ Source: msnbc.com staff and news service reports
A female rhino — the mother of eight — was slaughtered and her horns hacked off inside one of Africa's pre-eminent sanctuaries for black rhinos, the refuge reported this week.
"At 3:45 a.m. (last Saturday) gun shots were heard on the western boundary of the Conservancy," Richard Moller, chief conservation officer at the Lewa Widlife Conservancy in Kenya, said in a statement. "As morning light came, the tracks of four men were found coming from within the Conservancy. Our worst fears were realized when a freshly shot rhino carcass was found — the horns hacked off."
The rhino's baby calf "was also injured in the attack, and has suffered a minor wound to the neck," he added.
Nicknamed Stumpy, the rhino was at least 41. She was "Lewa's oldest female black rhino and one of the Conservancy's founding rhinos in 1984," Moller added. "She gave birth to eight healthy calves during her long tenure on Lewa — the most recent only 1½ years ago, surprising everyone by giving birth again at such an old age."
"This latest loss is a devastating blow to Lewa's conservation efforts," he said. "But in a country and on a continent that is being overwhelmed by rhino poaching (South Africa is currently losing rhinos to poaching at a rate of one a day), this incident reinforces the severity of the situation we face."
Indeed, in South Africa a critically endangered black rhino shot nine times by poachers last month was moved to a zoo in Johannesburg.
The 5-year-old will stay at the zoo until she recovers from her wounds, which may take six months.
Although she had been dehorned so that she would be less attractive to poachers, the rhino was shot twice in the wild and seven times in captivity at a game farm.
Conservationists say rhino poaching has increased dramatically because of high demand for rhino horn in Asia, where it is used for medicinal purposes.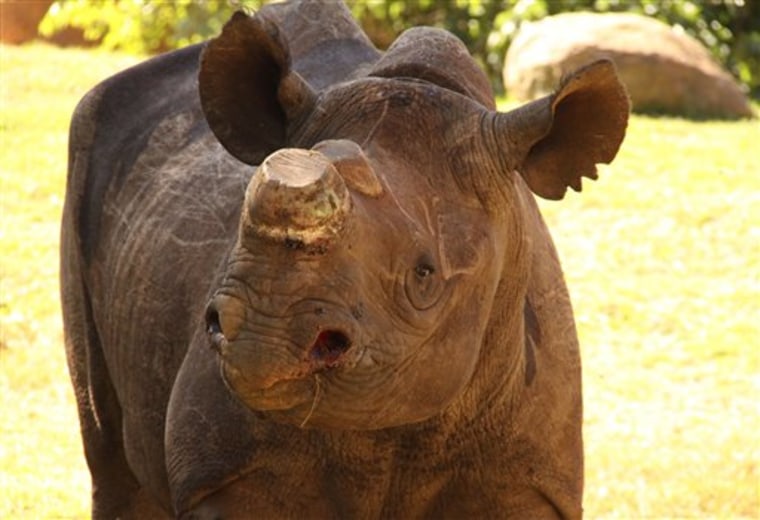 "The demand and price for rhino horn is staggering," Moller said. "As a result, no rhino sanctuary, not even one with the manpower and resources of the Lewa Wildlife Conservancy, is immune from poaching."
Moller ended his statement on what he called "a positive note" — a new birth.
"On the same day that Stumpy was poached, a rhino was born, bringing our total population back to 117," he said. "Lewa is, and will remain, a stronghold for black and white rhino in Kenya."
The conservation group says Kenya's black rhino population had been around 20,000 but has fallen to fewer than 300. The Lewa refuge encompasses 62,000 acres.