Religious and political ties have bound Russians and Serbs together for centuries, but nowadays there's a good deal of Slavic diplomacy taking place in the kitchens of Moscow, where chefs who created delicacies for Josip Broz Tito, the former Yugoslav strongman, are finding culinary success.
"Tito liked meat on the bone," said Smilja Petojevic, the Yugoslav leader's last kitchen hire before he died in 1980. "He was a true gourmet, but he liked simple things, too."
Petojevic spoke from the small café, Macchiato, which she runs in a downtown Moscow business center. She and Macchiato's Russian owners plan to expand to a dozen outlets in the Russian capital.
The menu is a mix of traditional Russian fare influenced by Petojevic's studies at Yugoslavia's top cooking institute, now located in Slovenia, a former Yugoslav republic that broke away, along with Croatia, Bosnia and Macedonia, when the federation overseen by Tito collapsed in the early 1990s.
A recent meal began with a walnut and cabbage salad smothered in vinegar, followed by a beef-based borsch. The entrée, grilled chicken and beef filets under a creamy mushroom sauce, would have been to Tito's liking, Petojevic said.
Tito at the table
At 48, Petojevic is nostalgic for the years she spent with Tito, who rose from a peasant background to the pinnacle of communist power in Yugoslavia.
He took pride in his large kitchen staff, which lavished upon guests at state dinners. His hankering for cinema brought stars to his residence on the Adriatic coast, where a sub-command of his Belgrade kitchen prepared the best cuisine in the country.
At 18 and fresh out of chef school, Petojevic became the youngest to join Tito's staff. She quickly became the president's favorite, as well. She traveled tens of thousands of miles with him, on state visits to Europe, China and North Korea.
"Tito always said his best meals were prepared by me," Petojevic gushed to guests eating recently at her café. "He treated everyone on the same level. It wasn't like you were speaking to a head of state."
In 1977, in the Far East Russian town of Irkutsk, Petojevic enjoyed her first taste of Russian food on Soviet soil. Local chefs taught her how to make pelmeni, or Russian dumplings.
The young Milosevic
It was also during that period as Tito's culinary doyenne that Petojevic made the acquaintance of a budding Yugoslav diplomat named Borislav Milosevic, who also worked closely with Tito. Another Milosevic brother, Slobodan, is perhaps better known. Ousted as president of Yugoslavia in 2000, Milosevic is now defending himself against war crimes charges in The Hague.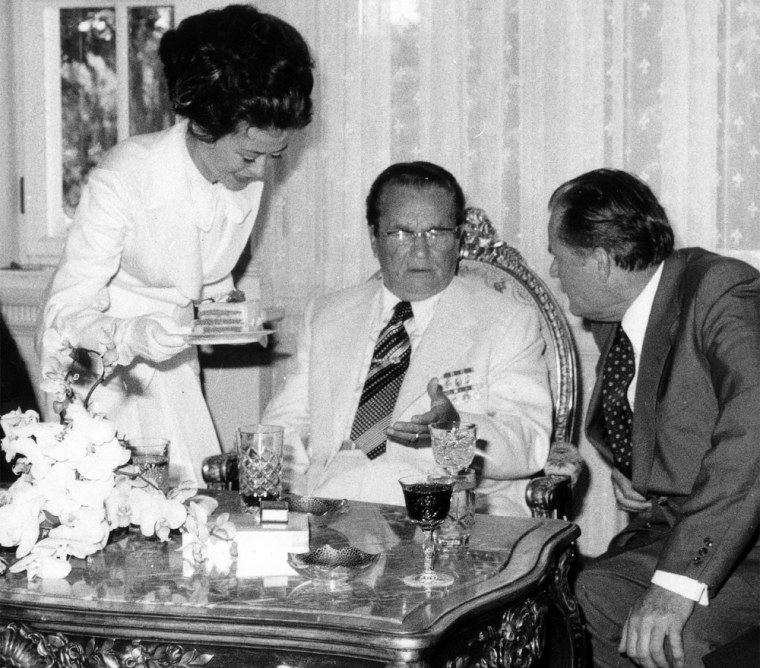 Borislav Milosevic, a fluent Russian speaker, has lived in Moscow for over a decade, serving for several years as Yugoslavia's ambassador to Russia until his brother's fall from power.
As a young Yugoslav Russophile, Milosevic translated during several tense meetings between Tito and Soviet leader Leonid Brezhnev during the Soviet Union's 1968 invasion of Czechoslovakia.
Milosevic today is characteristically mum on his brother's nationalist policies, blamed for tens of thousands of deaths in the Balkans, but remains a chatty guest over several vodkas and down home, Tito-style Yugoslav cooking.
"Tito truly loved Smilja," said Milosevic over lunch at Macchiato. "She was his darling."
Feast of fortune
Across town, at Moscow's mammoth Rossiya Hotel, Sava Vukoev, a wiry and efficacious host, welcomes Russia's nouveau riche to the Diamond Hall, a four-story entertainment center with a strip club in the basement and a banquet hall for hundreds upstairs.
Tito's banquet chef for 13 years until the Yugoslav leader's death, Vukoev now does a brisk business with everyone from Moscow's mayor, Yuri Luzhkov (who rivals Tito in grandiose style) to Josef Kobzon, Russia's version of Frank Sinatra (Kobzon is banned from visiting the United States because of his alleged ties to the Russian mafia).
Twenty-four years after Tito's death, Vukoev reveals a Yugoslav state secret.
"Tito was diabetic, and I was in charge of making sure he didn't eat something he shouldn't," the neatly dressed Vukoev says in a whisper. So as not to reveal the Yugoslav leader's health problems, all courses were served to him along with other diners at state dinners -- but the courses Tito could eat were placed on upside-down plates, so they were raised slightly above the other food, Vukoev said.
The Russian market
So why Russia?
There are obvious Slavic cultural, religious and linguistic ties between Orthodox Serbs, Macedonians and Russians. Tito was from Catholic Croatia, but that didn't stop him from promoting Yugoslavia as a multi-ethnic, communist utopia, where Orthodox Christians, Catholics and Muslims lived in peace.
When that grand idea began to fall apart with Croatia's declaration of independence in 1991, Tito's chefs found themselves embroiled in the ethnic splits that led to four wars in a decade.
Petojevic's departure from Yugoslavia was a result of the 1995 Croatian offensive that expelled tens of thousands of Serbs from Croatia's Krajina region, including her parents. "Our apartment in Belgrade was too small, so my husband and I accepted jobs in Moscow. In the end, our children grew up here and it was easier to stay."
Serbia and Montenegro, the remaining republics, held onto the Yugoslavia name, but ditched it unceremoniously last year. Their loose union is called simply Serbia and Montenegro.
During the turmoil, Vukoev says there was simply no work in Belgrade, which suffered heavily under international sanctions imposed on the Milosevic regime.
Although official statistics are not available, Milosevic, the former ambassador, estimates around 50,000 former Yugoslavs live in Moscow. But almost all Vukoev and Petojevic's clients are Russian.
"It's my cooking that they like," says Petojevic, who plans to publish a cookbook of recipes she prepared for Tito.
Prison fare
Russian television recently aired a long documentary of Tito's life, and his former chefs were called upon to remember their most important boss.
Borislav Milosevic, for his part, recalls Tito entertaining the head of the East Germany government, in 1978.
As the delegation was tucking into a luncheon feast, Milosevic, watching from the wings, suddenly felt hungry.
"So I asked the chef what was prepared for the staff. He brought me a bowl of traditional Serb bean soup." Tito happened to look over and see his young aid eating.
"What is that?" he demanded, halting conversation with the East German leader. The Yugoslav leader then ordered soup for all his East German guests.
So what does former Yugoslav President Slobodan Milosevic, occupying a small cell in The Netherlands, like on his dinner table?
"(When he was president) my brother liked turkey stuffed with cabbage," Borislav Milosevic says. "But in prison, he says the food is for the dogs."