/ Source: TODAY contributor
On the outskirts of Phoenix, in a lonely strip mall bordering an American Indian reservation, one chef freely admits eating his anti-arterial entrees seven days a week will put you in an early grave.
This is both fact and farce. It's also a dash of "brilliant marketing," even one nutritionist acknowledges. Ready to visit the Heart Attack Grill in Chandler, Ariz.? Then strap on your bib and have a defibrillator handy.
On the front door of the 100-seat, retro-themed establishment, a "warning" from the Surgeon General urges: "Go away. If you come in this place, it's going to kill you." Patrons (referred to as "patients") must don hospital gowns and medical bracelets. "Prescriptions" (not orders) are written by women dressed in tight, short nurse uniforms. At the grill, owner Jon Basso flips burgers bedecked in doctor's scrubs as a stethoscope hangs from his neck and a cigarette dangles from his mouth.
The menu: "flatliner" fries, full-sugar colas, unfiltered Lucky Strike cigarettes, and four sizes of meat towers ranging from the "single" to the "quadruple bypass burger." If you finish the biggest meal, a nurse will push you to your car in a wheelchair.
Want more? There's always more at the Heart Attack Grill.
People who weigh more than 350 pounds eat for free. The restaurant's spokesmodel is a 600-pound former college football player. The diner's website shows an enlarged, pulsing heart while bragging that the food is "worth dying for." And a Heart Attack Grill may soon be coming to a city near you. Like his customers, Basso is looking to expand.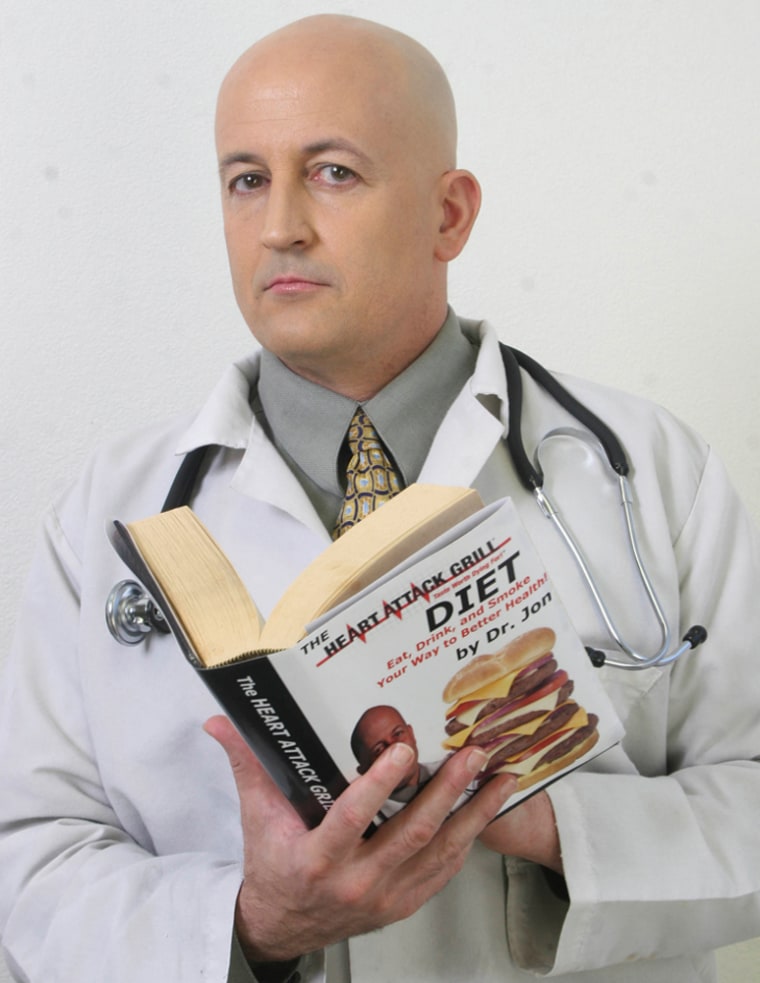 Dietitian and TODAY contributor Joy Bauer says she understands the restaurant's sales tactics, calling them "hilarious and different," and she acknowledges that healthy eaters occasionally allow themselves to feast on decadent foods.
"What I have a problem with is they are exploiting and celebrating unhealthy gunk," Bauer says. "To celebrate and promote unhealthy food is terrifying. It's so sensational, and they're having such a fun time promoting it, they are going to draw people in."
'Throwback' to a bygone eraBefore you dub Basso a fiendish, fat-hawking flake, and maybe even a sexist shill, let's peek behind the curtain — or, in this case, behind the chef's lard-splattered apron. Because one word the menu doesn't contain is the single most important ingredient in Basso's diet plan: satire.
"It's the world's longest ongoing performance of a costume party," says Basso, who opened the grill in 2005. "We're providing dinner theater for the common man. Our demographic is 'Marty Crane' [the father figure] from the TV show 'Frasier.' This is a place where Marty can go in and laugh. It's a throwback to a time he remembers when menus were simple, when there was a good, solid sense of sexism in the world — meaning nurses are pretty women, doctors are males; and, in fact, that doctor may smoke a cigarette and think it's perfectly normal. That's the world we provide."
OK, now that you've soaked up and digested his business theme, consider another tasty morsel: Basso used to own a chain of Jenny Craig Weight Loss Centers and he was a personal trainer. But when Oprah Winfrey told her audience that she was accepting her natural size, Basso had a brainstorm.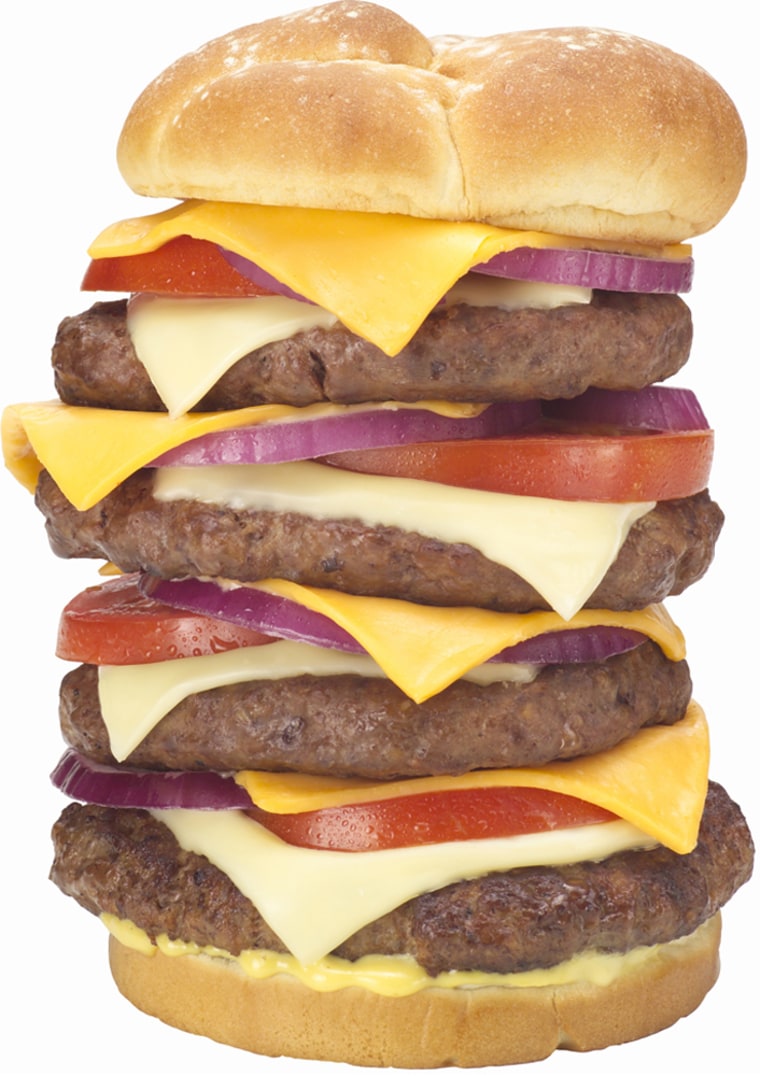 "My background is in trying to motivate people to better themselves. Strangely enough, I think that I'm now doing more to motivate people to better themselves," Basso says. "I'm giving them a more realistic outlook and reason to smile, laugh and have fun. I do recall some of the people being on a diet who were fighting such depression due to the fact that they couldn't stick to the diet, that there was a yo-yo syndrome. I've kind of let them — quote-unquote — come out of the closet and simply be themselves as the imperfect beings that we all are.
"The primary gimmick [in this grill] truly is honesty," he adds. "And that's a gimmick that's very rare in the United States these days because we're so sales oriented, we stretch the truth as far as we can legally."
Sad and absurd — or all natural?Dietitian Bauer says Basso's background makes the restaurant's theme that much more disturbing.
"Here's someone who used to work in the nutrition and fitness industry helping people get healthier, and now he's selling them food that makes them sicker," Bauer says. "It's a particularly sad example of the ways that people are manipulating our current obesity epidemic to make news and drive a profit."
Basso contends that his ingredients are all natural — not processed — and that if customers split a "single-bypass burger," that is "probably the healthiest meal they're going to have all week." He emphasizes, too, that he doesn't "pander to kids" like some large, fast-food chains — although children are offered candy cigarettes at the Heart Attack Grill.
"Of course, one burger won't kill you," Bauer agrees. "And I suppose it is about the whole restaurant experience. But as a nutritionist, it's hard to swallow for obvious reasons. It's fine to splurge once in a while. But this is just absurd."