/ Source: The Associated Press
Two women and an 11-year-old boy were stabbed to death and dismembered before their remains were placed in a hollow tree, a coroner said Saturday, confirming the fears of many in this tiny Ohio town where the three went missing.
Preliminary autopsy reports show that Tina Herrmann, her son Kody Maynard and her friend Stephanie Sprang were attacked with a knife and stabbed multiple times in the back and chest, Knox County Coroner Jennifer Ogle said.
"They were then placed inside large plastic garbage bags and later lowered into the hollow of a large tree," Ogle said in a statement.
They were attacked on Nov. 10 and there were no signs of sexual assault, she said.
The search began on Nov. 12 after Herrmann failed to show up for work two days in a row and a co-worker who went to check on Herrmann at home found the place spattered with blood. Three days later, Herrmann's 13-year-old daughter, Sarah Maynard, was found bound and gagged in the basement of a home.
Matthew Hoffman, an unemployed tree-trimmer, is accused of kidnapping the girl and keeping her for nearly four days in the basement of his home in Mount Vernon, about 10 miles west of Howard.
Hoffman gave information that led investigators to the bodies of the others, Knox County Sheriff David Barber said, and he is the only suspect in the killings. His attorney has declined to comment.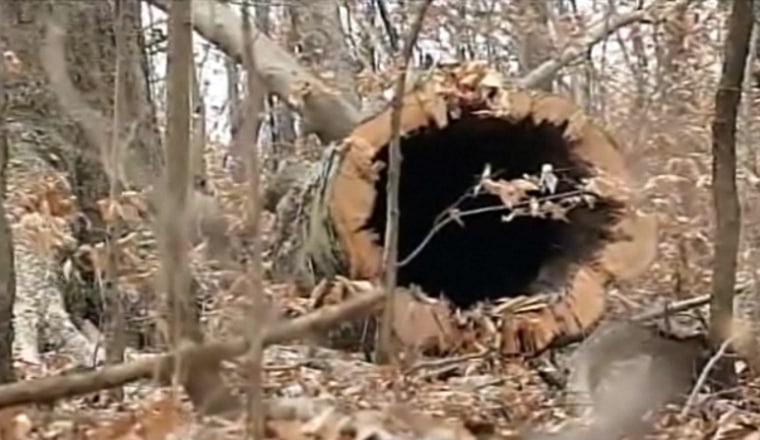 Authorities have said all three were killed in Herrmann's home in Howard, about 40 miles northeast of Columbus, in a lakefront neighborhood called Apple Valley.
Joe Pejsa, 45, said the family was told by investigators that the remains of the family dog — a miniature pinscher named Tanner — were found in the tree along with the bodies.
Pejsa, the uncle of Herrmann's former live-in boyfriend, said he was the first person allowed inside the home after investigators cleared the scene. He said he brought bottles of bleach to clean blood from the bathroom so that his nephew wouldn't have to see it.
"It was terrible," he said of the blood. "Everything led back to the bathroom."
Pejsa said the family has been moving some of the furniture out of the home and has hired a company to gut some of the rooms.
"Greg has no intention of coming back to this place," he said of Herrmann's former live-in boyfriend, Greg Borders, who is staying with Pejsa.
Pejsa said the family believed someone was watching them before they were killed. Several months ago, they saw a man in camouflage sitting on a stump across the street watching them, he said.
"There would be knocks at the door and people would take off," Pejsa said outside Herrmann's home.
He said Borders couldn't say for sure if the man on the stump was Hoffman, but he thought it was him.