The fraudulent bankruptcy of one of Italy's richest companies has been a shock to the system here like the Enron scandal was for America two years ago. 
Parmalat was such a success story that it was used as a model in European business schools. Now it will go down in history as Europe's biggest financial disaster as the latest numbers reveal that the debt is far worse than originally estimated. 
The name Parmalat stems from the northern Italian city of Parma and the company's primary product, milk, or "latte" in Italian.
The town of Parma is more familiar to us than we might think, famous for its gastronomic delicacies. It gives its name to Parmesan cheese, or "parmigiano," and to a type of ham called Prosciutto, the tasty cured raw ham, known here in Italy as Prosciutto di Parma, and in the U.S. as Parma ham.
It was a three-generation family business in Prosciutto production that gave a young Calisto Tanzi his start in 1960, when he went door to door selling to food retailers throughout the Emilia region.
Forty-four years later as the deposed chief executive of his publicly held multinational corporation, Calisto Tanzi sits in jail in Milan.
Tanzi's entrepreneurial break came with the Scandinavian-made Tetra Pak milk carton and a procedure called UHT, ultra high temperature, to produce long-conservation milk that doesn't need to be refrigerated. This milk became an instant hit all over Europe and even NATO orders it in massive quantities for the troops.
The success of the long-lasting milk enabled the company to become a leader in dairy production encompassing everything from yogurt to desserts, and less-developed countries like Brazil and Venezuela embraced the product, and the company, facilitating near monopolies for Parmalat in their own countries.
In the United States, Parmalat brands include Archway cookies and Farmland Dairies, a major milk provider in the Northeast.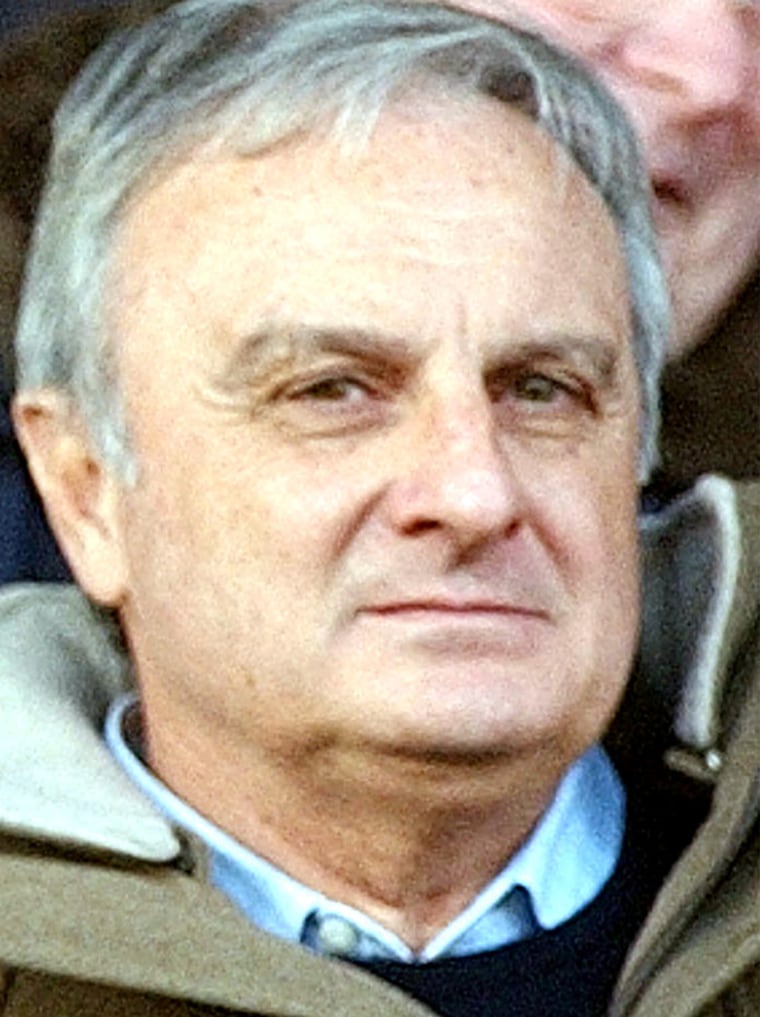 Modest man, Italian royalty
The Tanzi family became like royalty to the people of Parma, and yet because Calisto was never publicly pretentious the townspeople were fiercely loyal.

He was always a devout Catholic and would go to Saturday evening mass every week on foot along with his wife and kids. People said he was always accessible to regular folks, and that if anyone wanted to speak to him they would wait for him to come out of that church after six o' clock service.
Tanzi's personal style projected strong moral values and ethics. His was never a flashy, arrogant wealth. Coupled with his concern for the city and the power in being the largest employer in town, this modesty of character endeared him to the people.
The endearment turned to rapture when he bought the minor-league city soccer team and by pouring millions into it for star players and top coaches led it to the top of the highly competitive Italian league in just a few years. 
The ownership of the Parma soccer team became such a family passion that Tanzi made his eldest son Stefano its fulltime manager.
Soccer is almost a religion in itself in Italy so Tanzi's major-league miracle elevated his persona to divine status.  When his private jet would fly over Parma towns people referred to it as "l'areo di Dio," or "airplane of God"!
Vision of prosperity, all an illusion
Throughout these golden years no one had any idea that things at Parmalat were not what they seemed. Serious losses began due to failed ventures in the early 90's, after the company went public. It kicked off a  cycle whereby increasing losses were kept secret and bond offerings were held to raise more cash.
But all investors saw was a good stock supported by big underwriters and leading financial institutions. People would always need milk and Parmalat had 130 plants around the world and more than 36,000 employees.
Parmalat's fiscal shortfalls were being deeply hidden by an elaborate scheme of false financial statements and billings, tied to shell companies in the Cayman Islands and other tax havens, according to investigators. The bogus billings between these chains of holding companies would make it seem the company had assets and income that didn't really exist.
Chief Financial Officer Fausto Tonna was Tanzi's closest advisor and is believed to be the architect of the complicated cover up. He's been talking to investigators since his arrest on New Year's Eve.  He's apparently giving them everything they want but insists that he was just following orders.
Parmalat released new financial statements on Monday revealing that its net debt totaled more than $17.6 billion (14 billion euros), almost eight times the original figure reported by the food group's former top managers, most of whom have been arrested.
Auditors PriceWaterhouseCoopers, hired to check the multinational's books after they declared bankruptcy in December, also found that sales and core earnings figures had been highly inflated, Parmalat said in a statement.
So far, 11 people have been arrested due to the collapse of the company, but no one has yet been charged in the case.
Last Friday, Alessandro Bassi, an mid-level executive and former aide to Fausto Tonna, threw himself from a highway bridge in Parma, the company's hometown.
Town of Parma carries on despite fall of their 'god'
The quest for the truth will be a slow one, but the search for the missing billions is feverish.  Rumors of a secret bank account containing $7 billion are being denied by Bank of America, while many other accounts are surfacing around the world, belonging to Tanzi family members.
The sums being traced are in the hundreds of millions, but the mystery of how $18 billion dollars could disappear is still the big question. 
The city of Parma is described as collectively depressed and their "god" has fallen back to earth with a very rough crash. 
It may turn out that Tanzi was never able to let go of his "personal" ownership of the company after it went public.  Evidence shows that he continued to dip into the coffers for personal goals and wishes when losses were already running into the billions.
But for the people of Parma the fairy tale is being washed away forever by a tidal wave of "spilt milk."