Feb. 24, 2004 — "VOTE!" The Black-Eyed Peas shouted the word at the 46th Grammy awards a few weeks back. Coldplay's Chris Martin almost got into the same act that night. When the British group's song "Clocks" won a Grammy for Record of the Year, Martin dedicated the song to the late Johnny Cash, "and John Kerry, who hopefully will be your president one day."
They were tame statements as the Grammys go, but they point to a growing political self-assertiveness among musicians and music-savvy younger Americans not inclined to stand on the sidelines of this presidential election.
Using live and recorded music, rallies, online forums and Weblogs, Americans between 18 and 30 years old are going on the political offensive.
Against Bush's 'chaotic policies'
In recent months, two grass-roots groups — punkvoter.com and musicforamerica.org — have emerged to mobilize younger Americans to vote in this year's election, and they're using young voters' pop-cultural affinities for musical artists to do it. Both are unusually pointed in their agendas.
Their ability to enlist the discontents of the moment among younger voters could make the difference in a close election in November.
The Punkvoter project, based in Washington, D.C., and San Francisco, includes participation of bands such as Green Day, NOFX, the Donnas, Bad Religion, Anti-Flag, the Offspring, Mudhoney, Ministry and Good Charlotte, as well as a coalition of like-minded unsung musicians and several independent record labels.
Its Web site is an edgy, raucous mix of links, guest columns and cartoons. Punkvoter seeks to remove one of the last excuses for Americans not voting — not being registered — by including a link to download a national voter registration form.
The Punkvoter initiative isn't subtle -- the platform is clearly stated on the Web site: "Punk bands, punk labels and punk fans must form a union against the chaotic policies George W. Bush has put in place. He must be exposed."
Music for America makes a similarly partisan point, a little indelicate but unambiguous: "Youth of America -- Bush is screwing us and voting is the least we can do."
Both groups will use live events and recordings to get their points across: Punkvoter recently sponsored an informational gathering in Iowa just before the caucuses there in January, and plans to release "Rock Against Bush," a CD-DVD package including the music of 27 bands.

Music for America plans a late-February series of "Super Tuesday" concerts featuring Blackalicious, Modest Mouse, Built to Spill, De la Soul and other top acts. The shows are mostly earmarked for cities in states with Super Tuesday primaries -- New York, Boston, San Francisco, Oakland, Minneapolis and Atlanta.
More voting power in fewer hands
It's all a bid to to reach the millions of potential voters between 18 and 30 where they live and play. The potentially seismic impact those voters could have on the election is reflected by studies that show that younger voters are largely ignored by mainstream politicians and the parties they represent.
In part, it's because younger voters have smaller incomes, little or no real estate and relatively few tangible assets, and little or no voting record for mainstream political organizations to use as a basis for outreach or influence.
Another problem is that younger voters are notorious for not voting: 2002 figures from Youth Vote Coalition, a nonprofit organization, showed that only 13 percent of the voters between 18 and 30 turned out for that year's midterm election.
Apathy isn't specific to young voters. A report on the 2002 primary election by the Committee for the Study of the American Electorate found voter turnout in statewide primaries was 50 percent lower then in the late 1960s and early 70s.
But other recent reports show that the influence of older voters is growing disproportionately to their size of the population.
According to 2000 figures from the U.S. Statistical Abstract and the U.S. Census Bureau, just under 36 percent of the 64 million people between 18 and 34 years old voted in that year's election — half the percentage of actual voters between 65 and 74 years old. And that's despite there being more than three times as many younger Americans.
The trend, The Washington Post reported in October 2002, is toward the creation of "a distorted national politics in which the issues that dominate campaigns and Capitol Hill reflect an ever-smaller slice of the country."
Double duty
An underlying cynicism may be the cause. In the 2000 presidential election, Al Gore beat George Bush in the popular vote by 543,895 votes, according to Federal Election Commission statistics.
For younger Americans, the outcome of that election may have performed an ironic double duty -- galvanizing voter-outreach organizers, and reinforcing the belief among nonvoters that voting is useless.
"If young people don't vote, their issues don't get addressed, which further diminishes their incentive to participate in the process," Thomas E. Patterson, a political scientist at Harvard University, told The Washington Post.
It's what The Post called "a constituency-in-waiting" that Punkvoter and Music for America hope to reach in time for the November election.
For Molly Moon Lewis, Music for America's executive director, the organization's progress has been a lesson in both political and technological acumen.
Music for America started in October. "Before that we used to be a PAC started by a few friends in New York," said Lewis, 25. "We were really excited about the way that the Internet was moving toward people being able to organize, and how the Internet was facilitating meetings, not just chat rooms.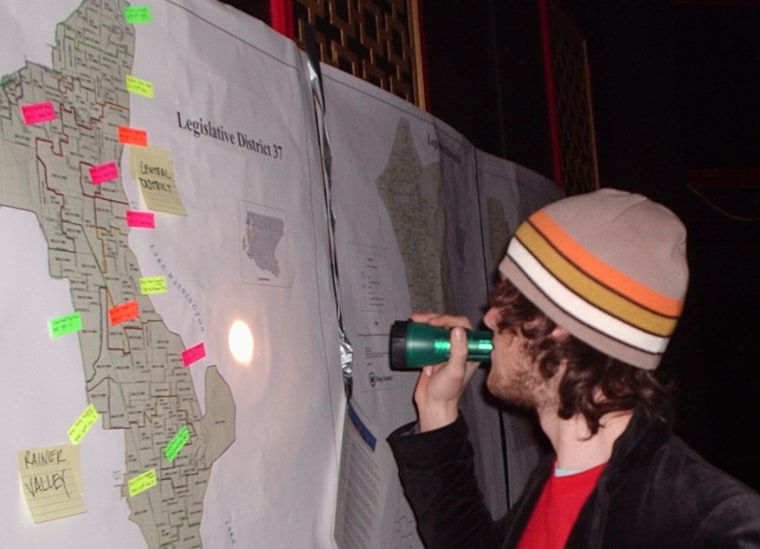 "We thought, 'Why not use the Internet organizing principle to throw concerts with a political message, but make it easy for people to become political without changing their lifestyles?"
Music for America has a young target audience in mind. "It's 18 to 30, but we also say it's for young voters and those who're young at heart," Lewis said.
The numbers for those logging on to the MfA Web site have been mushrooming. MfA said its site has garnered more than 3.5 million hits since the site went live in mid-October. The average daily site visits in February number 3,600, up from January's 2,150 visitations, up from December's total of 770.
Fabrication fatigue
Site users' chats and comments indicate there's a fabrication fatigue: "People are saying that they're sick of being lied to," she said.
"So much of politics these days is doublespeak, and it's happening on both sides of the aisle. The stuff with Bush, the weapons of mass destruction, the economy -- a lot of stuff is said but it doesn't seem to be true.
"It's even happening with John Kerry," Lewis said. "He's taken a lot of lobbyists' money in his day. People are disappointed with the process, the fact that honesty doesn't seem to be that great of a value in federal politics. People want to hear someone say what they think and then back it up in the lives they create."
"Our generation wants politicians to be fiscally responsible to them, because we have so much more to lose than any generation," said Lewis.
"And they want people who'll be socially open," she said. "This generation is very expressive, and doesn't want anyone saying what they can and can't express. Should Congress be introducing a bill to deal with what happened to Janet Jackson? Probably not but they are. Is that important for Congress to concentrate on? I don't think so."
Punkvoter political director Scott Goodstein finds there's no one single overarching issue behind the concerns of those who visit the site for political information. The economy? The war on terrorism? "Your guess is as good as mine," he said. "There's the shape of the economy, Halliburton giving money back to the government every other week ... there's not one issue to unite around anymore."
"The country is generally divided," Goodstein said. "There's so many different radical, partisan things going on, it's overwhelming for people to comprehend. We just keep pushing factual information. Punk kids are smart; they can read through it and make up their own minds."
More and more visitors
Demographically, "Punk kids" aren't necessarily the razor-thin slice of music fans crowding the mosh pits at concerts. "Obviously it's the 18-to-30 crowd, but we also have a base of older folks, a natural base constituency of music fans," Goodstein said.
From all indications, that constituency is growing fast on the Punkvoter Web site. "We're averaging 350,000 hits a day, over 8 million hits a month," Goodstein said. "More than 200 new people are coming to the site every day. That's done with virtually no dollars spent on advertising. I doubt there's any political Web site that gets as many hits as we do."
Punkvoter and Music for America are brandishing a newfound savvy about political fund raising. Both organizations are so-called 527 groups -- political nonprofit organizations formed to circumvent restrictions on political activity imposed by the McCain-Feingold campaign finance reform act.
A new study of the latest Internal Revenue Service filings for 527 groups shows they spent more than $72 million last year to influence federal elections. The 527s spending the most were Democratic groups formed to oppose Bush.
Music fans for change
There are other organizations with similar countercultural passions. One of the more well known, MoveOn.org, has had a knack for generating outrage with its print and TV ads. The Joint Artists & Music Promotions Action Committee, founded by former Nirvana bass player Krist Novoselic, seeks fair elections and instant runoff voting.
Others include Rock the Vote, a Los Angeles-based voter registration and education group that co-sponsored a Democratic debate in November, and Declare Yourself, a 4-month-old nonpartisan youth voter-registration and education project.
Lewis hopes to inspire without provoking people to perspire too much. For her, a little unexpected citizen input could yield dividends.
"It's not like anyone has to change their lives," she said. "We're not asking people to become crazy political action junkies. A lot of us are just music fans who don't like the direction the country's heading in, and wanted to do something about it."
While it's still to be seen if youth will be served at the polls, there may be signs of change. Business Week Online reported that the number of people under 30 who went to the Iowa caucuses in January was four times the number of those attending in 2000.
"The system has worked at other times," Lewis said. "The way to keep it working is with increase in voter participation. Look at the primaries this year. The participation has been phenomenal. If we can ramp that up even more, young people can control these elections. If they want to."