"Fight! Fight! Fight!"
Can you hear it? The three heavy weight contenders in the rock 'em sock 'em world of video gaming are duking it out in the center ring. And the crowds are going wild!
That's right folks, with the launch of Kinect earlier this month, Microsoft, Sony and Nintendo have found themselves gripped in a three-way prize fight for your motion-controlled gaming hearts and dollars.
Each of these companies has gaming gadgetry to offer you — gadgetry that will read your body movements and translate those movements onto the TV screen and into the game world before you. Nintendo has its Wii and its new MotionPlus-enhanced controller. Sony has its new Move motion control system for the PlayStation 3. And Microsoft is now offering its controller-free gaming device known as Kinect for the Xbox 360.
The question is: Which one of these devices should win a place in your living room this holiday season?
Here's a look at the three devices — their pros, their cons and a few games to consider. May the best device (for you) win.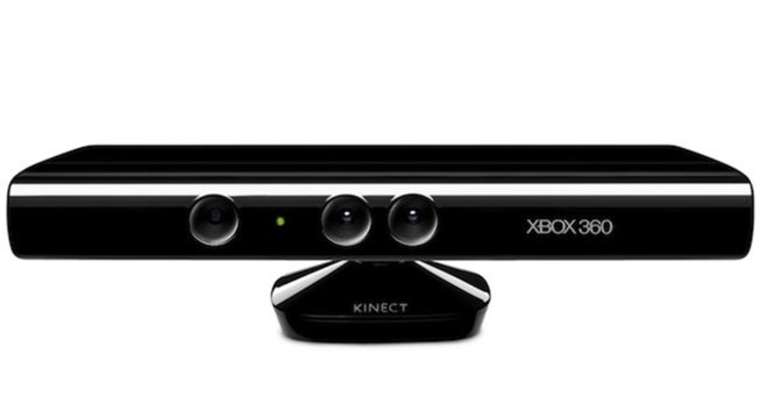 KINECT FOR XBOX 360
Xbox price: $200 for 4 GB hard drive version, $300 for 250 GB hard drive version
Kinect Price: $150
Bundle price: $300, $400 — includes Xbox, Kinect sensor and "Kinect Adventures" game
See for more pricing details
Pros: If you really want to wow your friends, your family or that person you're buying a gift for this holiday, Kinect is the device for you. It's the newest of the three motion-gaming products and one that lets you control your games, movies and music with hand gestures, body movements and voice commands. You hold no controller in your hand whatsoever.
Controlling your games with your entire body opens up some . Meanwhile, Kinect will make your Xbox 360 much easier for the younger, more casual or non-gamers in your house to use. They don't have to fumble with an unfamiliar controller, for example, when they want to play a movie with your Xbox. Instead, using voice commands, they can simply say "play," "pause," or "fast-forward."
Cons: Kinect requires more space in your living room than the PlayStation Move and the Wii to function properly (the recommended distance from sensor to player is at least 6 to 8 feet). Meanwhile, Kinect games available so far are largely casual games, fitness games and party games. And, so far, we haven't seen how Kinect's controller-free system might work in a game like, say, "Halo." Only time will tell whether developers and publishers come up with a wider array of Kinect-enabled games. Also, depending on the game, there can be something of a lag at times between your movements in the real world and when they're displayed on the screen or in the game.
Recommended games: "Dance Central," "Your Shape: Fitness Evolved," "EA SPORTS Active 2," "Kinectimals" (Check out our .)
Games to look forward to: "Child of Eden," "Michael Jackson The Experience," "Rise of Nightmares"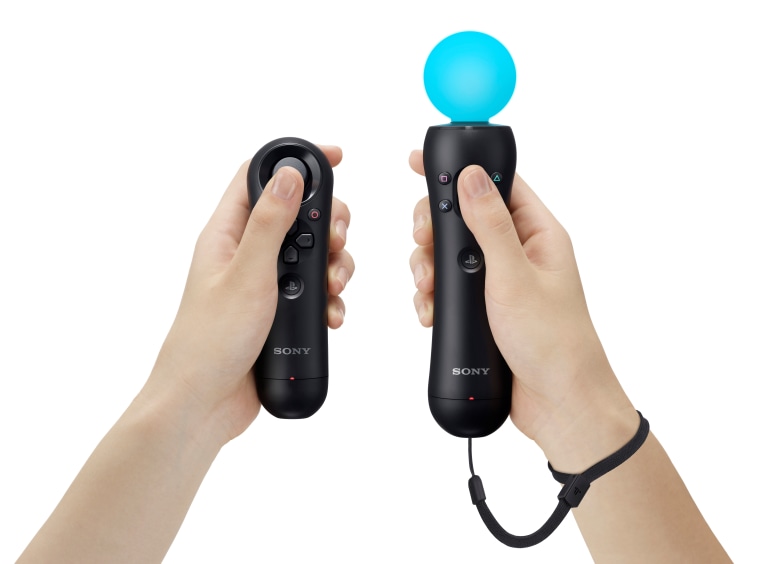 PLAYSTATION MOVE FOR PS3
PS3 Price: $300 for 160 GB hard drive version,$350 for 320 GB hard drive version
Move Price: $100 for a bundle with a motion controller and PlayStation Eye camera, $30 for a navigation controller
Bundle Price: $400 — includes 320 GB PS3, Move motion controller, PlayStation eye camera and "Sports Champions" game
See for more pricing details
Pros: While the Wii has been criticized for having frustratingly innacurate motion controls, the Move motion-control system has quite the opposite reputation, and for good reason. Sony's motion control system combines the PlayStation Eye camera with a wand-like motion-sensing controller (the one with the lighted ball on the end of it) and a navigation controller. With the camera and the motion-controller working together, the system tracks the controller's movements and replicates them on screen with a high degree of accuracy.
Meanwhile, unlike Microsoft's Kinect, Move has already shown that it's not only a great device for casual gamers but can also play nicely with hardcore gamers as well. I've given the forthcoming game using Move controls and they both made sense in the context of the gameplay and worked superbly. What that means is, Move is a winner for everyone in the household.
Cons: Sony has been accused of playing copy cat. After all, the Move's wand-shaped motion controller and navigation controller do look an awful lot like the Wii's controllers. And it's true, Sony is certainly following more closely in Nintendo's footsteps than Microsoft is. That being the case, Move may suffer from something of a Johnny Come Lately reputation. What that means is, Move just ain't as innovative-seeming or awe-inspiring as, say, Kinect. But you have to ask yourself: Is that what you're really looking for?
Recommended Games: "The Shoot,"
Games to look forward to: "LittleBigPlanet 2," "Killzone 3"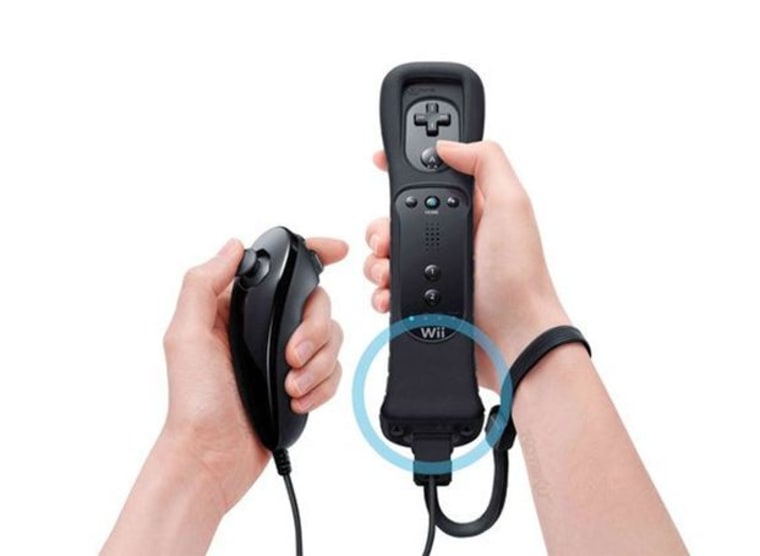 WII AND MOTIONPLUS
Wii Price: (sold in bundle only) $200 — includes Wii, Wii Remote Plus and Nunchuk controller with two games: "Wii Sports" and "Wii Sports Resort" or "New Super Mario Bros. Wii" and "Wii Sports"
MotionPlus Price: $20 for a MotionPlus add-on to a standard controller, $40 for a Wii Remote Plus controller with built-in MotionPlus
See for more details
Pros: Show some respect. Nintendo's Wii game machine brought this whole motion-controlled gaming craze to the masses in the first place. When the console launched in 2006 with its motion-sensing controllers, many people were skeptical (some even scoffed). And yet, the Wii has turned out to be one of the best things to happen to gaming, driving sales through tough economic times and pulling in people who would have never otherwise played video games.
In July 2009, Nintendo , which makes Wii Remote controllers capable of sensing movement far more accurately. You can buy it as an add-on to the standard Remote or you can buy the Remote Plus controller which comes with it built in. Meanwhile, with its four-year head start, the Wii has the most motion-controlled games to offer players by far — though the number of MotionPlus-enabled games is only a small portion of these. And the Wii certainly has the most family-friendly games on tap.
Cons: The Wii is an aging console and it's had something of a "waggle" problem. That is, the Wii has taken a lot of heat thanks to the fact that its standard Remote controller isn't the most accurate device in the world. You can swing that thing and, really, who knows how that movement might be translated on screen. But like I said, the MotionPlus device has helped correct this issue.
More importantly, the Wii has struggled with a reputation for being home to far too many truly lame motion-controlled games: too many party games or half-assed kids games. And Nintendo has weathered no small bit of who have felt like the Wii doesn't have enough to offer them. Microsoft would be wise to make sure it doesn't make some of these same mistakes with Kinect.
Recommended Games: " "Red Steel 2," "Tiger Woods PGA Tour 11," "FlingSmash" (which comes bundled with a Wii MotionPlus controller)
Games to look forward to: "The Legend of Zelda: Skyward Sword," "Conduit 2"
For a list of great holiday gaming buys, check out this roundup from our partners at Kotaku.com.
For more video game gift ideas, be sure to read:






Winda Benedetti writes the Citizen Gamer column for msnbc.com. You can follow her tweets about games and other things right here on Twitter.