It is a Sunday night in London's East End and the self-styled "most hated man in Britain" is holding court, reveling in his vision of a Taliban victory over America and a world under Islamic Shariah law.
The crowd of about 250 listens intently as Anjem Choudary issues a call to arms in the pristine surroundings of the newly refurbished art deco conference center, built to host weddings and business meetings.
"There are many battlefields," he says calmly into a microphone. "There's a battlefield outside 10 Downing Street [home to Britain's prime minister] and in the mountains of the Tora Bora [in Afghanistan]."
Any man who fails to fight, he warns, will face difficulty when the "angel of death" arrives and he is forced to explain to Allah why he did not raise his hand "against the oppressor" out of fear. "Allah will say to him, 'Am I not more worthy to be feared than them?'" Choudary says.
"Allahu Akbar!" the men shout out in unison, as if a war cry, during his speech. "Allahu Akbar." God is great.
A group of women, all heavily veiled and sitting in a screened-off area, remain quiet throughout.
As former leader of the banned Islamist organizations al-Muhajiroun and Islam4UK, Choudary was kept off the bill and appeared as the surprise star speaker at the rally.
His groups may be outlawed but, unlike his female followers, Choudary will not be silenced.
His message is one that echoes across Europe, which experts say is home to thousands of people who would wholeheartedly support Choudary's "ultimate objective" — the "domination of the world by Islam."
The majority of Muslims are not Islamists, who believe in a society based on Islamic law, and not all of the latter are seeking world domination or are willing to use violence.
But fear of another Islamist-inspired atrocity after Madrid in 2004 — 191 dead — and London in 2005 — 53 dead — remains high.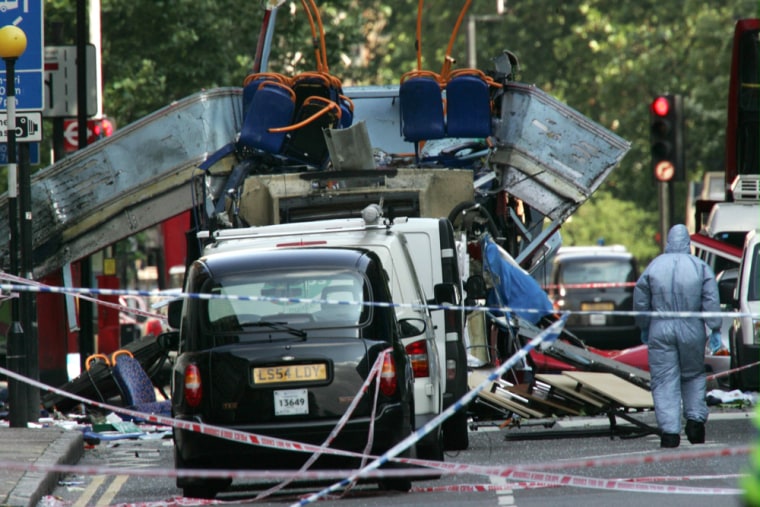 Rightly so, according to Dr. John J. Le Beau, a former CIA officer and now professor of strategy and security studies at Germany's George C. Marshall European Center for Security Studies.
"It's a mathematical certainty there will be a successful attack in Europe at some point," he told msnbc.com. "The amount of attempted plots we see is not decreasing. I think what we have seen is a ... strengthening of attempted attacks that in some cases have come pretty close."
Le Beau, who cautioned that putting a figure on the number of Islamists was a "soft science," estimated there were between 5,000 and 10,000 people in Europe "willing to engage in violence."
In 2007, the German Central Institute Islam Archive said there were 53.7 million Muslims living in Europe.
A backlash is growing. Support for the far-right in normally liberal countries like Sweden and the Netherlands is on the rise. French lawmakers voted for a ban on full face veils. Protest groups, such as the English Defense League which has been linked to soccer hooligans, have made headlines.
Le Beau warned of "an incipient clash of cultures." The consequences of another terrorist spectacular — intelligence reports recently warned an al-Qaida-linked group was planning to hit Western Europe with a commando-style raid like that on Mumbai, India — could be profound, he suggested.
"I could see that leading to a spontaneous violent reaction on the part of others. Could this spin out of control? Sure," he said. "I think that would be very dangerous because ... it runs the risk of sectarianizing or 'Balkanizing' Western Europe."
Europe is home to ancient conflicts. The Balkans, which includes the former Yugoslavia, has been the scene of intermittent religious strife stretching back to the fall of Constantinople, now Istanbul, to the Muslim Ottoman Empire in 1453.
After the fall of Yugoslavian Communism, a resurgence of ethnic tensions led to the 1992-1995 Bosnian War, during which 8,000 Bosnian Muslim men and boys were massacred by Bosnian Serb forces in a single act of genocide.
The U.K., far removed from such turmoil, has a long tradition of tolerating other countries' dissidents. In the 19th century, political philosopher Karl Marx took refuge in London after outraging authorities in his native Germany and France.
But that tradition has been frayed by the increasingly vocal presence of Islamists in the U.K.
'Crazies' flock to 'Londonistan'
In the 1990s, the city became so popular for Islamists fleeing authorities in Muslim countries that some commentators dubbed it "Londonistan."
Citing the WikiLeaks cables, that the future U.K. Prime Minister David Cameron told an American official in April 2009 that the former Labour government had "let in a lot of crazies and did not wake up early enough" to the danger posed by Muslim extremists.
Le Beau said while Choudary and others like him were unlikely to fight themselves, they were helping to recruit people to the cause who would.
"These groups are not the terrorist cells that are going to launch an attack," he said. "These are the groups that radicalize individuals and put them in the frame of mind where they might engage in an attack."
Richard Reid, the so-called "shoe bomber" who attempted to blow up a flight from Paris to Miami in December 2001, was radicalized after meeting extremists at mosques in London, his father Robin tearfully told BBC News.
Umar Farouk Abdulmutallab, a Nigerian dubbed the "underwear bomber" after being accused of trying to blow up a Detroit-bound flight on Christmas Day last year, studied at University College London. Yemeni officials told the BBC he became an Islamist in the U.K., although the British government has denied this.
And London's Finsbury Park Mosque, now renamed after a takeover by moderates, was once the power-base of radical cleric Abu Hamza, a former nightclub bouncer who organized a conference praising the 9/11 attackers. He was later sentenced to seven years in prison for inciting murder and racial hatred.
A reformed Islamist
Ghaffar Hussain once counted himself among London's Islamists.
His reaction to the Sept. 11 attacks was "well, so what?"
"I felt it was kind of redressing some of the imbalance," Hussain said. "'They've done this to the Palestinians by supporting the Israelis, this is the price you pay.'"
However, he now battles the Islamist ideology as head of outreach at a British counter-extremism think tank, the Quilliam Foundation.
"London is like the heart of the Arab world," Hussain said. "The political dissidents are all based here."
In the 10 years before 9/11, foreign Arab dissidents "set up shop and carried on doing what they were doing in their own countries: Preaching violent jihad," he explained.
They found a ready-made constituency of young, disaffected, second-generation Muslims who had "experienced racism when they were younger."
"Merge those two together and you have a recipe for disaster," Hussain said. "I was caught up in that ... and became active in my own area, doing speeches, giving out leaflets for about three years.
"I abhor any kind of extremism, anything that takes innocent life. I look back with surprise at the things I used to believe."
His "wild guess" on the number of Islamists in Europe was "less than 5,000 hardcore activists" with a further 20,000 to 30,000 people who are "broadly sympathetic at times."
Al-Qaida's propaganda gives an indication of where they believe support is strongest, Hussain said, as they tend to publish only in English and German, not French, Spanish or Dutch.
Fears of a terrorist attack may have recently gripped Germany, but Hussain said authorities there had not done enough to minimize the risk. Many of the 3 million Muslims there came as "guest-workers" and he said there had been little attempt to integrate them into society.
"Germany is a bit of a basket case. Those communities are very hard to penetrate. Guessing, I'd say it's probably not as bad as the U.K., but nobody really knows," he said.
Angry young men
As for Choudary, "he's got about 50 followers, all young men — I know some of them personally — very, very ill-informed," Hussain said. "All they know is they are angry about something."
Choudary has achieved infamy in Britain, particularly after announcing an Islamist parade through the town of Wootton Bassett, where local people have taken to lining the streets to pay respects to dead soldiers as they return home through a nearby air force base.
The event, which would have seen the Islamists carrying empty coffins to symbolize Muslims "mercilessly murdered" in Afghanistan, did not take place but still sparked public anger.
Given his rhetoric, some in Britain question Choudary's right to freedom of speech.
And the European Union is taking steps to limit the flow of Islamist propaganda, putting itself at odds with the U.S. and its adherence to the First Amendment.
Gilles de Kerchove, the EU's counterterrorism coordinator, said legislation would soon be implemented which would allow "even 'free speech' member states to shut down websites, to bring people to court when they cross the line."
"That's where we have a problem with the U.S.," he told msnbc.com. "Most of the neo-Nazi and most radical Islamist websites are hosted by U.S. servers."
The EU has invested millions of dollars on research to develop programs capable of monitoring the internet for the "automatic detection of threats and abnormal behavior or violence," the Sunday Telegraph reported.
According to de Kerchove, collecting more information about flights, passengers and cargo and using computer programs to analyze this data could prevent terrorist attacks.
The attempt to send bombs hidden in printers from Yemen to Chicago in October was detected by Saudi Arabian intelligence. However, a surveillance program might have red-flagged the shipment as a U.S. synagogue was likely to purchase office equipment closer to home.
"It's stupid to send a printing machine from Yemen to a synagogue in Chicago," de Kerchove said. "That does not make sense."
He insisted the danger to Europe remained real, despite the lack of a major attack since London in 2005.
"That's not because there's no threat. It's because the security services have been very effective," de Kerchove said, highlighting recent arrests in connection with an alleged plot to kill the moderate head of a Paris mosque.
Like Le Beau, he thought it likely that a significant attack would eventually slip through. "Since the threat is becoming more ... diverse and complex, it's not that risky to speak like this and say, 'It's not if, but when,'" he added.
Choudary, who rose to prominence in 1999 when media reports described him as a key figure in the recruitment of fighters for Islamist forces around the world, insists that his beliefs did not mean "I'm going to kill you."
'There will always be wars'
The mild-mannered Choudary told msnbc.com that some "battlefields" were merely "ideological" ones.
The former lawyer said he "cannot have a friendship" with a non-Muslim but different religions could live side-by-side "peacefully."
"As long as my life and wealth is protected in Britain, I do not target the life and wealth (of people here)," Choudary said, citing a passage from the Quran to that effect.
However, he cautioned this stance was a matter for legitimate religious debate. "There are many Muslims who do not believe that," he said. "(London suicide bomber) Mohammed Siddique Khan didn't believe that."

And he appeared almost to relish the prospect of ethnic violence.
"There will always be wars. The conflict will continue always. I think it's a matter of time before another 9/11 takes place and another 7/7 (London bombings)," Choudary said.
"I think we are on the brink of many more operations in the West. This is going to be very, very nasty ... The Muslims engaged in jihad are not going to stop. People will declare jihad in Britain and America. I don't think you can stomach something like that."