A fire that broke out at a Howard home where two women and an 11-year-old boy were fatally stabbed was ruled arson Wednesday, NBC station WCMH reported.
Shane Cartmill with the state fire marshal's office said specific details, including how the fire on King Beach Drive was set Monday night, would not be released immediately because of the criminal investigation.
Eastern Knox County Joint Fire District Chief Larry Stimpert told WCMH that firefighters were sent to the home of 32-year-old Tina Herrmann, where they found the porch on fire.
Stimpert said the fire was quickly contained. He said it burned the porch and melted some siding but did not extend inside the home. No one was inside the home at the time.
Herrmann, her 10-year-old son, Kody Maynard, and Herrman's friend, 41-year-old Stephanie Sprang, were reported missing Nov. 10.
Also reported missing was Herrmann's 13-year-old daughter, Sarah Maynard, who was found bound and gagged Nov. 14 in the basement of a home on Columbus Street in Mount Vernon.
Authorities say 30-year-old Matthew Hoffman, the resident of the Columbus Street home, led them to the remains of the three, which were found last Thursday in a hollow tree trunk in a wildlife preserve about 20 miles away.
Hoffman has been accused of kidnapping Sarah. Hoffman was being held on a $1 million bond on a single count of kidnapping, though more charges are expected next month.
Authorities say he is the only suspect in the killings, but he has not been charged in the deaths. His attorney has declined comment.
Authorities have not speculated on a motive. The sheriff has suggested that Hoffman, who spent six years in a Colorado prison for arson and other charges, had been watching them for some time.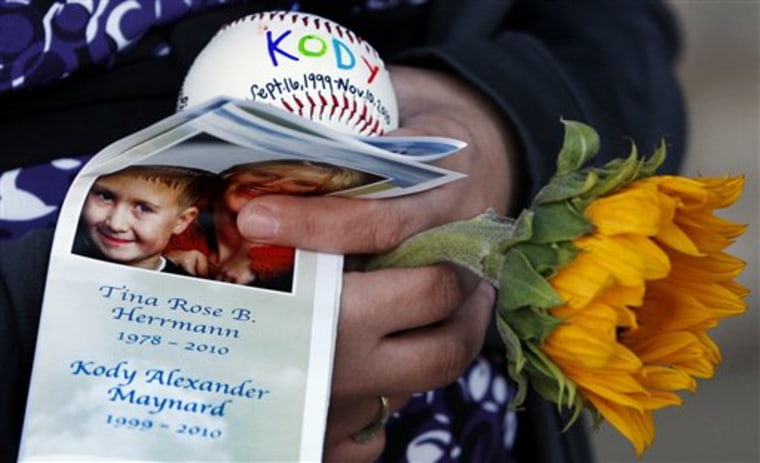 At a visitation service Tuesday, mourners carried sunflowers and baseballs in remembrance of Herrmann and her son and Sprang, WCMH reported.
Friends of Herrmann and Kody said there were two closed caskets and mounds of flowers at the service at a church in Gahanna. The baseballs bore Kody's name and dates of birth and death.
A co-worker of Herrmann's said that among those in the reception line was Sarah.
"She was being very, very strong," said Teresa Partlow, 32, of Walhonding. "I couldn't imagine being that strong."