/ Source: The Associated Press
It's a meal fit for King. Or Spot. Or Rover.
Turkey, Lamb Wellington and pumpkin doggie truffles are on Thanksgiving menus at dog bakeries across the country.
Kelly Hannaford, the general manager and head chef for Three Dog Bakery franchise stores in Pasadena and Los Angeles, has been perfecting her $19.95 "Feast for the Beast." It's a doggie buffet featuring Lamb Wellington, a pound of bakery blend kibble, fresh carrots, a spinach dip and a pumpkin pie.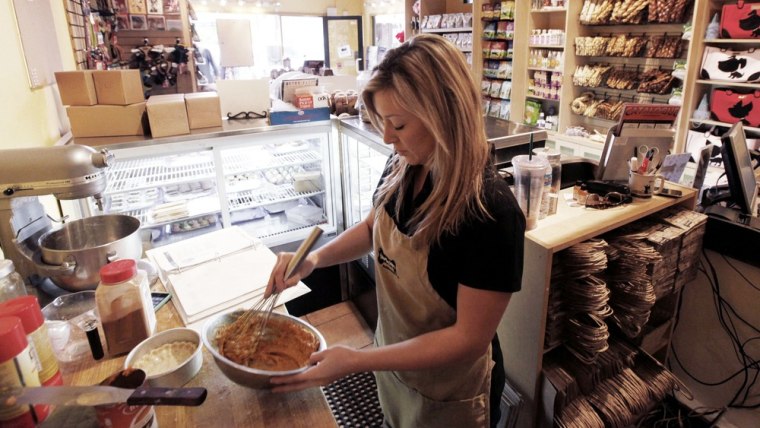 Her main taste-testers are her own 2-year-old rescue dogs — Zoey, a Maltese mix, and Snoop, a miniature pinscher.
Barkley Square Professional Pet Services & Gourmet Dog Bakery in Alexandria, Va., sells a $16 holiday meal of oven-baked turkey, rice with carrots, peas and carrots, biscuits, an animal-faced masked pumpkin and pumpkin doggy truffles.
"The dogs just love them and their humans like the fact that their canine buddy can join in the holiday feasting," said owner Kristina Robertson.
Executive Chef Tara Ross of Dog City Bakery is catering the 3 p.m. Thanksgiving meal for Barkley Pet Hotels & Day Spas in Westlake Village, Calif., and Cleveland. It includes a turkey-shaped biscuit baked with real turkey, potatoes, yams, herbs and dried cranberries; Iams gravy; and a mashed potato-filled dog toy.
Dinner is not all Thanksgiving holds for Barkley guests. They are also invited to watch the animal balloons in the Macy's Thanksgiving Day Parade and "The National Dog Show Presented by Purina."
Steve Pinkston, the owner of Adventure Dog Ranch in Marysville, Wash., said his charges for the day will get the food their owners supplied. However, he said, they can watch television with him — if they like football.