What's a suburbanite with a green conscience to do? That's what I've been asking myself as I weigh whether to set aside my aging car for something less polluting. Should I abandon four wheels for two -- as in an electric bike or a four-stroke gasoline scooter? If I stick with four wheels, should I buy a gas-electric hybrid, or a diesel and then fuel it with petroleum-free biodiesel? Or perhaps a street legal, all-electric car is what I need?
I started thinking about the choices after test driving, and writing about, Toyota's 2004 Prius gasoline-electric hybrid. My pre-test desire to buy a Prius was tempered by a post-test letdown when my mileage averaged 42 mpg instead of the 50-60 mpg certified by the Environmental Protection Agency.
I still haven't written off the Prius, in fact I put down a refundable deposit for one. But I did so knowing there's a backorder of up to 6 months -- giving myself a deadline of sorts to explore other options.
In my case, the fact that I commute four miles to work at 3.30 a.m. cancels out what others might find as viable options: walking, carpooling or mass transit. As for biking, I've tried that but ruled it out because it requires taking on some long, fairly steep hills -- and arriving at work in a sweat.
So, with those parameters, I set off looking for alternative green wheels.
Biodiesel
The Prius review drew plenty of feedback, including one e-mail from a biodiesel evangelist who happens to work where I do -- the Microsoft campus in Redmond. (MSNBC.com is a joint venture between Microsoft and NBC.)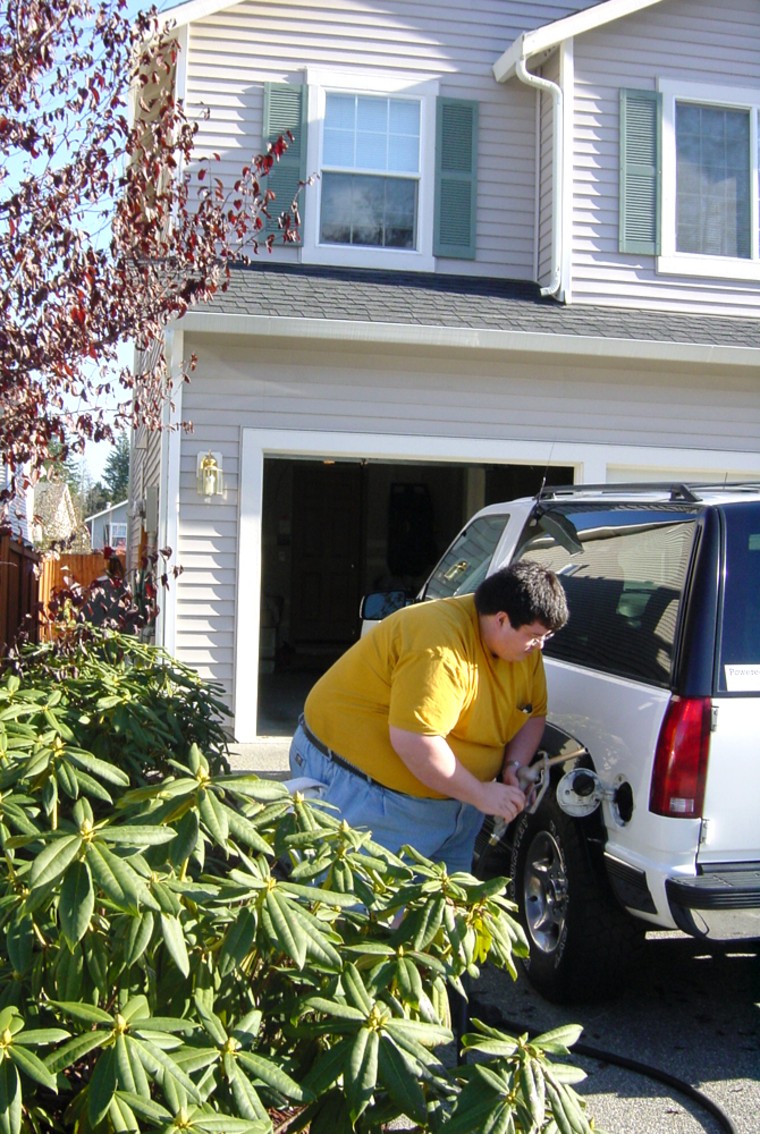 Matt Moreno and his wife run their two diesels -- a 1996 Chevrolet Tahoe and 2001 VW Beetle -- on 100 percent biodiesel. The beauty of biodiesel is that it's made from organic substances, usually a grain like soybean. That doesn't improve mileage over diesel, but it does mean a much cleaner engine combined with a barely detectable food scent.
For Moreno, a big reason for going to biodiesel is that the fuel is all American, not imported from abroad. "I haven't bought diesel since November 2002," Moreno says. "One hundred percent of the money I spend stays in the United States."
Moreno even installed a $600 storage tank and filling system alongside his suburban home -- reassuring neighbors along the way that it wouldn't be noisy or smelly. He even sells to other biodiesel users.
He makes it look easy, but I don't see myself taking the biodiesel route for now because of two major drawbacks: the cost, $2.80-$3.20 a gallon; and scarcity, my closest source would be at least 10 miles out of my way.
E-cars
My next stop was 87 miles north to Bellingham, Wash., the closest dealer of DaimlerChrysler's GEM cars -- the only electric vehicles sold by a major manufacturer. Driving into Bellingham Chrysler, I was surprised to find the GEM model at the truck showroom -- flanked by RAM pickups that weighed five times more.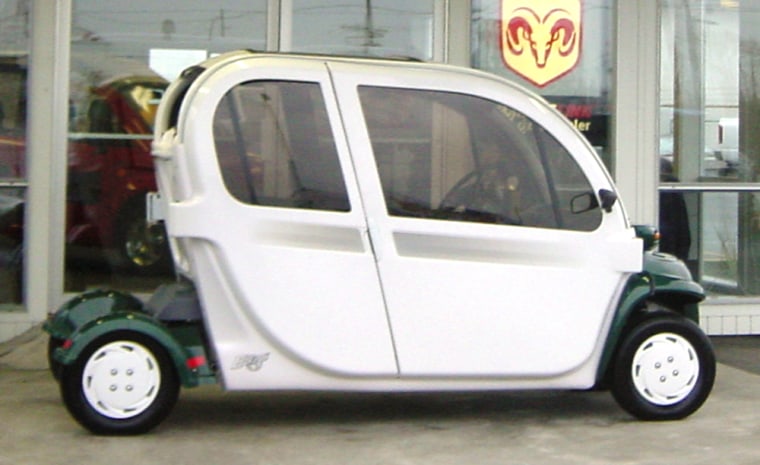 It did have company, however: two peers made by a Canadian company, Dynasty Motorcar Corp. Like the GEMs, which run from $10,000 to $15,000, the $14,000 ITs are easy to operate and maintain. No gas stations, oil changes or engine issues -- just plug into a regular power outlet, charge for six hours or so and then drive.
"There's really not anything to them," says salesman Randy Tobkin. "It's a step above a flashlight electronically."
Tobkin's pitch is simple and tempting: "You're paying a cent a mile to drive these things."
But because they're made primarily for special areas like campuses and gated communities, these vehicles have a big drawback for city driving: They're designed to top out at around 25 mph and during a test drive on a 35 mph street I felt uncomfortable, with cars lined up behind me.
On top of that, turning was stiff, the bodies are thin and basics like a radio are lacking. Airbags? Forget it. Then there's the issue of batteries -- they have to be replaced every few years at a cost of $600 or so.
Still, if I ever retire to a sleepy beach town, I'll look for one of these babies.
E-scooters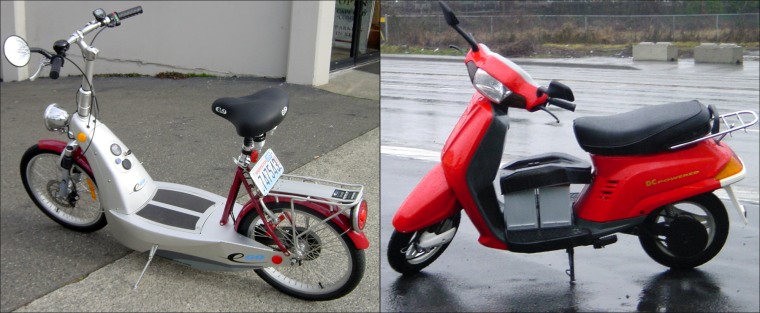 The search for electric scooters -- I'm talking ones with seats -- led me to dealer Mohan Magdumof Everett, Wash., and to Mike Kristofferson, owner of MotorManMike, a sales and repair shop in Seattle's eclectic Fremont neighborhood.
Magdum, always looking for a cheaper, better e-scooter to distribute, showed off two favorites:
The $2,500 Sol Gato. Made by Sun Cat Motor Company, it has a 30-mile range and 30 mph top speed.
The $999 eGo. Made by EGO Vehicles, it has a 25-mile range and reaches 23 mph.
Kristofferson added two more to the mix:
The $2,800 Equinox. Made by Electric Vehicle Technologies, its range is 45 miles and top speed 30 mph.
The $2,495 Voloci. Assembled by the owner of NYCEWheels, its range is 20 miles and top speed 30 mph.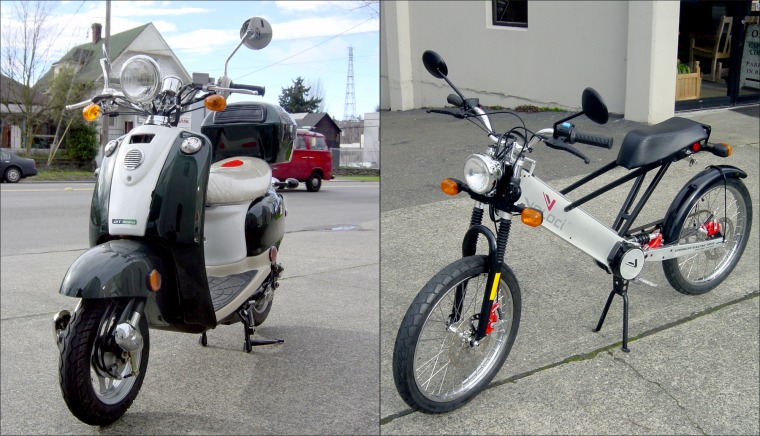 The Sol Gato and Equinox, with their wider bodies, felt much more comfortable alongside car traffic than the smaller eGo or Voloci. The Equinox's bigger motor means it can climb hills better, but the Sol Gato has room for two riders, whereas the Equinox has just one seat. The Voloci stands out for its high-tech mountain bike look and for being much lighter than competitors. The eGo, for its part, was tempting given that it costs less than half of the others. And it's got some neat accessories, like a clip-on cargo trailer.
The beauty of the e-scooters is the magic-carpet feel of riding in traffic but making no noise. The biggest downside, as with any electric vehicle, are the batteries. These can be recycled but typically need to be replaced every two years or so at $500 a pop.
E-Bikes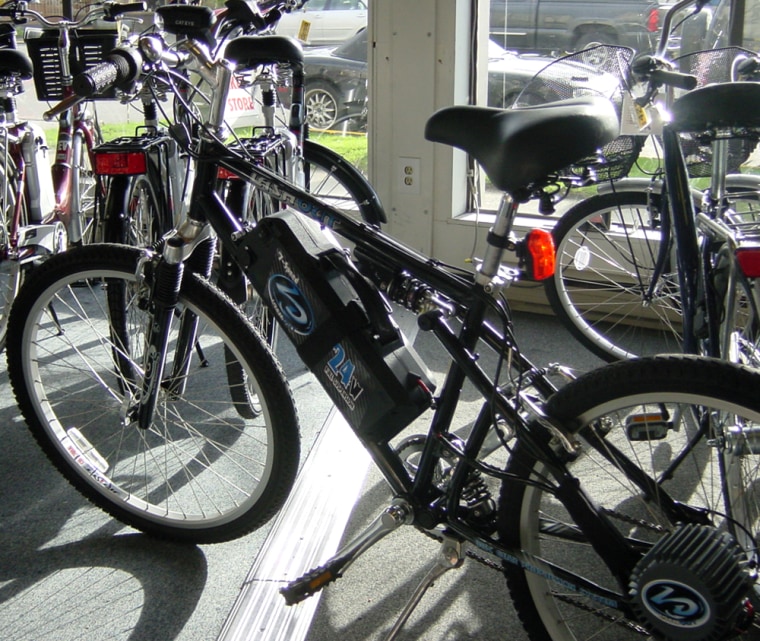 Next door to MotorManMike is Electric Bikes Northwest, which lays claim to being the biggest U.S. retailer of electric bikes. The motto here is "Augmenting, not replacing, human power" -- as in getting some exercise while moving.
Eric Sundin, who runs the store, had me test ride the two basic types of e-bikes:
Throttle, where the electric motor kicks in via a handlebar knob. I tried the $795 LashOut, with a 20-mile range and 18 mph top speed. It was a blast to ride, quickly accelerating when I needed to get a quick start. With the batteries off, it even looked like a regular mountain bike.
Pedal-activated, where the motor kicks in as one pedals. I tried the $1,195 Lite by Giant Bicycle Company, a major manufacturer. The bike has a 27-mile range and top speed of 17 mph, but I missed the throttle feel of being able to get a quick burst on demand.
Sundin points out that converting an existing bike is also an option. Kits cost around $400, with another $60 or so if a bike shop installs it.
A key distinction with standard bikes is that batteries do make e-bikes very heavy at 60 or more pounds. And replacing batteries every few years costs $90 for standard and $200 for nickle-metal hydride batteries. Some e-bikes do let you remove the battery and just pedal around -- a neat option.
A big issue with going electric in Washington is that the state gets most of its electricity from dams -- and those are bad for salmon trying to find their way past turbines and walls.
Realizing this, Electric Bikes Northwest teamed up with a Seattle solar roofing company, Puget Sound Solar, to showcase a solar-powered charger. The shop's system cost $1,000, but Puget Sound Solar says it can make a $500 system for individuals -- not exactly cheap, but it's certainly tempting.
Smaller, less-expensive systems could be made for individual bikes, Sundin says, but their range would be limited. He sees more of a future in employers buying chargers for use by employees.
Four-stroke gas scooters
My final stop was to Scooters of Seattle, where four-stroke, 100-mpg scooters are joining the traditional two-stroke offerings. Two-strokes combust oil in the engine, making for much dirtier emissions.
Harry and Caroline Khurana, the father-daughter team who run the place, steered me towards the four-stroke Bajaj, made by one of India's largest scooter companies. The Khuranas said that while many scooter devotees prefer established makes like the $4,000 Italian Vespas, the Bajajs are hard to beat for performance, durability and cost -- ranging from $1,495 for 2002 closeout models to $2,695 for a high end model.
Bajaj likes to brag that while a typical 150cc two-stroke emits 660-1540 pounds of hydrocarbons per 10,000 miles, its four-strokes emit only 9.5 pounds. A typical passenger car, by comparison, puts out 60 pounds, according to the EPA.
E-scooters, of course, have no direct pollution, but 150cc four-strokes do have their own upside: they can do 60 mph, double their best electric peers. The downsides? The four-strokes still need gasoline -- and oil changes.
Family matters
So, where do I go from here? The Toyota dealer hasn't called to tell me a Prius is available, so I'll continue procrastinating until he does.
My family, however, has already made up their collective mind that I'm getting a Prius: My wife has told friends it's a done deal and that that the 1990 Nissan Stanza stays as a third car now that our son is driving. Our daughter, 12, doesn't want friends to see her "nerd" dad riding around on two wheels. Our son, 16, sees a two-wheeling dad as a threat as he'd have to share the family car when dad needs four wheels for longer trips. He even threatened to cash out his college education funds to buy his own car if I go that route.
Faced with that family reality, and if I had to choose today, my journey would end with a Prius purchase. But I'd promise myself that I'd eventually also buy an e-scooter and a solar-charging system -- taking turns with the Prius so that I can ride with the wind when it grabs my fancy.
"You only live once," I've been telling myself. Now if only I could convince my family that it's a great idea.