/ Source: msnbc.com news services
Early discounts may have taken some of the shine off Cyber Monday but the key online holiday shopping day is still expected to attract bargain hunters who may not have had their fill over the weekend.
Retailers are already expected to report November sales above forecasts, helped by an increase in shopper visits over the Black Friday weekend, promotions that were spread throughout the month and more consumers shopping for themselves.
Merchants hope to continue that momentum on Cyber Monday, a term coined five years ago for the day many people return to work after Thanksgiving and make online gift purchases on their computers. Online sales got off to a strong start on Black Friday, rising 9 percent from last year, according to analytics firm comScore.
Cyber Monday is still a big draw and could generate between $900 million and $1 billion in sales, according to Jefferies analyst Youssef Squali. Last year, Cyber Monday sales were $887 million, according to comScore.
Retailers from Target Corp to Overstock.com advertised Cyber Monday deals on their websites.
Amazon.com deals included singer Susan Boyle's albums for half price at $5.99 each, a Canon flash memory Camcorder for $229 after a 40 percent discount, and Barbie Fashion Fairytale Palace at $64.99 instead of $114.99.
Walmart.com did not include items' original prices in its Cyber Monday deals.
Cyber Monday remains a prime shopping day online. But its novelty has now been partially eclipsed by e-commerce promotions earlier in the season, including on Thanksgiving itself.
Retailers from BestBuy.com to Walmart.com and Staples.com even opted to offer Cyber Monday deals one day early, on newly coined "Cyber Sunday."
The key is versatility, online experts say, as well as making sure shoppers heading to the Web always find something to inspire them to click on a sale.
John Thompson, senior vice president and general manager of BestBuy.com, said Cyber Monday remains a "really viable marketing concept," but smart retailers must offer choice.
"There's demand out there, but you have consumers spending their time differently," he said. "If you don't have one group that shops early, you'll have those who say 'I'll enjoy my Thanksgiving and those same deals or as-good deals will be there Cyber Monday.'"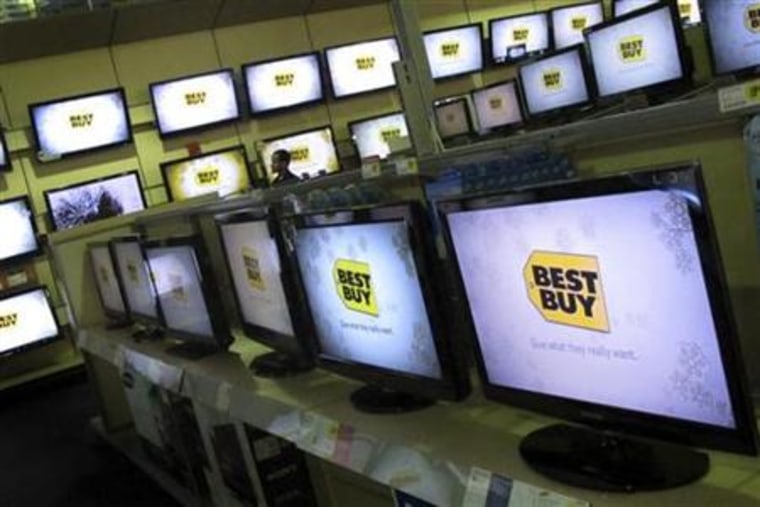 Marketing firms say tactics have changed in luring consumers to buy online. Whereas in prior years a full e-mail inbox of online deals awaited those back at work on Monday, the offers now increasingly come on Black Friday if not before.
Disneystore.com, for one, had a "record sales day" on Thanksgiving, according to Jim Fielding, president of Disney Stores.
This year, online spending on last Thursday's Thanksgiving Day rose 28 percent from a year ago to $407 million, according to comScore.
Just as many promotions are sent via e-mail on Black Friday, the day after Thanksgiving, as on Cyber Monday, according to Responsys.
PayPal, the online payments unit of eBay, said its first holiday spike in payment volume came on November 15. On Black Friday, total payment volume, or the total value of goods sold, rose 27 percent versus last year.
Online deals will continue throughout the holiday season. Amazon.com, the largest online retailer, said its Black Friday deals would last all week, while Target.com and eBay have set up daily deals through December.
Despite the e-commerce selling season that now extends before and after Cyber Monday, the Monday after Thanksgiving is still a prime focus of retailers.
Nine out of ten retailers planned to offer a promotion for Cyber Monday, Shop.org and BIGresearch found in a survey. That was more than the nearly three-quarters of respondents in 2007.
"Retailers have built it into the consumers mind: 'Here's the day you'll get the best deal,'" said IBM Coremetrics' Chief Strategy Officer John Squire.
Although some experts say the top online sales comes later in the season —comScore, for one, found 2009's heaviest spending day fell on Dec 13 — Squire said Cyber Monday was the best-performing day, with a 30 percent jump in U.S. online sales.
"You will see a similar type of gain on Cyber Monday (this year)," said Squire. "The big treat is what happens on Cyber Sunday for those retailers who give those deals."
On Tuesday, comScore raised its forecast for U.S. online holiday spending for the second time, saying it now expects an 11 percent rise over the 2009 holiday.
The new spending outlook should bring total holiday e-commerce spending to $32.4 billion, comScore said.
Online sales, while still growing, make up 7 percent of the overall U.S. retail pie, according to comScore.
The industry group National Retail Federation said on Sunday that shopper traffic was up 8.7 percent between Thanksgiving Day on Thursday and Sunday, compared with the same period in 2009, and spending per person rose to $365.34 from $343.31 a year earlier, the NRF said.
The NRF data contrasts with that of Shoppertrak, which said that traffic to stores on Friday rose 2.2 percent from a year ago and sales rose by a mere 0.3 percent, which shows that where shoppers made purchases, it was often on discounted items.
That difference could reflect the fact that more people shopped on Thanksgiving and online, diluting the Black Friday rush to stores, analysts said.