Ugh. Those holidays pounds ... why is it they seem to weigh double the normal pound?
If heading to the gym to burn those extra calories sounds about as fun to you as jabbing a candy cane in your eye, I suggest playing video games to burn away the calories instead.
Motion-controlled gaming devices such as Microsoft's Kinect sensor and Nintendo's Wii Remote and Balance Board have made video game consoles the go-to place for in-home workouts.
Below we've compiled a list of some of the latest and greatest "games" designed to get you burning calories. Simply think of these games like more interesting, more enjoyable and more personalized versions of your old workout DVDs.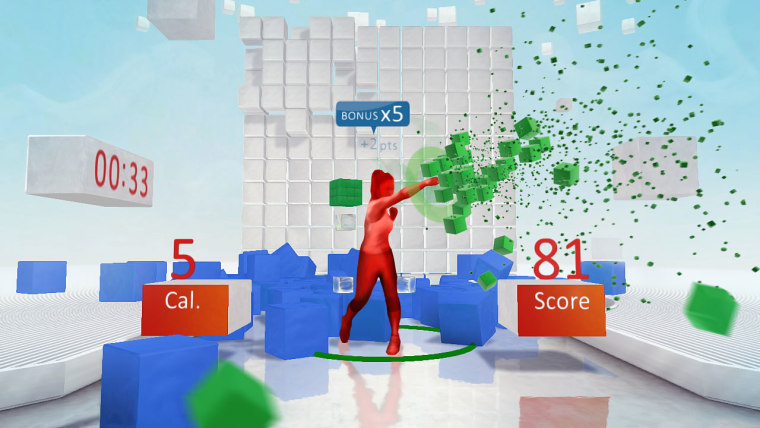 'Your Shape: Fitness Evolved'
Required: Xbox 360, Kinect sensor
Price: $50
This smartly done workout program does an excellent job putting Microsoft's new Kinect full-body motion sensor to work. "Your Shape: Fitness Evolved" starts by running you through a series of exercises and questions to assess your fitness level. It then provides you with a variety of fitness routines designed to cater to the kind of workout you'd like to do or the physical improvements you'd like to see.
You'll then follow a virtual personal trainer as he or she leads you through your regime while the Kinect sensor reads your body movements to determine whether you're staying in synch with the trainer. The game tracks the calories you burn and the exercises you complete so you can follow your progress over time. All-in-all, this program is very well put together. The interface is sleek and the menus are intuitive to navigate. Meanwhile, in addition to the the 80-some exercise routines available, you can take Cardio Boxing classes or Tai Chi/Yoga classes. And if you simply want to have some fun, don't miss the Gym Games, which provide players with some really enjoyable (and athletic) mini games to play.
'EA Sports Active 2'
Required: Xbox 360 (plus Kinect sensor), PlayStation 3, Wii
Price: $100
The original "EA Sports Active" game wowed the virtual workout world when it arrived for the Wii in 2009. And "Sports Active 2" doesn't just sit on those laurels — it steps up its own game. This suite of digital fitness routines is available for all three gaming consoles. Designed to help you improve strength, endurance and flexibility while also giving you a good cardio workout, "Sports Active 2" provides you with customizable guided workout regimes and tracks your improvements over time.
But where "Sports Active 2" sets itself apart is in what comes packaged with the game itself. Whether you're buying the Xbox 360, PS3 or Wii version of the game, all three come with a heart rate monitor that you strap to your left forearm. Your heart rate is then displayed on-screen so you can get a better feel for the intensity of your workout. All three versions of the game also come with a handy-dandy rubber resistance band, which you use in conjunction with many of the exercises tossed your way. It may seem a little thing, but this band does a nice job helping you improve your strength.
Additionally, EA touts its "Total Body Tracking" wireless control system. For the Xbox 360 version of the game, it'll use Microsoft's Kinect sensor to follow your body movements and make sure you're doing your exercises correctly. The PS3 version of the game does not make use of Sony's new Move controls, but it does come packaged with its own small motion sensors — one that you strap to your right arm and one that you strap to your leg. The Wii version includes the leg motion sensor. Though peripheral pile-on can be something of a hassle, these devices do a pretty impressive if sometimes imperfect job registering your movements. All around "EA Sports Active 2" packs a whole lot of fitness punch.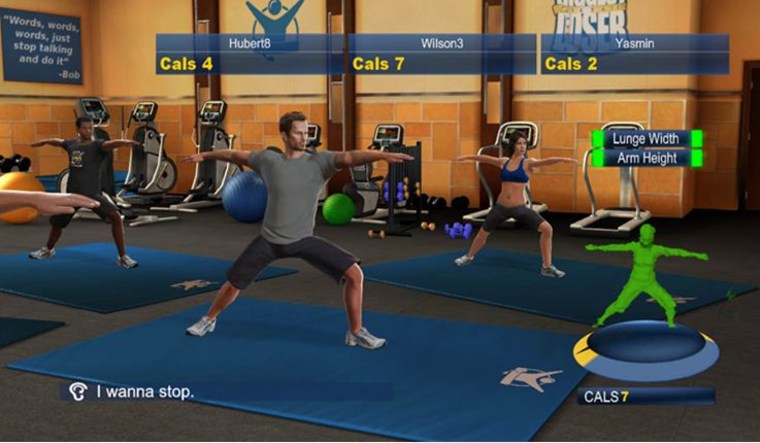 'The Biggest Loser: Ultimate Workout'
Required: Xbox 360 (plus Kinect)
Price: $50
'The Biggest Loser: Challenge'
Required: Wii
Price: $40
Fans of "The Biggest Loser" TV reality show get to be the star of these two games based on the series. Both of these games do a fine job of offering players helpful fitness and nutrition advice as well as personalized and preset exercise routines meant to improve you shape and overall health over time. For example, there's the four-week New You program for all around fitness, the eight-week Belly Buster program to tone your stomach, and the 12-week Marathon Man program for those going hardcore, just to name a few.
You'll be guided through these regimes by virtual versions of the show's trainers — Bob Harper and Jillian Michaels. The Xbox 360 version of the game uses the Kinect sensor to track your movements (it does a fairly accurate job). The Wii version of the game uses the handheld Remote controller and the Wii Balance Board (though the board is not required) or lets you go hands free. The game also includes some fun "challenges" (i.e. mini games) that make working out more entertaining.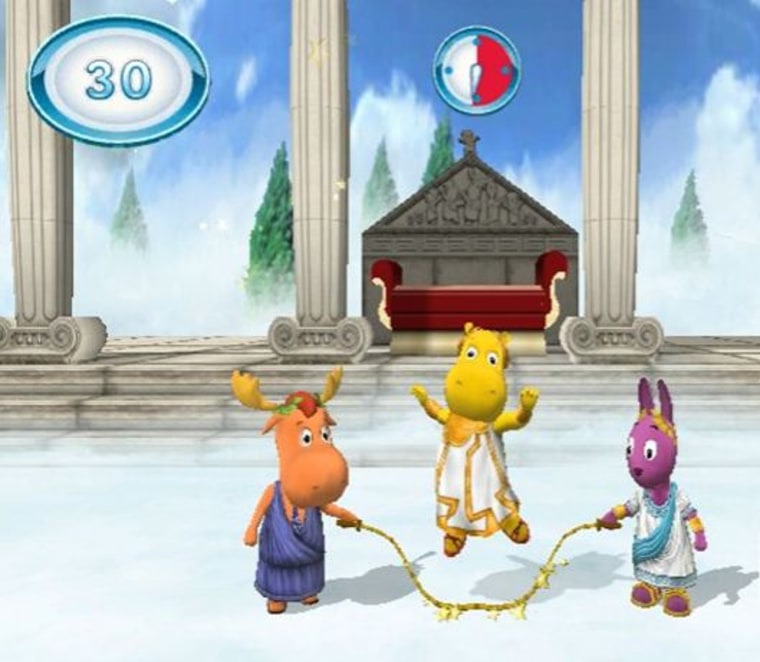 'Nickelodeon Fit'
Required: Wii
Price: $40
Youth obesity levels have parents and educators very concerned, so Nickelodeon has introduced this game aimed at the youngest players. The game has well-known cartoon characters such as Dora and The Backyardigans lead kids through exercises such as jumping rope, jumping jacks and hula hooping while holding on to the Wii Remote to sense their movements. The message is a good one, the game is very forgiving and it is all easy enough for the littlest players to get involved with. I tried it on my almost-4-year-old son and he was entertained for a good 20 minutes. So that's saying something.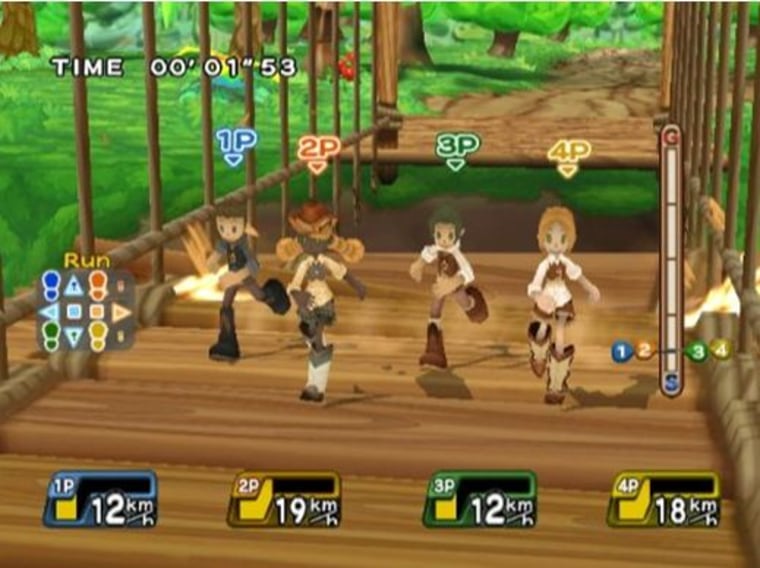 'Active Life: Explorer'
Required: Wii
Price: $60 (packaged with floor mat)
If you really want to trick your kids into working off some of the steam they've built up after being cooped-up indoors during the cold months, try "Active Life: Explorer." You see, this is a workout program smartly masquerading as a collection of highly physical mini-games. Packaged with a pressure-sensitive floor mat, the game pits kids and their pals against each other in a variety of physical activities (up to eight can play). Kids run and jump on the mat to do things like leap across canyons, stomp crocodiles and catch falling gems in the game — just to name a few of the many sweaty activities. This one will tire out your kids (and even you) for sure.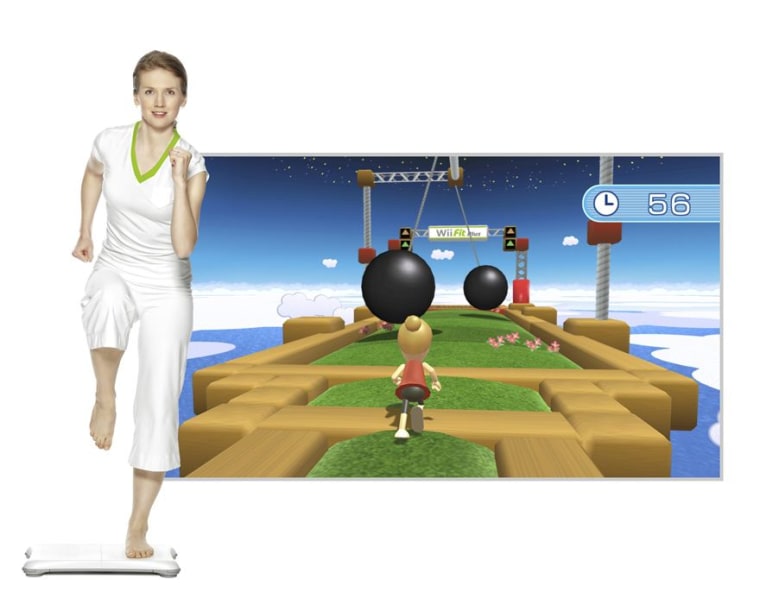 'Wii Fit Plus'
Required: Wii, Wii Balance Board
Price: $100 (bundled with board), $20 (without board)
This Nintendo-produced game was launched last year, but it remains well worth considering this year. In fact, it was Nintendo that really kicked off the video game fitness craze when it launched the first along with the Wii Balance Board. "Wii Fit Plus" does a nice job bulking up the "Wii Fit" regime, offering all the original strength, yoga, balance and aerobics exercises plus a host of new exercises to boot.
Heck, actress Helen Mirren in a new commercial for the game and she looks amazing at age 65. You may also note that, in the British version of that advertisement, she compares "Wii Fit Plus" to having a new lover every day.
So, you'll have to excuse me now...I'm going to get on that exercise thing immediately.
For more holiday video game gift ideas, be sure to read:





Winda Benedetti for msnbc.com. You can follow her tweets about games and other things