/ Source: The Associated Press
The surveillance video from the overhead cameras shows Hanni Elabed being beaten by a fellow inmate in an Idaho prison, managing to bang on a prison guard station window, pleading for help. Behind the glass, correctional officers look on, but no one intervenes when Elabed is knocked unconscious.
No one steps into the cellblock when the attacker sits down to rest, and no one stops him when he resumes the beating.
Videos of the attack obtained by The Associated Press show officers watching the beating for several minutes. The footage is a key piece of evidence for critics who claim the privately run Idaho Correctional Center uses inmate-on-inmate violence to force prisoners to snitch on their cellmates or risk being moved to extremely violent units.
On Tuesday, hours after the AP published the video, the top federal prosecutor in Idaho told the AP that the FBI has been investigating whether guards violated the civil rights of inmates at the prison, which is run by the Corrections Corporation of America.
The investigation concerns the prison's rate of violence and covers multiple assaults between inmates, including the attack on Elabed, U.S. Attorney Wendy Olson said.
CCA spokesman Steve Owen said the company is cooperating with federal agents, as it has with other law enforcement overseeing the prisons.
Lawsuits from inmates contend the company denies prisoners medical treatment as a way of covering up the assaults. They have dubbed the Idaho lockup "gladiator school" because it is so violent.
The AP initially sought a copy of the videos shot on Jan. 18 from state court, but Idaho 4th District Judge Patrick Owen denied that request. The AP had already obtained a copy and decided to publish the videos after a person familiar with the case verified their authenticity.
The videos show at least three guards watching as Elabed was stomped on a dozen times. At no time during the recorded sequence did anyone try to pull away James Haver, a short, slight man.
About two minutes after Haver stopped the beating of his own accord, the metal cellblock door was unlocked. Haver was handcuffed and Elabed was examined for signs of life. He bled inside his skull and would spend three days in a coma.
CCA, the nation's largest private prison company, said it was "highly disappointed and deeply concerned" over AP's decision to release the videos.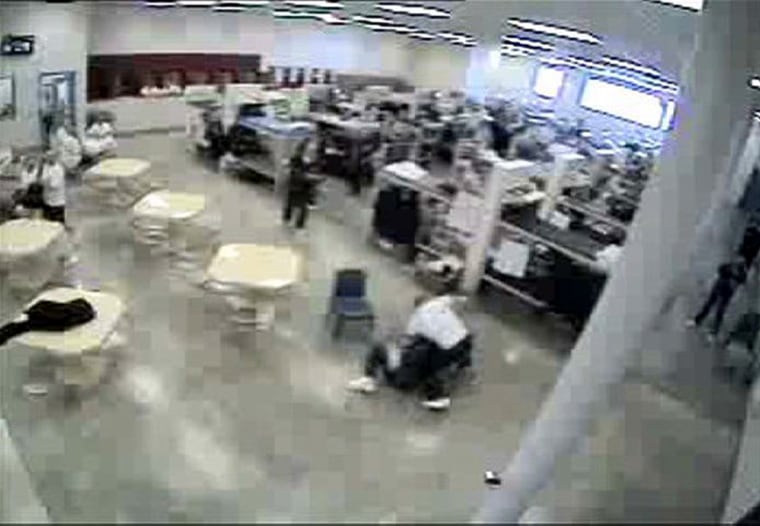 "Public release of the video poses an unnecessary security risk to our staff, the inmates entrusted to our care, and ultimately to the public," the prison company said in a statement.
Violence behind bars and misconduct by guards is common, regardless of whether prisons are run by the government or private companies. CCA, which oversees some 75,000 inmates in more than 60 facilities under contracts with the federal government, 19 states and the District of Columbia, is no exception.
A year ago, CCA and another company, Dominion Correctional Services LLC, agreed to pay $1.3 million to settle a lawsuit in which the Equal Opportunity Employment Commission claimed male officers at a prison in Colorado forced female workers to perform sex acts to keep their jobs.
In January, Kentucky Gov. Steve Beshear ordered some 400 female inmates transferred to a state-run prison after more than a dozen reports of sexual misconduct by male guards employed by CCA. Inmates from Hawaii at the CCA-run Kentucky prison made similar accusations and Hawaii later removed them. In May, agents with Immigration and Customs Enforcement placed CCA on probation and launched an investigation of whether a guard at a central Texas detention facility sexually assaulted women on their way to being deported.
Olson said the investigation is focused solely on the Idaho prison and not any of the other prisons operated by CCA.
Before the Idaho attack, Elabed tried to get help from prison staffers, telling them that he had been threatened and giving them details about drug trafficking between inmates and staffers that he had witnessed, according to his lawsuit. He was put in solitary confinement for his protection but was later returned to the same unit with the inmates he snitched on, his lawsuit said. He was on the cellblock only six minutes before he was attacked.
Steven Pevar, an attorney for the American Civil Liberties Union, said in 34 years of suing more than 100 prisons and jails, the Idaho lockup is the most violent he has seen.
"This isn't even what we know of as a prison — this is a gulag," Pevar said.
Pevar blames the violence on CCA and the former warden, Phillip Valdez, who was head of the prison when Elabed was attacked. Valdez was later transferred to another CCA prison in Kansas. The company refused to disclose its reason for moving him.
CCA officials maintain the prison is safe and run according to state and federal standards. But at least some of those standards appear to be violated in the video — including a requirement that emergency care arrive within four minutes of a disturbance. It took medical workers nearly six minutes to get to Elabed — a delay that can be life-threatening in serious injuries, according to state prisons officials.
"Nurses and medical professionals believe you need to get a heart beating and breathing started within four minutes or the person's going to die," Idaho Department of Correction spokesman Jeff Ray said.
CCA spokesman Owen said employees receive training and supervision designed to protect both themselves and the inmates.
"As Mr. Haver's wanton attack illustrates, correctional and medical personnel must often respond to render aid in dangerous situations, not knowing the extent of the risk they may face when they do," Owen said.
Owen also condemned the attack and said the surveillance videos were key to Haver's guilty plea in the beating. CCA was unable to answer additional questions surrounding the circumstances of the attack due to pending litigation, he said.
Elabed's family learned through medical records that CCA officials pulled him out of the hospital before he could get significant treatment and against his doctor's advice, in order to treat him at the cheaper in-prison facility, the family said.
Elabed, who was originally sentenced to two to 12 years for robbery, was ultimately released on a medical parole because he was too badly injured to be cared for in prison.
A slew of federal lawsuits detail beatings behind prison walls and long waits for medical care at CCA-run prisons in Idaho. Inmate Todd Butters said in his lawsuit he was denied X-rays after he was severely beaten by gang members on his cellblock for refusing to pay $5 a week in "rent." The Idaho Supreme Court threw out the case after finding Butters didn't take the necessary steps to try to solve the problem with prison officials before suing.
In another attack, inmate Daniel Dixon said he was denied X-rays and a doctor's visit after he claimed other inmates beat him until he had broken ribs and facial bones and other injuries.
State officials have long been aware of allegations of mistreatment and poor management at the Idaho Correctional Center, the state's largest prison. A review of hundreds of public records by AP found in 2008 that ICC had a violence rate three times as high as other Idaho prisons.
The AP found in a follow-up investigation that ICC had only marginally improved its violence rate and that inspectors were still finding rampant gang violence and extortion. State auditors have also found widespread problems keeping medical charts updated, excessive wait times for medical care and other problems with treatment.
Even though Idaho Department of Correction officials have increased oversight and top department leaders have spoken out about their concern over the medical issues, state lawmakers have renewed the company's multimillion-dollar contract with Nashville, Tenn.-based CCA and added 600 beds to the prison.
Idaho Department of Correction Director Brent Reinke said in a statement that he couldn't talk about the video because of pending litigation, but said the eight state-run prisons his agency operates are among the safest and most efficient in the country.
Reinke also said his department began beefing up oversight at the private prison three years ago.
"The Board of Correction acknowledges that when you put a group of people who have a history of criminal behavior together in one place, it is likely you will have problems. But that doesn't mean we should tolerate them," Reinke wrote.
Today, the 24-year-old Elabed isn't able to talk much about the assault. He has brain damage and persistent short-term memory loss.
"It's almost like Hanni's autistic after this. I feel like I'm talking to someone who's 12 or 13 years old," said his brother, Zahe Elabed.
Elabed's attorney, Ben Schwartzman, said the footage is tough to forget.
"Guard intervention was appropriate and could have happened in a way that would not have put the guards in danger of their personal safety," Schwartzman said. "They were spectators ... and that seems to indicate a level of callousness that I find shocking. It's an embarrassment to the institution and to the individuals."
Associated Press writer Todd Dvorak in Boise contributed to this report.