/ Source: msnbc.com staff and news service reports
A potent storm system that spawned tornadoes in the South reached the Northeast on Wednesday, where it knocked out power to thousands, closed the Statue of Liberty and delayed flights for hours. At least three people were killed.
Sandbags were handed out in Washington, D.C., to protect homes from flooding. Thousands were without electricity in the mid-Atlantic region and New York, and some schools delayed openings. The storms had moved into New England by early evening.
In Connecticut, the storm toppled trees and flooded streets near the shore. More than 20,000 customers lost power, according to Connecticut Light & Power.
The Federal Aviation Administration said numerous airports were experiencing delays Wednesday evening: Newark International, averaging 3 hours and 12 minutes; John F. Kennedy International, 3 hours and 56 minutes; La Guardia, 2 hours and 30 minutes.
In New York, gusts of winds snapped a huge, lighted Christmas tree at the South Street Seaport. Ferry service to the Statue of Liberty and Ellis Island was halt about 2 p.m. EST because of high winds and surf, the National Park Service said.
The National Weather Service issued thunderstorm warnings for parts of New Jersey, New York City and suburban Long Island. High winds led authorities to briefly ban all trucks from using the Verrazano-Narrows Bridge between the boroughs of Brooklyn and Staten Island.
West Virginia and western New York, Pennsylvania and Maryland were likely to see snow later in the day, according to The Weather Channel, with some places getting a more than a foot of snow by Thursday night.
Commuter rail service between Newark, N.J., and New York City was briefly suspended due to overhead wire damage, New Jersey Transit said.
Repairs were made by late afternoon, but residual delays and cancellations wreaked havoc on commuters.
Jonathan Betz, 33, a software programmer from Summit, N.J., works in Manhattan and usually takes the 8:02 p.m. train home from Penn Station.
But on Wednesday evening, it was canceled. "I looked down at the others and saw canceled, canceled, canceled," he said. "That's when I knew I was in trouble."
In New Jersey, a man was killed and his wife injured when a tree toppled and struck their car, West Milford police said.
Thousands in New Jersey were without power, as well as in upstate New York, where blowing snow caused treacherous driving conditions.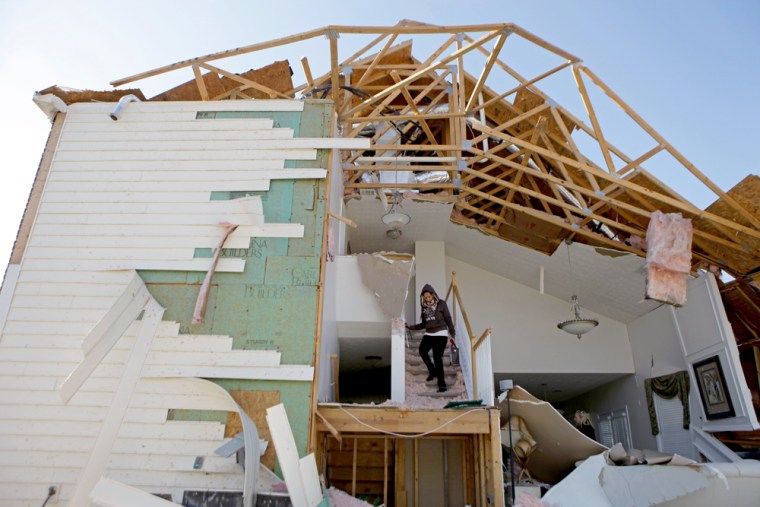 Possible tornado
Hundreds of miles to the south, residents in Buford, Ga., were cleaning up after a tornado with winds as high as 130 mph whipped through Tuesday, damaging more than 50 homes, the National Weather Service said. No injuries were reported there.

As the storm hit, Tami O'Connor walked into her living room to tell her two children to go to the basement, and the room imploded, she said. No one was hurt, and though half of the room was sucked into her backyard, some of it was left intact.


"The baby Jesus is still on the mantel," she said.

About 30 miles away, in an unincorporated area of suburban Atlanta, 54-year-old Matthew Mitchell died after a tree fell on the car he was driving Tuesday. Police believe strong wind gusts blew the tree over.
At least two tornadoes touched down in South Carolina on Tuesday, the National Weather service said. A tornado also hit Georgia on Tuesday and authorities were investigating whether one touched down in Louisiana on Monday.  


In Tennessee, a rock slide followed two inches of rain, blocking part of a highway between Knoxville and the airport. Flooding closed roads in the Carolinas, which saw up to six inches of rain in some areas. In Greenville County, S.C., 50-year-old Rita Hunter of Travelers Rest was killed Tuesday when she lost control of her car on a wet roadway, struck a tree and overturned.
Wet, wintry weather in Pennsylvania caused flooding and delayed school openings. More than 3 inches of rain had fallen in Pittsburgh since Tuesday morning, National Weather Service officials said, and the drenching forced the evacuation of dorms at the University of Pittsburgh satellite campus in Bradford near the New York state line. Classes were canceled.
Earlier, the storm brought suspected tornadoes to Louisiana and Mississippi, where more than a dozen people were injured. In Yazoo City, Miss., which was hit several months ago by a severe tornado, 63-year-old Clarence Taylor said the town again looked like a war zone. The winds blew off a tarp he had put on his roof to cover damage from the April storm.
"This is the second time it dropped down on this street in just six months," Taylor said. "I've been through it, man."