This isn't supposed to happen. Wireless data isn't supposed to be better than the good old, hard-wired cable kind. It's against the laws of nature — by definition. But it was, during my maiden test of Verizon's 4G LTE USB modem, the LG VL600. Using the wireless connection, I consistently saw faster speed tests, and experienced quicker real-world downloads and uploads, than I did using my Comcast cable connection.
That's not to say that the sweetness will last — when enough users pile on, these speeds will drop precipitously. Instead of download 33 megabits per second, I will experience something between 5 and 12, says Verizon. But according to 4G product manager Chris Whitfield, there's something special about Seattle, Boston, Dallas and some cities in Ohio, which were part of Verizon's first wave of 4G build out. "Early adopters should expect more throughput" in these markets, he told me.
My only bit of sorrow was that the 4G modem is only currently supported by Windows. As someone who uses both daily, it wasn't a roadblock, but I prefer connecting via Mac. Whitfield says that a Mac driver for the modem is on its way. (More on Verizon's 4G service here. And note, I recently said that 4G phones may not be for you — this story is about 4G data for laptops, a much more appropriate use of advanced wireless technology.)
The test begins
It took me a day and a half to report these findings only because I wanted to make sure they were correct.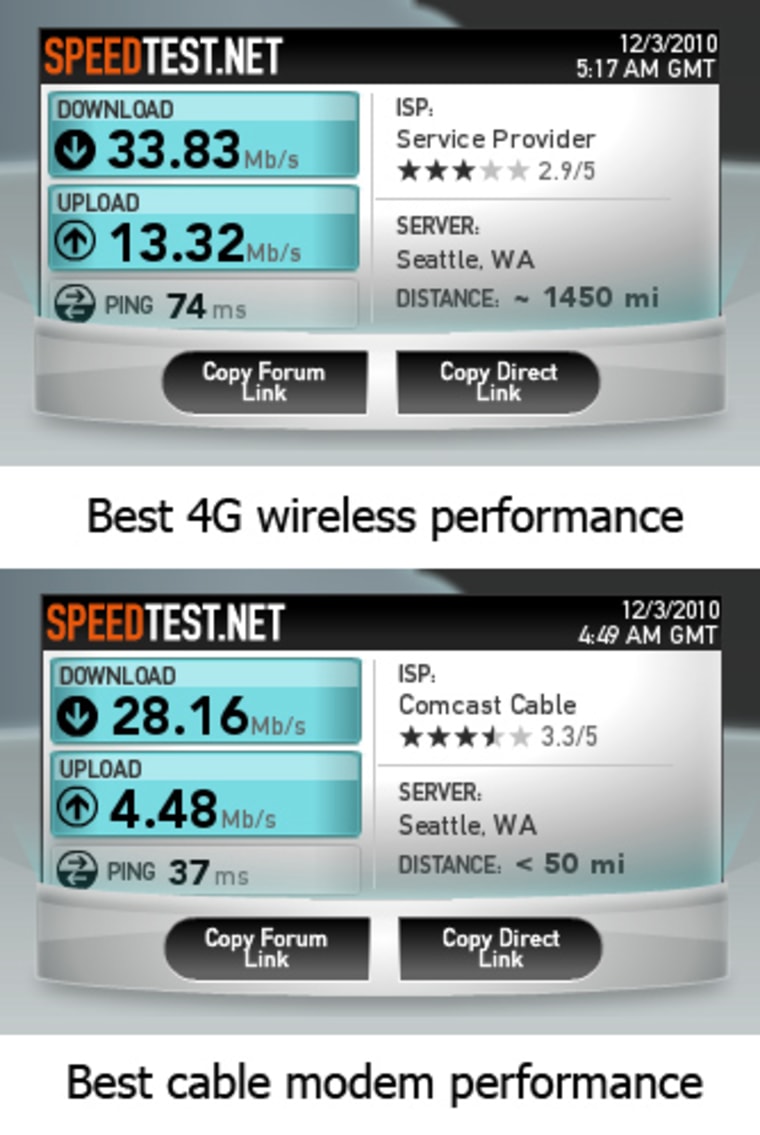 My standard for checking bandwidth is Ookla's Speedtest.net. Running that while connected via Verizon's 4G modem, I consistently recorded download speeds at a blistering 33 Mbps. On my cable modem, the best I could get was 28 Mbps. But no matter how many times you run the same test, it's still fairly limited. So I turned to file downloads.
One file I repeatedly download was a 13.65 MB file from Wikimedia, an image taken by the Hubble Telescope of the spiral galaxy pair known as NGC 6090.
To test, I use Firefox with a plug-in called YSlow, which clocks file downloads to the millisecond. Consistently, the Verizon 4G modem got me the whole image in under 10 seconds. Over Comcast's network, the file took 44 seconds to download during one session, and, later, I managed to get it down to 27 seconds, still three times the duration of the 4G load. This speed difference could be attributed to reasons other than my own network connection, but here was a second distinct test where wireless outperformed wired.
My final test was to take a 100-megabyte video file, upload it to my Apple iDisk, and then download it, again and again and again. Uploading with the wireless modem took 3 minutes 57 seconds, while over cable it took 4 minutes 37 seconds.
Wireless is still wireless
Though on the download test, the 4G soundly beat the cable modem yet again, it was here that I spotted the kind of inconsistently I tend to expect with wireless data. I could easily download all 100 megs via 4G in under one minute, but every so often, it would take longer, sometimes over three minutes. Via cable, the downloads were consistently around a minute and a half.
See, wired technology like cable broadband is supposed to be more reliable. Wireless is supposed to be inconstant. As if to remind me of this, the 4G modem connection completely cut out at one point. I had to shut down the Verizon app and fire it up again, after which everything went back to blazing.
So what does it all mean? On one hand, it means that America is finally getting some crazy wireless data, and that one day you will be able to replace your wired connections with reliable (albeit expensive) wireless, just like many have done with their phones
This is far better than what I saw when I tested the Sprint/Clearwire WiMax 4G network, using a special modem that had no bandwidth limitations. During that run, my peak was nearly 13 Mbps. Verizon's Whitfield says that his company won't do any such manual throttling, but that of course as more users get on the network, these speeds will naturally drop.
And so, on that other hand, my tests may mean very little. It's like checking the acoustics of a concert hall with no people. Only when the crowds pile in will we know how the tune really sounds.
Related stories:
Catch up with Wilson on Twitter at , even if all you want to do is pick a fight about network latency or something. Or skip the one-on-one and join the conversation at .