/ Source: The Associated Press
Bucking the Pentagon's top leaders, the chiefs of the Army and Marines urged Congress on Friday not to allow openly gay people to serve in the military, at least not while troops are at war in Afghanistan.
The generals publicly rebutted their own bosses and the White House, arguing that it is too risky to change the policy now. That gave political ammunition to congressional Republicans trying to retain the ban known as "don't ask, don't tell."
"It's important that we're clear about the military risks," said Gen. George Casey, the Army's top officer. "Repeal of 'don't ask, don't tell' would be a major cultural and policy change in the middle of a war."
President Barack Obama has promised to jettison a policy he says is discriminatory, and asked Congress to repeal the 17-year-old law this year. Chances of that were slim to begin with, and they sank lower after Friday's blunt assessment that lifting the ban would tear the close bonds of the foxhole. Democrats have promised a vote this month.
Top brass warn of social upheaval
Both Casey and Marine Corps Commandant Gen. James Amos undercut Defense Secretary Robert Gates' claim that the change is not too dangerous. Their views are the most closely watched because the Army and Marines are doing most of the fighting in Afghanistan, and did the same in Iraq.
The generals acknowledged that openly gay service was probably inevitable and they played down suggestions that recruiting would drop off or large numbers of soldiers would resign when it happens.
But they warned of social upheaval among the tight units that live and fight side by side for months at a time on the front lines. Lifting the ban will not be as easy or safe as a Pentagon study released this week suggests, the generals said.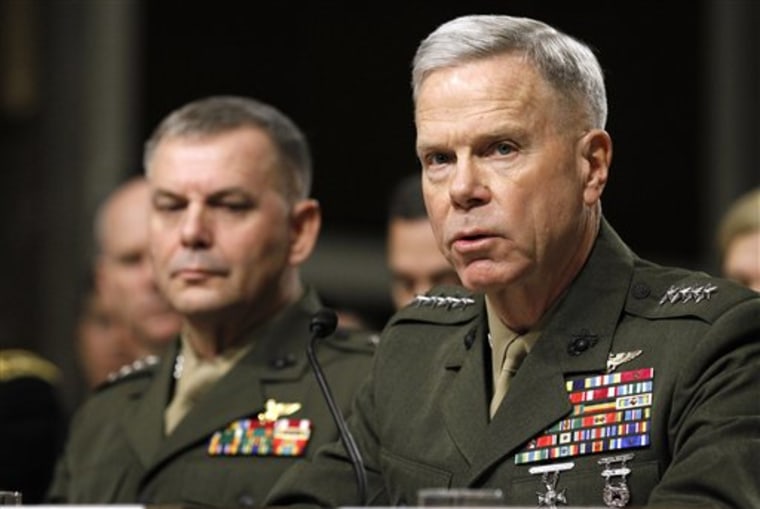 "My suspicions are that the law will be repealed" eventually, Amos told the Senate Armed Services Committee. "All I'm asking is the opportunity to do that at a time and choosing when my Marines are not singularly tightly focused on what they're doing in a very deadly environment."
The top Air Force officer also opposed repeal now, recommending delay at least until 2012. Only the Navy's top officer signed up to Gates' assessment that the ban can be lifted without undue risk.
A day earlier, Gates had urged the same panel to act now. A law passed by Congress to supplant "don't ask" could pre-empt a new round of court challenges Gates is sure is coming. Pentagon leaders fear a repeat of the wrenching experience of October, when a series of federal court orders lifted and then reinstated the ban.
Adm. Mike Mullen, who as chairman of the Joint Chiefs of Staff is the individual service chiefs' boss, testified Thursday that wartime is actually a good time to repeal the ban, because troops are too focused on the mission to get distracted by the change.
Casey called that assertion "a stretch."
General: In Marine Corps, potential for 'disruption'
The Marines are the most uncomfortable with the idea of lifting the ban, according to the Pentagon study that polled each service. Nearly 60 percent of Marines in combat jobs said the change would dent fighting mettle.
Amos has pointed to the unique battle fraternity of the Marine Corps, with an all-male front line force.
"Assimilating openly homosexual Marines into the tightly woven fabric of our combat units has strong potential for disruption," among individual units fighting or readying to deploy, Amos said Friday. "It will no doubt divert leadership attention away from an almost singular focus of preparing units for combat."
Arizona Sen. John McCain and other Senate Republicans argued that now is not the time to repeal the 1993 law that prohibits gay people from serving openly in the military. McCain said his constituents and service members he talked to during his latest election campaign care more about the economy than overturning a law he said is working.
"I will not agree to have this bill move forward, and neither will 41 of my colleagues because the economy is in the tank," he said, referring to the number of senators needed to block debate on a bill.
Mass. GOP senator back 'Don't Ask'
Massachusetts Republican Sen. Scott Brown announced Friday he supports repealing "don't ask, don't tell." GOP Sens. Susan Collins of Maine and John Ensign of Nevada also have backed repeal, likely giving Democrats the 60 votes needed to pass the bill during the lame-duck session.
But even with Brown's support, repeal was considered unlikely because Republicans have united in an agreement to block debate on any legislation this month until Congress approves tax cuts and addresses government spending. And, they remain at odds with Democrats on how much debate should be allowed on the defense policy bill containing the repeal provision.