NASA on Tuesday memorialized the Apollo 1 crew — Gus Grissom, Ed White and Roger Chaffee — by dedicating the hills surrounding the Spirit rover's landing site to the astronauts. The crew of Apollo 1 perished in flash fire during a launch pad test of their Apollo spacecraft at Kennedy Space Center, Fla., precisely 37 years earlier.
"Through recorded history, explorers have had both the honor and responsibility of naming significant landmarks," NASA Administrator Sean O'Keefe said in a written statement. "Gus, Ed and Roger's contributions, as much as their sacrifice, helped make our giant leap for mankind possible. Today, as America strides towards our next giant leap, NASA and the Mars Exploration Rover team created a fitting tribute to these brave explorers and their legacy."
Grissom Hill is located 4.7 miles (7.5 kilometers) to the southwest of Spirit's position. White Hill is 7 miles (11.2 kilometers) northwest of its position, and Chaffee Hill is 8.9 miles (14.3 kilometers) south-southwest of the rover.
Lt. Col. Virgil I. "Gus" Grissom was a U.S. Air Force test pilot when he was selected in 1959 as one of NASA's seven Mercury astronauts. On July 21, 1961, Grissom became the second American and third human in space when he piloted Liberty Bell 7 on a 15-minute suborbital flight. On March 23, 1965 he became the first human to make the voyage to space twice when he commanded the first manned Gemini flight. Selected as commander of the first manned Apollo mission, Grissom perished along with White and Chaffee in the Apollo 1 fire. He is buried at Arlington National Cemetery, Va.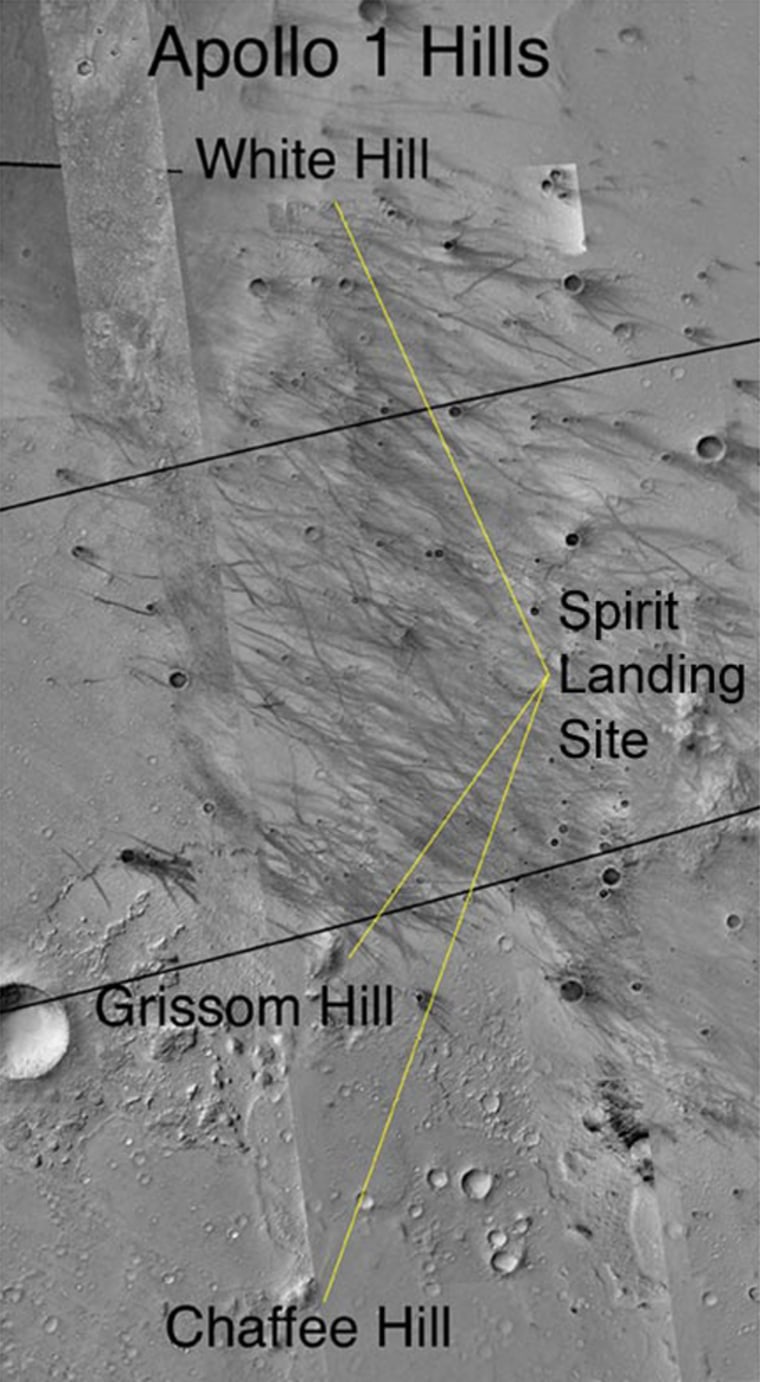 Capt. Edward White was a U.S. Air Force test pilot when selected in 1962 as a member of the "Next Nine," NASA's second astronaut selection. On June 3, 1965, White became the first American to walk in space during the flight of Gemini 4. Selected as senior pilot for the first manned Apollo mission, White perished along with Grissom and Chaffee in the Apollo 1 fire. He is buried at the his alma mater, the U.S. Military Academy at West Point, N.Y.
Selected in 1963 as a member of NASA's third astronaut class, U.S. Navy Lt. Cmdr. Roger Chaffee worked as a Gemini capsule communicator and researched systems for the Apollo Branch of the Astronaut office. On March 21, 1966, he was selected as pilot for the first 3-man Apollo flight. He is buried at Arlington National Cemetery.
The Spirit landing site itself is named Columbia Memorial Station, in honor of the seven astronauts who died last Feb. 1 in the breakup of the space shuttle Columbia. Spirit landed Jan. 3 in Mars' Gusev Crater, while its twin, the Opportunity rover, touched down Saturday night on the other side of the Red Planet, in Meridiani Planum. The Opportunity landing site has not yet been named.
The two identical rovers were sent to Mars as part of an $820 million NASA mission to study Martian geology and help determine whether the planet had liquid water long enough in ancient times to support the development of life.