/ Source: msnbc.com news services
Former dictator Jean-Claude "Baby Doc" Duvalier made a surprise return from exile to Haiti on Sunday, saying he wanted to help in the rebuilding of his earthquake-battered nation.
It was the first time that Duvalier, who is now 59 but was once the world's youngest head of state at 19, had returned to Haiti since he was forced out in 1986 by a popular uprising and U.S. pressure.
His unexpected return comes at a time when Haiti, still the poorest state in the Western Hemisphere, is facing political uncertainty following Nov. 28 presidential and legislative elections whose preliminary results have triggered fraud allegations and violent street protests.
The chaotic elections went ahead during a cholera epidemic in the country, which is still recovering from a devastating earthquake a year ago that killed more than 300,000 people.
'Great joy' Wearing a blue suit and tie and accompanied by his French wife, Veronique Roy, Duvalier arrived at Port-au-Prince airport on an Air France flight from Paris, witnesses said.
"I was waiting for this moment for a long time. When I first set foot on the ground, I felt great joy," Duvalier said, while hundreds of enthusiastic supporters outside the airport chanted "Long live Duvalier!".
The former ruler, who as a chubby playboy assumed power in Haiti in 1971 on the death of his father, the feared autocratic Francois "Papa Doc" Duvalier, said he had returned to his homeland "because I know the people are suffering".
"I wanted to show them my solidarity, to tell them that I am here, I am well disposed and determined to participate in the rebirth of Haiti," he told Reuters, without spelling out his exact intentions.
"He is happy to be back in this country, back in his home," added Mona Beruaveau, a candidate for Senate in a Duvalierist party after speaking to the former dictator. "He is tired after a long trip."
Fear, corruption Not everyone was enthusiastic about the return of the surviving member of the father-and-son Duvalier dynasty, which marked a 28-year epoch of fear and corruption in Haitian life.
"We are waiting to see what he's doing here. But it's not a good thing. I lived under Duvalier," said one Port-au-Prince resident, Christian Joseph, 49.
"I don't know much about Jean-Claude Duvalier but I've heard he did good things for the country," said 34-year-old Joel Pierre. "I hope he will do good things again."
Some were even afraid to talk about him. "Are you joking? He would kill me. Don't you know Duvalier?" said another person, who would not give a name.
During his rule, "Baby Doc" Duvalier had tried to improve Haiti's image after the rule of terror of his despotic father.
The Duvaliers tortured and killed their political opponents, ruling in an atmosphere of fear and repression ensured by the bloody Tonton Macoute, their feared secret police force.
Well aware of the outside world's contempt for the Tonton Macoutes thugs with their dark sunglasses and pistols who served his "Papa Doc", Duvalier renamed them "the volunteers for national security." However, he did not get rid of them. 
He had also faced accusations of corruption, political repression and human rights abuses when he fled the country in 1986.
The end of his reign was followed by a period known as deshoukaj or "uprooting" in which Haitians carried out reprisals against Macoutes and regime loyalists, tearing their houses to the ground.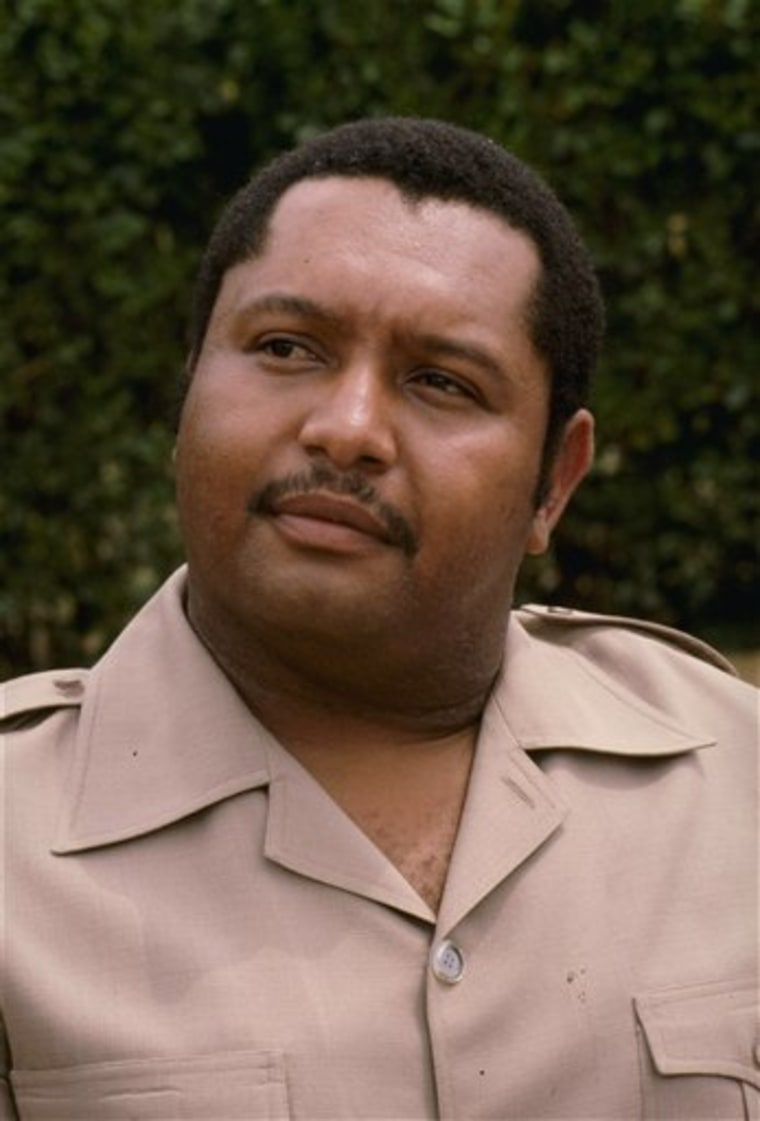 However, no current arrest warrants were known to exist against him, and as Haiti's existing constitution bans the practice of exile for Haitians, there was nothing legally preventing his return.
A source close to Duvalier said he had returned under a diplomatic passport, but was required to inform Haiti's Interior Ministry of his whereabouts.
Duvalier has been accused of pilfering millions of dollars from public funds and spiriting them out of the country to Swiss banks, though he denies stealing from Haiti.
In the fall of 2007, President Rene Preval told reporters that Duvalier could return to Haiti but would face justice for the deaths of thousands of people and the theft of millions of dollars.
Haitians danced in the streets to celebrate the overthrow of Duvalier back in 1986, heckling the tubby, boyish tyrant as he drove to the airport and was flown into exile in France.
But a handful of loyalists have been campaigning to bring Duvalier home from exile in France, launching a foundation to improve the dictatorship's image and reviving Baby Doc's political party in the hopes that one day he can return to power democratically.
"We want him to be president because we don't trust anyone in this election. He did bad things but since he left we have not had stability. We have more people without jobs, without homes," said Haiti Belizaire, a 47-year-old Duvalier supporter in the crowd outside the airport.
Half the people in the country are younger than 21, and weren't alive during Duvalier's rule.
Author Amy Wilentz, whose book "The Rainy Season" is a definitive account of the aftermath of Duvalier's exile, said: "This is not the right moment for such upheaval."
"Let's not forget what Duvalierism was: prison camps, torture, arbitrary arrest, extrajudicial killings, persecution of the opposition," she wrote in an e-mail to AP. And, she added, "If Haitian authorities allow Duvalier to return, can they thwart exiled President Aristide's desire to come back to the country?"
"Haitians need a steady hand to guide them through the earthquake recovery, not the ministrations of a scion of dictatorship."
Turbulent atmosphere
Duvalier's return adds a new intriguing figure to the turbulent atmosphere in Haiti, just days after the country commemorated the first anniversary of the massive Jan. 12, 2010 earthquake.
The outcome of the confused Nov. 28 elections is still up in the air after a team of Organization of American States (OAS) experts last week delivered a report to outgoing President Rene Preval challenging the preliminary official results from the vote.
Preval has said he has "reservations" about the OAS report, which recommends that government technocrat and Preval protege Jude Celestin be eliminated from a second round run-off vote in favor of popular musician Michel Martelly.
Preval, accused by opponents of rigging the U.N.-backed November elections that took place amid widespread fraud allegations, had originally asked the OAS to help verify the disputed preliminary election results.
A nation struggles to recover and rebuild after much of the country was devastated.
It was not clear whether Preval would reject the OAS report's recommendation or seek to discuss his reservations further with the OAS experts. Haiti's Provisional Electoral Council is the final arbiter of elections in Haiti.
The OAS report, which cited "significant" vote tally irregularities, confirmed opposition matriarch Mirlande Manigat as the candidate who won the most votes in the first round.
She did not gain enough votes to win outright but is in the second-round run-off. But whether this will be with Celestin or Martelly remains to be seen.
Election observers say that even if the CEP heeds the OAS experts' findings, it still has to complete a disputes settlement procedure before it can formally announce final revised results from the first round vote.
This means Haiti will not be able to hold a presidential election second round run-off before February, at the earliest.
Last month's protests and violence triggered by the Dec. 7 announcement of the results killed at least four people and increased fears that instability could delay the hand-over of billions of dollars of reconstruction funds for Haiti from foreign donors.