/ Source: Arthur Frommer's Budget Travel
Carpe Hong Kong! Even if you're just passing through for a day like Matt Lauer or have time to linger in the buzzing, exhilarating and schizophrenic Chinese city, Hong Kong does not disappoint. Free from British rule since 1997, it offers a well-honed taste of the exotic but also all the comforts of home, and we're going to help you, dear travelers, discover Hong Kong's colorful, bustling markets, modern marvels, enduring English influence, shiny malls, and ancient ways—and prove you don't have to be a tycoon or descendent of the Ming Dynasty to go there.
China's melting pot
Think of Hong Kong as a checkerboard—old next to new, rich next to poor—and you will have a good idea of the city's arresting contrasts. Even tourists can capitalize on Hong Kong's yin-yang nature, and right now you can visit Hong Kong on a limited budget and still stay in one of the nicest areas of town with access to the city's best shopping, dining, and sights. The most cost-effect way to do this at the moment is with air-hotel package vacations. Why? Tour operators buy airline tickets and hotel rooms in bulk and pass along those savings to their customers. Currently, buying a package that includes hotel and airfare to Hong Kong can cost as little as the airfare alone would (but if you still want to book the elements separately, scroll down to the bottom of this article for info on how to do that).
The first of two package vacations sure to be of interest is being offered by an ever-dependable online source for bargains, Go-Today.com (www.go-today.com). Its sticker price is a low $599, which gets you roundtrip airfare from Los Angeles or San Francisco to Hong Kong on All Nippon (www.allnippon.com, 800/235-9262), the eighth largest airline in the world. The vacation also includes convenient hotel transfers after your 15-hour flight from the West Coast, five night's accommodation, and a half-day tour of Hong Kong, arguably one of the busiest harbor cities in the world.
Dim sum it up
With Go-Today's deal you'll be bunking for five full nights at the modern Newton Hotel (www.newtonhk.com), where you'll have a chance to sample dim sum in its Old Hong Kong Restaurant. Arguably a staple of Chinese culinary life, dim sum is a favorite substitute for a more formal breakfast or lunch. And for those who've never tried it (and it is an experience), expect a non-stop parade of carts piled high with piping hot bamboo steamers full of 'little treasures'—tiny dishes just begging to be sampled. While dim sum is traditionally Cantonese, nowadays it's common to find tasty treats from other regions like wobbly soup-filled dumplings from Shanghai. If you want to strike out beyond the hotel for this specialty, dim sum restaurants dot the city, so let your stomach be your guide.
Shop 'til you plop
The Newton Hotel, in the Central District, is convenient to the shopping mecca of Causeway Bay. But the place to check out when you truly have the urge to splurge in Hong Kong is Nathan Road in Kowloon—the street to head for for all your retail therapy needs. It pulsates with neon signs, high-end boutiques, camera shops, and tailors. (For tips on having a suit made in Hong Kong, see our sidebar.) When you consider that Hong Kong was formed with the express purpose of increasing and improving trade, it makes perfect sense that the city still thrives with that mandate in mind. Not only is it fully and completely a "duty free" zone, it's easily one of Asia's great "Wall Streets." There's a lot of wheeling and dealing within Hong Kong city limits, and coupled with that is a vigorous retail and shopping culture. Many even think of it as one large shopping mall.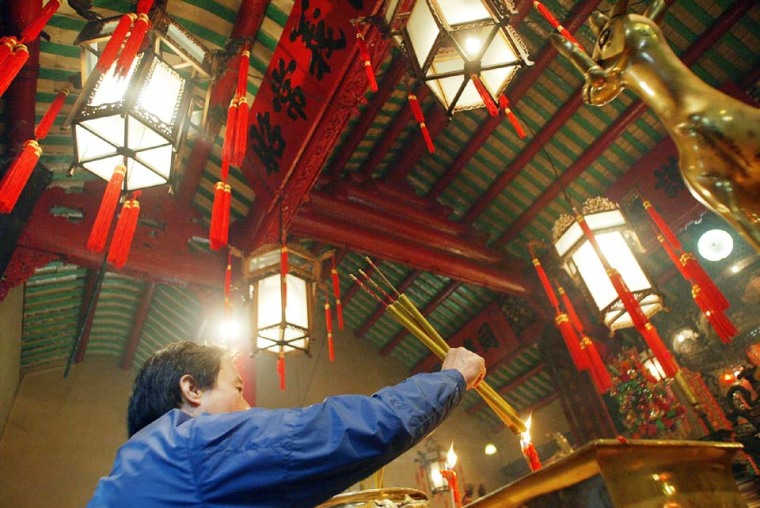 Other sure-bet shopping spots are Shanghai Tang, the chic 1930s-style department store famous for its mandarin-collared, frog-buttoned jackets in an array of bright colors, "emporiums" selling quirky Chinese souvenirs; and the antique stalls and stores selling a range of treasures from the past on Cat and Hollywood roads.
Go today, or tomorrow
The Go-Today $599 Hong Kong package vacation (see above) is good for travel and purchase until Mar. 11, 2004.  Solo travelers pay an extra $140, and each additional night, should you want to stay longer, runs from $24 per person per double. For complete information, including black-out dates, or to make a reservation, go to: www.go-today.com. Don't live in Los Angeles or San Francisco? No problem; Go-Today can arrange your trip from other cities. Sample add-on prices are as follows:
Add $50 from:
Burbank, Fresno, Monterey, Palm Springs, Reno, San Diego, Santa Barbara, Portland, OR, or Seattle
Add $75 from:
Las Vegas, Phoenix, Tuscon
Add $150 from:
Boise, Cedar Rapids, Colorado Springs, Denver, Eugene, Spokane, Medford, Redding, Salt Lake City
Add $350 from:
Chicago, Denver, Dallas-Ft Worth, Detroit, Houston, Memphis, Minneapolis, New York (JFK), Orlando, Tulsa, Washington
An Asian affair to remember
The vacation wing of award-winning Singapore Airlines, Asian Affair Holidays (www.asianaffairholidays.com) also has a Hong-Kong getaway of note at the moment. Priced at $777 per person, this one is slightly more expensive, but its dates of availability are a tad longer (through the end of March). You get roundtrip airfare from San Francisco on Singapore Airlines, hotel transfers, four nights at the spiffy 690-room Harbour Plaza Metropolis Hotel (www.harbour-plaza.com/hpme), full breakfast daily, half-day Hong Kong Island tour, and a host of freebies that include an island hopping pass, admission to the Hong Kong Museum of History, and classes on a grab bag of subject matters, including the graceful movements of tai chi (shadowboxing); modern high-rise and traditional architecture; and feng shui, the ancient Chinese art and practice of  arrangement to increase spiritual potency and luck in a room or space.
Asian Affair Holidays' offer is good for travel until Mar. 31, 2004, and as is the norm, singles have to pay a supplement with this vacation; in this case it's $200 additional. Given that Hong Kong is a long ways to travel for four nights, you'll likely want to extend your stay, which will put you out $48 per extra night. Add-on prices from other US cities are as follows:
For more information or to make a reservation, contact Asian Affair Holidays (www.asianaffairholidays.com) at 800/742-3133.
Hong Kong for the independent traveler
More than a compelling destination in and of itself, Hong Kong also makes for an ideal launch pad for trips to mainland China, to Guangzhou, Shanghai, and Beijing. Even Macau, the former Portugese city that was given back to China in 1999 after over four-hundred years of rule, is just an hour away by high-speed jetfoil ($17 economy class each way, $30 deluxe). Whether you do some one-stop shopping with a package vacation to China's great gateway, or want to piece you're your own trip is up to you. If you decide to go it solo, we recommend Cathay Pacific (www.cathayusa.com), Singapore Airlines (www.singaporeair.com), Air Canada (www.aircanada.ca), and United Airlines (www.united.com) as good sources for affordable airfare. A recent search for the best rates on the market came up with a $639 roundtrip airfare to Hong Kong from Los Angeles for travel departing Feb. 27, returning Mar. 7. Plugging in those same dates we got the following fares from other US cities:
$628—Seattle (Air Canada)
$706—Washington D.C. (United Airlines)
$736—Chicago (United Airlines)
$763—Denver (United Airlines)
$775—New York City (Continental Airlines)
$786—Miami (United Airlines)
A room to call your own
To say Hong Kong has its fair share of hotels would be an understatement; there are many accommodations to choose from—over some 40,000 rooms—and great options in all price ranges.
Silvermine Beach, Harbour View International, and the Charterhouse hotels are all offering rooms for the above-selected dates for less than $80 a night, which is a bargain in a town where rooms can skyrocket into the thousands of dollars.
Another terrific budget option is the Salisbury YMCA (www.ymcahk.org.hk), which is located next to one of the nicest hotels in the city—the Peninsula—and has a pool, fitness center and other facilities. Rooms are more than serviceable, and it's also convenient to the ferry with views of Victoria Harbour. Rates here are under $100 per night.
If you're look for a hotel "experience" and not merely someplace to just lay your head and get a few moments of peace and quiet then we'd recommend:
View to a thrill
We'll leave you with some sure-bet ideas for soaking in the city of Hong Kong, in all its glory. The best place to start is the water, and we recommend hopping aboard the famed Star Ferry from Kowloon Peninsula. The ride is sure to emblazon the Hong Kong's sweeping skyline in your memory forever. (And, it's cheap too—just $2 for standard fare and $4 for deluxe.) From the ferry landing, you can stroll east along the pedestrian promenade of Tsim Sha Shui for more scenic vistas—of luxury cruise ships, rickety sea vessels made of wood, and, of course, Hong Kong's skyscrapers, which appear like stalagmites along the shores. Bird's eye views can be had from the old double-decker tram across Hong Kong Island, or by climbing to the top of Victoria's Peak by way of a charming old funicular. For more ideas on where else to go in Hong Kong for stunning scapes, tips on getting around, things to do, special offers, as well as a look at Hong Kong's jam-packed events calendar, contact the Hong Kong Tourist Board (www.discoverhongkong.com/usa, 310/ 208-4582).
Any trip to Hong Kong, whether it's your first or your first this year, will, we're sure, inspired many more visits to China's most dramatic diverse city. You will, simply put, be dizzy, dazzled, and delighted.
{Editor's Note: Have you ever been to Hong Kong? Do you have a money-saving hint, tip, or anecdote that would be helpful to other travelers? We'd love to hear it and possibly reprint it in our letters to the editor column. Simply to send a letter to our editors.}