In the 26 years he's owned a drug store here on Gun Hill Road, Bill Scheer says this predominantly blue-collar neighborhood hasn't changed much. Along the way, the storefront's blue and white awning has become a part of that neighborhood.
An aging population and ever-higher drug prices augur well for drug retailers. But while the neighborhood hasn't changed much, the business is dramatically different.
Independent pharmacies have not fared as well in the past decade. While the total number of pharmacies in the U.S. remained relatively flat at around 55,000 between 1992 and 2002, the number of independents has fallen sharply – from over 30,000 in 1991 to less than 20,000 in 2002. They've been replaced by major drug and supermarket chains, mass merchants like Wal-Mart and, most recently, by mail-order prescription services.

"I have right in front of me a Rite Aid over there and a Rite Aid over there, one down here on Gun Hill Road and one up on Boston Road and I'm still doing the business," he said. "Were still here and were still doing business because people prefer our brand of pharmacy, as it were."
While the growth of powerful national-chain pharmacies has had a big change on his business, Scheer says his customers — he calls them patients — still come back because some things haven't changed.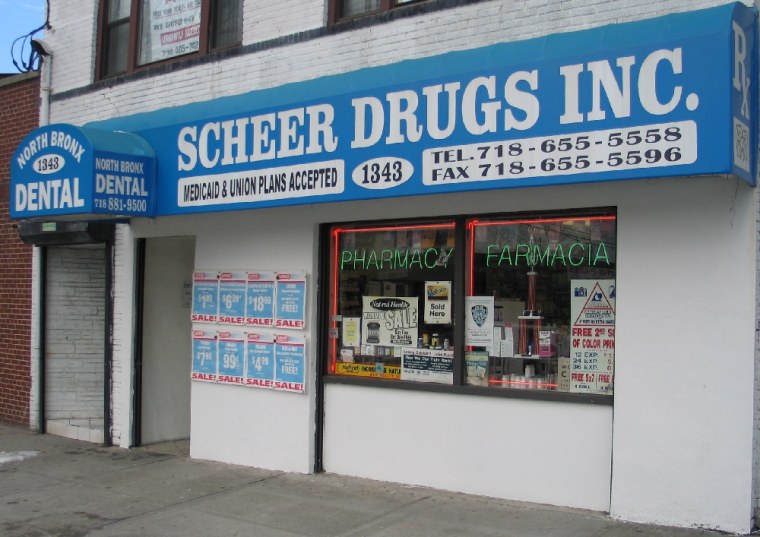 Scheer says he's still dispensing medicine the old-fashioned way — one patient at a time. That, he says, is the secret of his success.
"People want a friendly face with them to talk about medicine," he said. "They've lost that with their doctors and HMOs."
That level of contact with patients is what keeps Scheer going. He started working at the age of 16, went to pharmacy school in Connecticut, and then took a job with drug maker Eli Lilly. But his desire to work directly with patients brought him back behind the counter, where he's been ever since.
To keep his customers from defecting to chain stores or mail order, Scheer sends a monthly sales letter around to nearby apartment buildings and advertises in local penny saver newspapers. One of his biggest marketing tools is also very old-fashioned — word of mouth.
"I have people here who were bringing their kids who were young children when I first started," he said during a quick break on a busy afternoon.
Lately, though, owning a drug store has gotten harder, he says.
"More and more I'm spending time on the phone talking to insurance companies because they don't cover this drug but they'll cover another drug or this patient's card has changed," he said.
Competition from chains stores and mail order plans has also squeezed his profit margins. Retail pharmacies operate on about 4 percent margin industrywide, he says. Scheer is also working with state and national trade groups to press for legislation to undo what he says are inequities in the drug reimbursement system that favors the biggest players.


Scheer's store is tiny by chain store standards, but says that by not stocking a large variety of general merchandise, his store is more focused on serving patients than the national chains.
"They're dealing with the over-the-counter medicines, the cookies, the milk," he said. "I'm surprised they're not cooking hot dogs."

And he says independent pharmacies like his still offer a valuable service that his larger rivals do not.
"We deliver," he said. "And we pick up prescriptions, too.  There's an expense involved, but it's paid off in getting patients who will come to us."