Bitter cold gripped most of the nation on Saturday, with wind chills pushing the mercury to its lowest temperatures of the winter so far, forecasters said.
Following on the heels of the cold blast is a "significant winter storm" likely to arrive on Tuesday and Wednesday, forecasters at the National Weather Service said.
Forecasters said the Northeast should bundle up.
"Arctic air will pour into the Northeast this weekend, bringing the lowest temperatures of the winter so far, including some subzero readings," said Alex Sosnowski, expert senior meteorologist at AccuWeather.com.
Burlington, Vt., could expect early morning readings of minus 20 degrees by early next week, and parts of northern New England and upstate New York could reach minus 30 degrees, he said on AccuWeather.com's web site.
For Saturday, high temperatures will "barely reach the teens over much of upstate New York and northern New England," wrote Matt Crowther, lead meteorologist for The Weather Channel on its web site.
"The East Coast cities will see highs only in the 20s," he said, adding, "Even colder air is expected Sunday and Monday."
As to the storm looming next week, he said: "This storm will be a windy one with plenty of precipitation."
North Carolina snow
A strengthening storm system pulling off the Atlantic Coast threw back some heavy snow on North Carolina, with up to 6 inches falling on coastal areas north of Wilmington.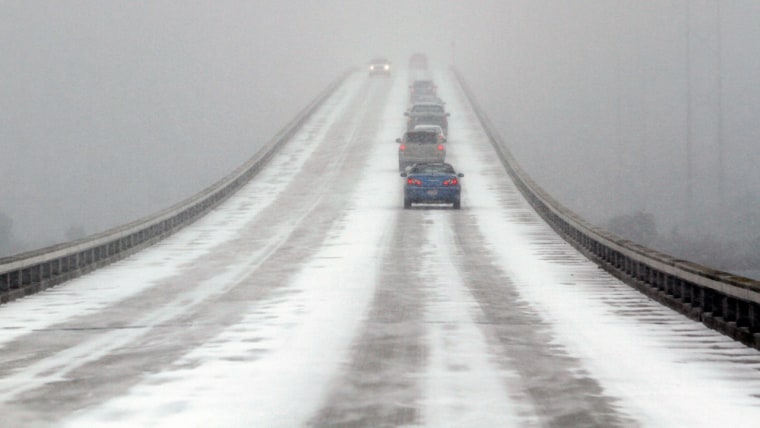 Three inches of snow or more could fall on the Outer Banks, meteorologists say.
Tabitha Styron at the oceanfront Seahawk Motor Lodge in Atlantic Beach said some of her guests were grumbling, but most of them were walking outside and couldn't believe what they were seeing.
Flurries from the storm were reported as far south as Charleston, S.C.
Midwest chills
Two to six inches of snow was likely in eastern Nebraska, northeast Kansas, southwest Iowa and northwest Missouri.
"High temperatures may have a tough time reaching positive numbers from North Dakota to Wisconsin," Crowther said.
International Falls, Minn., the temperature was expected to drop to 25 below zero Saturday night, according to the National Weather Service.
Illinois ice
Two Chicago deaths were believed to be caused to the extreme weather. A man and woman were found Friday morning by a family member dead of apparent carbon monoxide poisoning from a space heater, according to police. The Cook County Medical Examiner's office confirmed the deaths Saturday, but said the cause was still pending toxicology.
In the Chicago area, Illinois State Police have received many complaints about icy roads, and report "multiple crashes" on the highways, according to Trooper E. Nanai. Some accidents required ambulances, though no weather-related road fatalities have been reported.
Slippery Chicago sidewalks are a hazard for pedestrians, who can be seen clutching fences and light posts as they walk, or else avoiding sidewalks and walking down shoveled and salted streets.
Tennessee plows
The state, which has had four major snowstorms so far this season, has depleted its stockpile of road salt.
Tennessee Department of Transportation chief engineer Paul Degges wrote on the department's web site that TDOT is working with its salt supplier to replenish the supply. In the meantime, the state will increase its use of snow plows. Crews also will step up the use of salt brine and calcium chloride to stretch salt supplies.