I am constantly losing my keys and my phone. Either they get buried under a pile of gloves on our front table, or my 2-year-old decides that my keys would be much safer wedged between the sofa cushions. And, it's always when I'm about to run out the door that I realize one or other has gone AWOL.
However lost keys, cell phones, wallets, TV remotes or whatever can be found quickly when you have a locator tag or service attached to them.
Finding stuff at home
Item locators are two-piece systems: There's the small tag you attach to the thing you want to track, and the receiver that tracks them. Before using the tags, you register them with the receiver. Some systems come with pre-paired tags, others let you input the name of the tagged item into the locator.
When an item is lost, the locator will search for the item's unique tag and give you auditory and/or visual directional signals to point you in the right direction.
For a basic model, check out the Click 'n Dig Key Finder ($37; clickndig.com). The system comes with two key-fob tags and two thin receiver tags that you can affix to items with double-sided tape.
The system comes with two key-fob tags and two thin receiver tags that you can affix to items with double-sided tape. To find an item up to 60 feet away, you just press the colored button that matches your item's tag and the tag will beep.
On the high end, there's the Loc8tor Plus ($170; loc8tor.com), which has a listed maximum range of 600 feet. It comes with four tags, but is capable of tracking up to 24 items. When you select the tag you want to find on the receiver's display you'll see the direction and range of the tag as well as hear it. There's also an Alert Mode, which will trigger an alarm as a tag moves outside a pre-set range.
Of course the maximum ranges for item locators reflect ideal circumstances. If your keys are prone to being buried in the sofa cushions, like mine are, you can expect the range to be about half the listed distance. And if my 2-year-old discovers the flushing-down-the-toilet trick, all bets are off!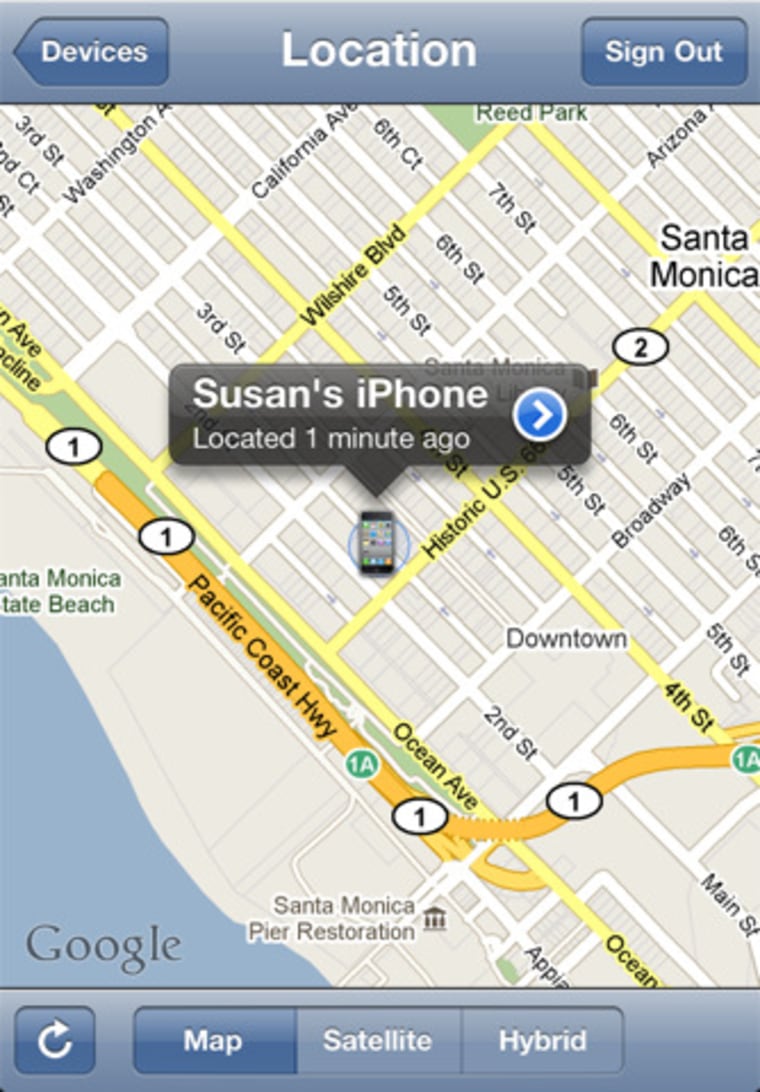 Finding my lost phone
If I lose my phone, and I know that it's not stuck between the sofa cushions, it's time to turn to the tracking app I have loaded on my phone.
For my iPhone, I use the Find My iPhone app (free; iTunes App Store). Since I've activated tracking on my phone, I can log into my account on my computer to locate my phone on a map, lock it or even wipe any personal data from it. Find My iPhone is integrated into Apple's MobileMe service, which will run you $100 per year, but it's also now a free service if you have an iPhone 4, iPad or the latest generation iPod Touch.
There are similar services for other smart phones. There's the Phone Locator app (free; BlackBerry App World) for BlackBerry, which shows your phone's location. iTag (free; itag.com) for Android devices let you locate and lock your phone, as well as back up your contacts and wipe the data. And Windows Phone 7 devices can be located by logging into your Windows Phone 7 Live account.

Finding my sanity
With these tools, I'm now ready to walk out the door in half the time it took me before. And better yet, I can stress less knowing that even if I lose my phone, all is not really lost.
More from Techlicious:
You can find Suzanne on Twitter at and on .