/ Source: msnbc.com staff and news service reports
Animal services officers often get calls reporting "huge," monstrous reptiles, only to arrive and find an itty-bitty garden snake.
But people strolling along Grambling Way, near Massachusetts Avenue, in Riverside Tuesday got a shock when they found they were sharing the sidewalk with a five-foot-long monitor lizard.
"It was just walking along," said John Welsh, spokesman for Riverside County Department of Animal Services. "People were stunned by the size of this thing. It looks like the size of a small alligator."
Animal control officer Jenny Selter was dispatched to the scene. "She said she saw it and almost jumped back in her truck," Walsh said. "The residents were freaking out because here's the Godzilla-like creature walking down the sidewalk."
Selter managed to get a catch pole — a long pole with a loop at the end that's used to handle vicious dogs — around the animal's neck, Welsh said. It was docile at first, but then it started hissing.
A police officer grabbed the lizard's body while Selter held onto its sharp, lashing tail, and together they put it in a compartment of her truck that's usually used for large dogs.
Black-throated monitor lizards are carnivorous, legal to own in California and native to the African grasslands and parts of Asia. Juveniles go for about $100 in pet stores, but they grow.
Back at the shelter, staff found the reptile was well-behaved for a monitor lizard.
"The last one we had was nasty. But this one doesn't hiss and we were able to walk it around. It was investigating and didn't snap at anyone," Welsh said. "We suspect that it's been someone's pet for a long time, because it's so big. I think they might let it wander around the house. Maybe it sleeps on a bean bag?"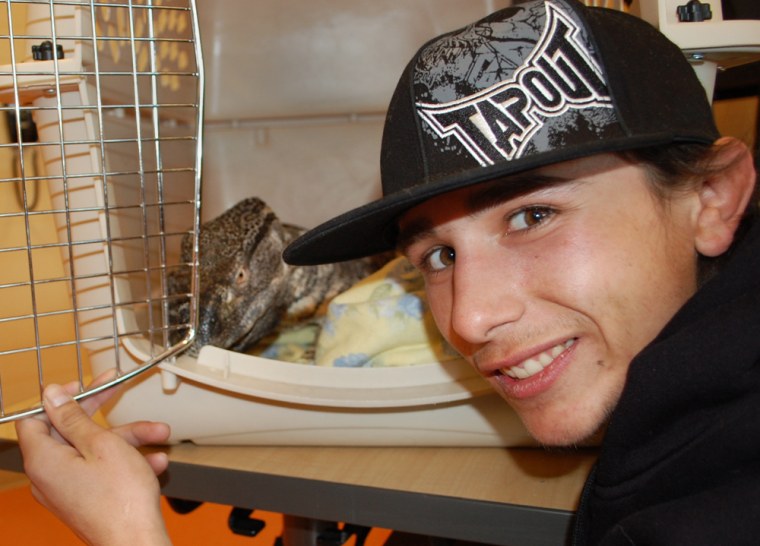 Later Wednesday, owner Tom Casarez Jr. of Riverside was reunited with the lizard, named Elmer, Welsh said on the Animal Services website.
Casarez told officers that Elmer had been missing since Sunday. Elmer's tank was being cleaned, and a door in the residence was left open, allowing the lizard to slip out unnoticed.
Welsh said Animal Services officers visited Casarez's home and determined Elmer was being properly cared for.
Noting that Elmer is a carnivore, Welsh said there hadn't been any reports of missing pets in the neighborhood.