/ Source: NBC, msnbc.com and news services
Heavy snow continued to wreak havoc on the Northeast Thursday, with airports closed and roads snarled as another storm swept over a region already beaten down by a winter not even half over.
In New York's Central Park, 15 inches had fallen by 2 a.m. ET, smashing an 86-year-old record for snowfall in January, according to the National Weather Service.
In other areas, 14 inches had fallen at Newark, an estimated 8 to 10 inches hit Philadelphia, with 6 inches at Baltimore Washington International Airport and 3 inches at Providence, Rhode Island.
"I fell three times trying to get off the steps," commuter Elliot Self said after leaving an elevated train in Philadelphia. "I just want the snow to stop. I want the sun again. I want to feel just a little bit of warmth."
In the Washington, D.C., area, traffic was at a standstill, with motorists stuck for hours on icy roadways, NBC News reported.
Runways were closed Wednesday evening at the region's airports, and the airport authority said flight cancellations and delays early Thursday morning.
Blankets were being handed out to the several hundred passengers who couldn't leave the terminals because there was no ground transportation to hotels.
Woman dies
Police on New York's Long Island said a pickup truck plowing a snow-covered parking lot struck and killed a woman Wednesday afternoon.
Since Dec. 14, snow has fallen eight times on the New York region — or an average of about once every five days, including the blizzard that dropped 20 inches on the city and paralyzed travel after Christmas.
The NWS said the old record for Central Park was the 27.4 inches which fell in 1925. The latest snowfall took that to 32.3 inches.
The New York area's three major airports, among the nation's busiest, saw more than 1,000 flights canceled. John F. Kennedy in New York and Newark International in New Jersey were among Northeast airports shut down early Thursday.
In Pennsylvania, residents hunkered down as a one-two punch of a winter storm brought snow, sleet and then more snow, which forecasters said could total a foot in some areas.
Philadelphia declared a snow emergency as of Wednesday evening, ordering cars removed from emergency routes.
Northwest, in Hatfield Township, Pa., residents were scared by thunder claps and blinding lightning in a rare thundersnow, a thunderstorm with heavy snow instead of rain.
New Jersey also was looking at up to a foot of snow, and high winds were expected before the storm moves out early Thursday.
Rain drenched the nation's capital for most of the day and changed to sleet before it started snowing in earnest at midafternoon. Washington was expected to get up to 10 inches of snow.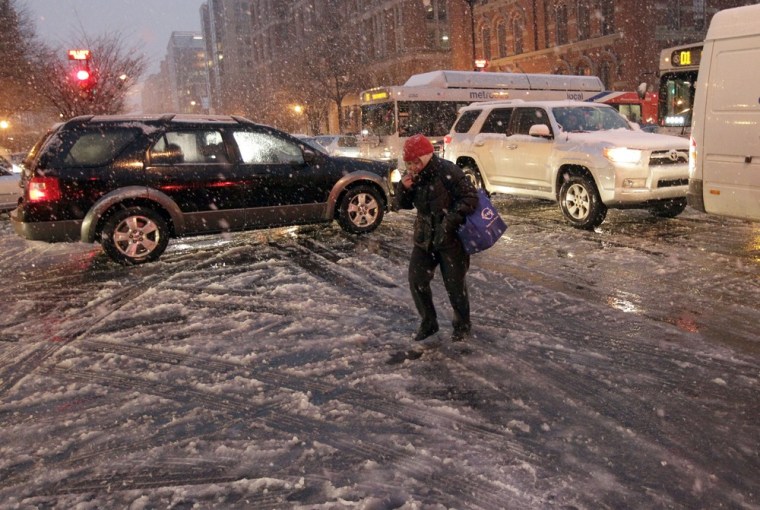 President groundedThe snow and icy roads created hazardous conditions for President Barack Obama as he returned to the White House on Wednesday after a post-State of the Union trip to Manitowoc, Wis.
The wintry weather grounded Marine One, the helicopter that typically transports Obama to and from the military base where Air Force One lands.
Instead, Obama was met at the plane by his motorcade, which spent an hour weaving through rush hour traffic already slowed by the storm. It normally takes the president's motorcade about 20 minutes to travel between the base and the White House.
In suburban Silver Spring, Md., nurse Tiffany Horairy said as she waited for a bus that she was getting tired of the constant pecking of minor or moderate storms.
"I'd rather get something like last year, with all the snow at once," she said.
Officials urged residents in Washington and Maryland to stay off the roads as snow, thunder and lightning pounded the Mid-Atlantic region. In D.C., Metro transit officials pulled buses off the roads as conditions deteriorated. Firefighters warned the heavy snow was bringing down power lines and causing outages.
About 200,000 customers lost power, about half as many as in July, when a powerful line of thunderstorms moved through the area.
Some places are running out of room to stash plowed snow.
Portsmouth, N.H., hauls its snow out to Peirce Island, but it was nearly full, with a huge mountain of the stuff.
"We probably have a five-story snow dump right now," said Portsmouth public works director David Allen. "It's time to get a lift up on it and we could probably do a ski run."
For days, forecasters had been predicting rain, freezing rain or deep snow along the East Coast, but they weren't quite sure who would get what. That unpredictability continued playing out as the storm swept from middle Appalachia into the Northeast.
In New Jersey, state workers were sent home early and schools closed as the storm brought more snow than anticipated Wednesday morning. A second band of snow began falling in the evening. The NJ Transit agency allowed customers to use bus tickets for rail travel, and vice versa, to get home any way they could.
In suburban Philadelphia's Phoenixville, a delayed decision to call off classes angered parents when dozens of students got stranded at school. Eighty-seven buses had to be redirected to take students back home.
Parents and teachers in Tennessee were concerned about yet another day off from school Wednesday. Angela Wilburn, who teaches eighth grade at McMurray Middle School in Nashville, said students had missed eight days so far this year, pushing back her teaching schedule and making it difficult to keep kids focused. She was worried about a writing test scheduled for February.
"The writing assessment counts toward No Child Left Behind," she said. "It affects the whole school."
New York City declared a weather emergency for the second time since the Dec. 26 storm, which trapped hundreds of buses and ambulances and caused a political crisis for the mayor. An emergency declaration means any car blocking roads or impeding snowplows can be towed at the owner's expense.
In the suburbs, a pickup truck plowing a snow-covered parking lot struck and killed a Long Island woman Wednesday afternoon, police said.
In Kentucky, where several inches of snow fell, a man who lost control of his pickup truck on an ice-covered road and got out of it was hit and killed by another truck that lost control on the same patch.
Numerous vehicles were disabled or abandoned across northern Delaware, and dozens of crashes were reported.