/ Source: The Associated Press
While on the lam for 2½ years, a Japanese man wanted for the murder of a British woman says he scissored off his lower lip, dug two moles out of his cheek with a box cutter and gave himself a nose job in an attempt to obscure his identity.
The disclosures come in a book released Wednesday and written from jail by Tatsuya Ichihashi, who will stand trial later this year in the murder and rape of his English teacher, Lindsay Ann Hawker.
Hawker, 22, was found dead in a sand-filled bathtub on the balcony of Ichihashi's apartment in Chiba, east of Tokyo, in March 2007.
Ichihashi, arrested in 2009 after a lengthy nationwide manhunt, admits to taking Hawker's life in the book, "Until the Arrest." But he doesn't describe the crime or his motives, instead detailing his life at large, during which he traveled up and down the country, in constant fear of arrest and obsessed with cosmetic surgery.
While police say Ichihashi has confessed to assaulting Hawker and that she died from her injuries, he won't enter a plea until the trial begins. The details in the book do not take responsibility for anything beyond what Ichihashi has already told investigators. If convicted of murder, he could face the death penalty.
After escaping the police who came to his apartment to question him, he bound up his nose with a thread and needle — like a cook trussing a piece of meat — to make it narrower.
At first, Ichihashi, 32, wandered around Tokyo and then drifted north to Aomori prefecture, where he twice tried to cut off part of his lower lip to make it thinner. The first time, he couldn't follow through because of the excruciating pain, he wrote. He finished it up a few days later in a public bathroom.
He wore several layers of surgical masks to hide the scars, but apparently didn't stand out in the spring when many Japanese do the same to escape pollen.
Moving by train and bus, Ichihashi headed south and embarked on a pilgrimage of temples in the southwestern island of Shikoku, wishing Hawker could "come back to life" — an idea he got from a novel, in which the dead are resurrected after someone who is thinking of them tours the same temples.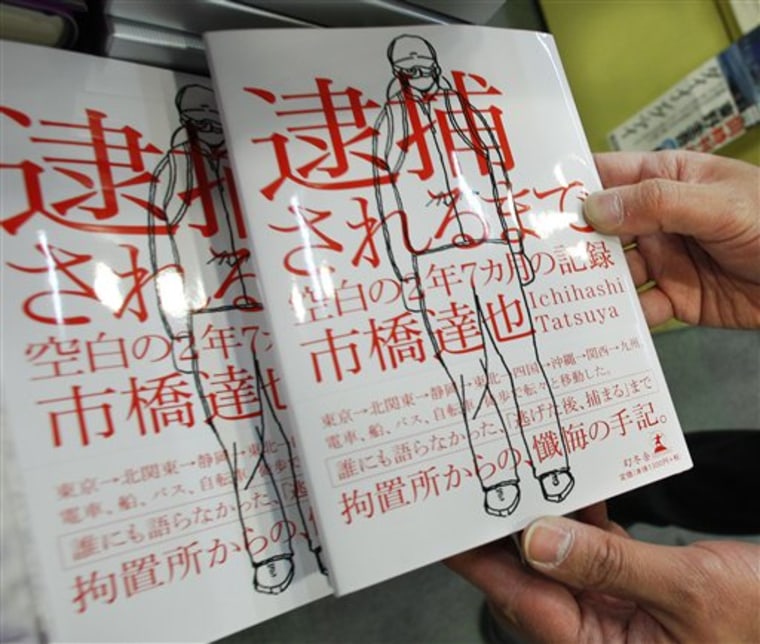 "I took Lindsay's life, that fact does not change," he wrote in the 238-page book released by publishing house Gentosha, its cover depicting Ichihashi's drawing of himself: a man wearing a baseball cap and a surgical mask.
While at large, Ichihashi carefully avoided monitoring cameras at shops and eye contact with anyone. He changed his location quickly and often when he thought he might have been spotted. He never contacted his family or friends.
Police offered a reward of 10 million yen ($121,000) for tips leading to his arrest.
Once he walked past a police station and saw a wanted poster with his face on it. It was then that he sliced off the moles on his left cheek — prominent in the wanted picture.
Having saved nearly 1 million yen ($12,100) from a string of construction jobs, he spent most of it on two plastic surgery operations, once to acquire a longer and narrower nose, and the second to raise the bridge of his nose.
In the end, his attempts to obscure his identity led to his arrest.
Staff at the second clinic took many photos of his left cheek with traces of moles he had removed, which seemed "strange."
The clinic reported his visit and sent the photos to police — news that was splashed in Japanese newspapers.
Ichihashi said he froze when he saw the news on TV about his cosmetic surgery.
"My heart raced," he wrote. "I gazed at it trembling."
He immediately checked out of his hotel, got a haircut and even bought a party disguise set containing a beard, sideburns and a mustache.
He was eventually stopped on Nov. 10, 2009, by police at the ferry terminal in Osaka as he tried to flee again. One of the officers asked his name.
Ichihashi gave his real name for the first time in 2½ years and was arrested.
In his book, Ichihashi apologizes to Hawker and her family, saying the book was intended as "a gesture of contrition for the crime I committed."