/ Source: msnbc.com staff and news service reports
A snowstorm gaining strength throughout the day on Wednesday snarled commuter traffic, canceled flights and shut down schools throughout the Northeast, with even worse weather predicted at nightfall. 
New York City declared a weather emergency and accumulations of up to 10 inches were forecast for the city, Rockland and Westchester counties and Long Island by the storm moves out Thursday morning.

Snow began falling heavily on Long Island in the middle of the morning rush hour. Local streets quickly became snow covered, although the major roadways remained passable.

"The roads are really, really bad," said Ed Deutsch, a school bus driver from Islip Terrace. He said a trip that ordinarily takes him 35 minutes took over an hour.

"I'd rather have 4 feet of snow than this coating that's on the roads right now. It's very slippery."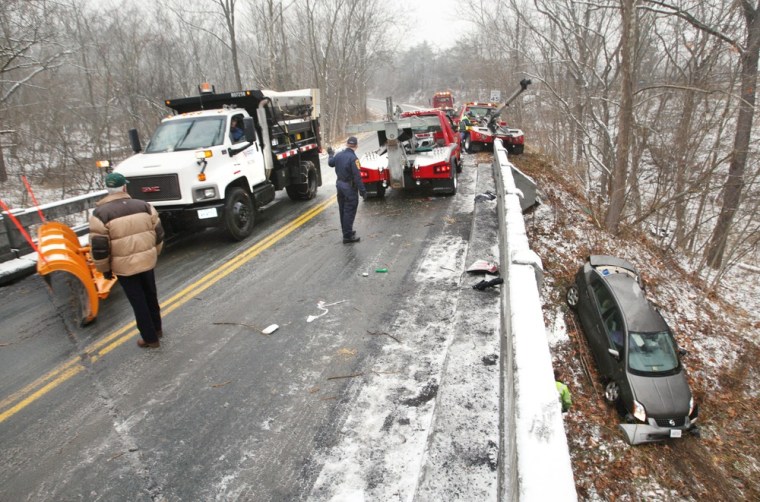 "Getting off the El was terrible, I fell three times trying to get off the steps," said Elliott Self of Philadelphia, who was taking the subway to work and slipped on the sidewalk. "I just want the snow to stop. I want the sun again, I want to feel just a little bit of warmth."
Pennsylvania imposed a 45 mph speed limit on 322 miles of the Pennsylvania Turnpike, covering most of the road system, because of low visibility. Buses and regional trains were running with delays, said Richard Maloney of the Southeastern Pennsylvania Transportation Authority.

"The worst is apparently yet to come," Maloney said.
The snow got heavier by afternoon and could complicate the evening rush hour, particularly in New England.
Schools closed or shortened hours around the region, including parts of Kentucky, Tennessee, West Virginia, Pennsylvania and Washington, D.C.
New Jersey and the Philadelphia area could get 4 to 8 inches, and high winds are expected before the storm moves out.
The storm could also leave some significant snow in Maryland and the District of Columbia after several close calls.
In Washington, federal employees were allowed to leave work two hours early.
Conditions were mostly slushy or wet in the morning, but forecasts for later in day range from 1 to 10 inches of snow possible.
"The heaviest snowfall is expected between 4 p.m. and midnight, impacting the afternoon rush hour," the National Weather Service said in a statement, adding that the snowfall will be heavy, as much as one to two inches an hour.
Airport disruptions
The stormy weather was causing some airport delays and cancellations Wednesday morning.
At Newark's airport in New Jersey, departure delays were averaging 5 hours. At LaGuardia in New York City, some arriving flights were delayed by around 5 hours.
At Philadelphia's airport, departure delays averaged about 2 1/2 hours.
More than 600 flights were canceled at the New York area's three major airports — LaGuardia, Kennedy and Newark Liberty. About 300 flights were canceled at the Philadelphia airport.
Many parts of the East have gotten more snow about a month into winter than they usually get all season. Hartford, which could get as much as a foot more from the latest storm, has already gotten 55 inches, compared with a 46-inch winter average. New York has gotten more than 36 inches of snow and Boston has had 50.
In New Jersey, motorists faced slick conditions as light snow fell over most of the state. Heavy snow was expected over most of the state Wednesday night.

The storm was likely bring heavy snow to much of southern New England late Wednesday and early Thursday morning.
In Philadelphia, the intensity of Wednesday's storm caught some by surprise.
Lenore Roca of Ardmore, outside Philadelphia, expected a light mix of wintry weather in the morning. Her children's schools weren't delayed and the schedule looked clear for the commuter train she planned to take, so she left her driveway at 7:10 to begin her 1½ hour commute to Lansdale.

"I have a car, but the roads were already bad," said Roca, a clinical trial assistant at Research Pharmaceutical Services.
She waited in Ardmore for more than half an hour for a delayed train, then arrived in Philadelphia one minute too late to catch her connecting train to Lansdale.

Her 90-minute commute had doubled.


In downtown, Andre Floyd, a carpenter for more than a decade with the Delaware River Waterfront Corporation, arrived to work at his usual time, 7 a.m., but already felt behind on his duties of clearing snow along the waterfront. When snow is expected, he said, his crew comes in at 6 to clear it.

"We got surprised now," said Floyd. "It was supposed to rain this morning."