/ Source: NBC, msnbc.com and news services
Chaos engulfed Egypt Friday as protesters seized the streets of the capital, battling police with stones, bottles and firebombs and burning down the ruling party headquarters. The peak of four days of unrest posed the most dire threat to President Hosni Mubarak in his three decades of authoritarian rule.
The Egyptian government planned to announce an "important matter" to the nation late Friday evening.
NBC News' Richard Engel reported that a group of luxury sedans, under heavy guard, had traveled to Cairo airport's VIP lounge, and a short time later three private jets had left the country. 
Demonstrators were trying to storm the foreign ministry and the state TV building in Cairo, The Associated Press reported. Violent clashes were also reported near the Egyptian parliament.
Television images showed several buildings in Cairo, including the headquarters of the ruling party, ablaze.
Flames also threatened the Egyptian National Museum, where Army units secured the building with spectacular  treasures such as the death mask of the boy king Tutankhamun. Young men could be seen forming a human barricade in front of the museum to protect it.
Friday saw demonstrations across the country, which continued despite a 13-hour military curfew which began at 6 p.m. local time (11 a.m. ET). It initially covered the cities of Cairo, Suez and Alexandria, but was later extended to cover all cities.
Demonstrators stayed on the streets in defiance of security forces, some mounting armored cars, cheering and waving flags.
Others around the city looted banks, smashed cars, tore down street signs and pelted armored riot police vehicles with paving stones torn from roadways.
Egyptian medical sources said 13 people had been killed in protests in the eastern city of Suez on Friday and 75 wounded, medical sources said. They did not specify whether they were protesters or police who were killed, or how they died.
They said 1,030 had been wounded in the protests in Cairo, up from an earlier estimate of 870.  
Nobel Peace laureate Mohamed ElBaradei was put under house arrest after he joined a march earlier in the day. He and scores of protesters were forced to seek refuge in a mosque after police used water cannons and tear gas.
There were also reports that protesters had taken control of central areas of Suez and Alexandria.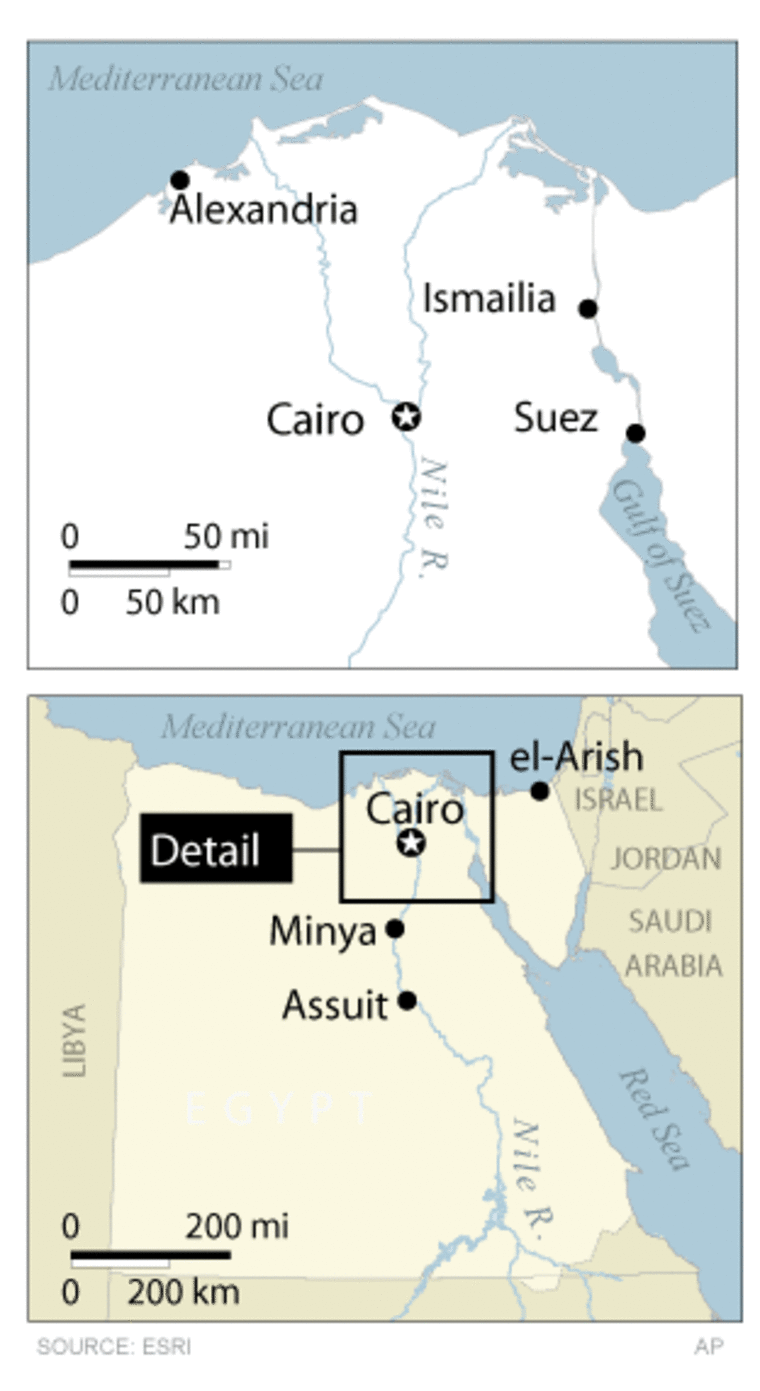 'Deep concern'The U.S. State Department said that the situation was of "deep concern," adding that "reform is vital." Secretary of State Hillary Clinton appealed for the government to allow peaceful protests and for the people on the streets to "refrain from violence."
White House Press Secretary Robert Gibbs reiterated calls for restraint and said that the Pentagon has been in direct contact with the Egyptian military to caution restraint.
Gibbs said President Barack Obama had not spoken with the Egyptian president. Asked why not, Gibbs said that "we're monitoring a very fluid situation."
The U.S. also warned citizens to avoid non-essential travel to Egypt and urged Americans in the country to stay put.
Egypt's national carrier said it had also suspended its flights from Cairo for 12 hours. European airlines also modified their schedules for flights to and from Egypt, canceling some services, due to the curfew.
Shortly after the curfew began, that tanks had moved in to Suez and Cairo.
Engel said people were in "open revolt" on the streets of Cairo.
Engel said many people were praying in the streets, "daring" the police to move against them and enforce the curfew.
After the army moved in, Engel said the troops appeared to be taking "almost no action to stop these protests, to enforce this curfew." He said some demonstrators even greeted army personnel, urging them to join the protest.
"A scene that could become iconic of the day is unfolding right below me. There's an army APC, an armored personnel carrier. Instead of firing on the protesters or pushing them back, it has been surrounded by protesters … one person is standing on top of it, waving an Egyptian flag," he told msnbc TV.
Some protesters and police embraced, many nodded in agreement or said they would join demonstrators. One police officer raised his fingers in a "V for a victory" sign. Others shouted words of encouragement and apologies at each other.
"You must join us," one demonstrator shouted at a security officer. "We need you and we are in this together, my brother."
The officer nodded his head, saying: "Of course I will."
Engel said the demonstrators also did not want to confront the army and realized the Tunisian government had fallen when its army refused to stop the protests.
However, Egyptian state television said the military would work in tandem with the police to get people off the streets.
"According to what some provinces witnessed in terms of riots, lawlessness, looting, destruction, attack and burning of public and private property including attacks on banks and hotels, President Hosni Mubarak decreed a curfew as a military ruler," a state TV announcer said.
Revolt The protests began when groups of thousands of protesters gathered at at least six venues in Cairo, a city of about 18 million people, and then marched toward major squares and crossed Nile bridges.
At several confrontation points, police used rubber bullets, batons, water cannons and tear gas against the stone-throwing demonstrators.
ElBaradei, who took to the streets Friday for the first time since his return to Egypt on Thursday, was walking with one group when clashes broke out with police.
They used batons to beat some of his supporters, who surrounded ElBaradei to protect him.
He and protesters were soaked with water cannons and eventually were forced to take refuge in a mosque, where they were trapped by riot police.
Inside the mosque, ElBaradei was prevented from leaving by tear gas. The canisters set several cars ablaze outside and several people fainted and suffered burns.
Click here to view our Egypt under siege cartoon slideshow.
"We are the ones who will bring change," said 21-year-old Ahmed Sharif, one of scores who were with ElBaradei. "If we do nothing, things will get worse. Change must come," he screamed through a surgical mask he wore to ward off the tear gas.
'Oppression is growing' Abeer Ahmed, a 31-year-old woman who showed up for ElBaradei with her toddler, said she has a law degree but makes a living cleaning homes.
"Nothing good is left in the country," she said. "Oppression is growing."
ElBaradei later attempted to march again with supporters chanting "peaceful, peaceful."
Hours later, it emerged he was under house arrest. Police stationed outside his suburban Cairo home told him he could not leave the building. It was unclear how he got there.
Speaking to Reuters, one witness described blood streaming from people with head wounds and others collapsing to the ground. Other witnesses gave similar descriptions.
Al-Jazeera also said opposition politician Ayman Nour, who ran in the 2005 presidential election, was hurt. Citing his son, the station said the politician was in intensive care after being hit on the head by a rock.
In Suez, Al-Jazeera reported at least five tanks moved in after the crowd chased away police from the central area of the city.
Dozens of protesters climbed onto the tanks, a Reuters witness said, and tried to talk to the soldiers. One tank had about 25 protesters on it, the witness said.
The troops tried to wave them off and residents also told Reuters that soldiers had opened fire. It was not immediately possible to confirm their reports.
Earlier in Suez, the body of a protester was carried through the streets. "They have killed my brother," one of the demonstrators shouted.
There was also a report that protesters had overcome the police in the Mediterranean port city of Alexandria.
Peter Bouckaert, of Human Rights Watch, as saying: "The police have now given up fighting the protesters. The police and protesters are now talking, with protesters bringing water and vinegar (for tear gas) to the police.
"Now walking down to downtown Alexandria, the whole road is packed as far as we can see, people shouting slogans against Mubarak and his son Gamal ... asking others to join them," he added. "It is a very festive atmosphere. Women in veils, old men, children, I even saw a blind man being led. And there are no police anywhere."
'I want a better future'There were smaller protests in Assiut, which is located south of Cairo, and al-Arish in the Sinai peninsula.
Regional television stations were reporting clashes between thousands of demonstrators and police in Alexandria and Minya, which is south of Cairo.
"It's time for this government to change," said Amal Ahmed, a 22-year-old protester. "I want a better future for me and my family when I get married."
Friday's protest were by far the largest and most violent since they began Tuesday.
Demonstrators are demanding 82-year-old Mubarak's ouster and venting their rage at years of government neglect of rampant poverty, unemployment and rising food prices.
The protesters have said they are emboldened by the uprising in Tunisia, another north African Arab nation.
With two-thirds of Egypt's 79 million people under the age of 30 and with many frustrated by largely toothless opposition parties, many of Egypt's youth have turned to the digital sphere as one of the few channels available to express their anger.
The attempts to sever the protesters lines of communication did not prevent tens of thousands from flooding the streets.