Though it may be weeks before the outcome of the protests in Egypt is clear, the turmoil that erupted there raises an obvious question: If the $68 billion in aid the U.S. has sent to Egypt since 1948 is seen as an investment in political stability in the Middle East, has the investment benefited U.S. interests, or is it failing or perhaps even backfiring?
Under both Democratic and Republican presidents for the past 60 years the United States has sent economic and military aid to Egyptian governments.
In fiscal 2009, the United States spent about $1.5 billion on aid to Egypt, 86 percent of it military aid. White House spokesman Robert Gibbs said Friday that the U.S. aid package would be reviewed in light of how Egyptian President Hosni Mubarak's government responds to the unrest.
In a broadcast address to the nation on Friday night, Mubarak said he'd pursue reform of government and the economy, including replacing his entire Cabinet, but he portrayed the anti-government uprising as part of a plot to destabilize Egypt and topple his regime.
A short time later, President Barack Obama urged the Egyptian government to "refrain from any violence toward peaceful protestors" and to enter into discussions with citizens. The Egyptian people, he said in a televised statement from the White House, have "rights that are universal" — including the right to free speech and "the ability to determine their own destiny."
The United States "has a close partnership with Egypt" but Obama said "we've also been clear that there must be reform — political, social and economic reforms — that meet the aspirations of the Egyptian people."
He said he'd spoken to Mubarak after the Egyptian leader addressed his people and told him he had a responsibility to "take concrete steps and actions" to fulfill his promises of democracy and economic opportunity.
Since 1979, Egypt has been the second largest recipient of U.S. foreign aid, after Israel, according to a 2009 Congressional Research Service (CRS) report.
Beginning in 1973, when Secretary of State Henry Kissinger's diplomacy led to Egyptian-Israel accords and, eventually, to the 1979 peace treaty with Israel, Egypt has been central to U.S. strategy in the Middle East. The Cairo regime has remained a vital counterweight to Iran and a mediator with the Palestinian Hamas regime.
Did investment pay off?Daniel Kurtzer, a former U.S. ambassador to Egypt who now teaches at Princeton University's Woodrow Wilson School of Public and International Affairs, said the investment was worth it.
"We've gotten more than 30 years of very strong relations with the most important country in the Middle East — and that has taken a large investment from the United States. We've put in billions of dollars of military and economic assistance, but we've also gotten a very strong return on that investment: A peace treaty between with Egypt and Israel that has persisted and really never been violated during the course of 30-plus years, and an ally in a region that every American knows is unstable and potentially dangerous for us."
He added, "It's very rare to see this kind of a long-standing relationship persist between a superpower and a regional power."
But what if the protests ultimately lead to a new government in Cairo that resents American support for Mubarak, who has ruled since 1981?
That, Kurtzer said, is a hypothetical question. "I don't even think we're close to that," he said.
Can Mubarak survive?But Steven Cook, a fellow for Middle Eastern Studies at the Council on Foreign Relations who just returned to Washington from Cairo, thinks the end game may be nearer than many suppose. He referred to the events he witnessed there as "the apparent decomposition of the Mubarak regime."
Even with an army and police crackdown, he said, "It is still by no means clear that Mubarak can hang on."
One plausible scenario, according to Cook, would be for the military to shunt aside the 82-year old Mubarak and then "reconstitute the regime under new leadership."
But that is unlikely to appease the Cairo protesters, who voiced "a desire to live in a more open and democratic society," he said, adding that "I heard very little about economic grievances."
Cook — speaking a few hours before Obama made his remarks from the White House — said the administration's calls for reform "seem hopelessly behind the curve. The discussion of 'stability' — to the extent that it will be examined by Egyptians after this crisis — will be seen as an implicit American endorsement of a crackdown on a people who are demanding their freedom."
Cook said, "My hope is that when President Obama finally does speak, he doesn't use the word 'stability' and he focuses more on the need for whoever is in charge in Egypt to respect the rights of people who are demanding freedom, which is obviously close to our hearts as Americans."
Kurtzer cautioned that observers should not over-interpret what they are seeing on television and extrapolate an outcome. Friday's demonstrations on came on a day when "people don't work and they've been riled up from what they've heard in mosques," he said. "They've had the time to go out on the street. Whether or not it has legs has yet to be determined."
Mubarak, he added, "has been known the past to finally find the pulse of public opinion. And there might be some changes in personnel and policy."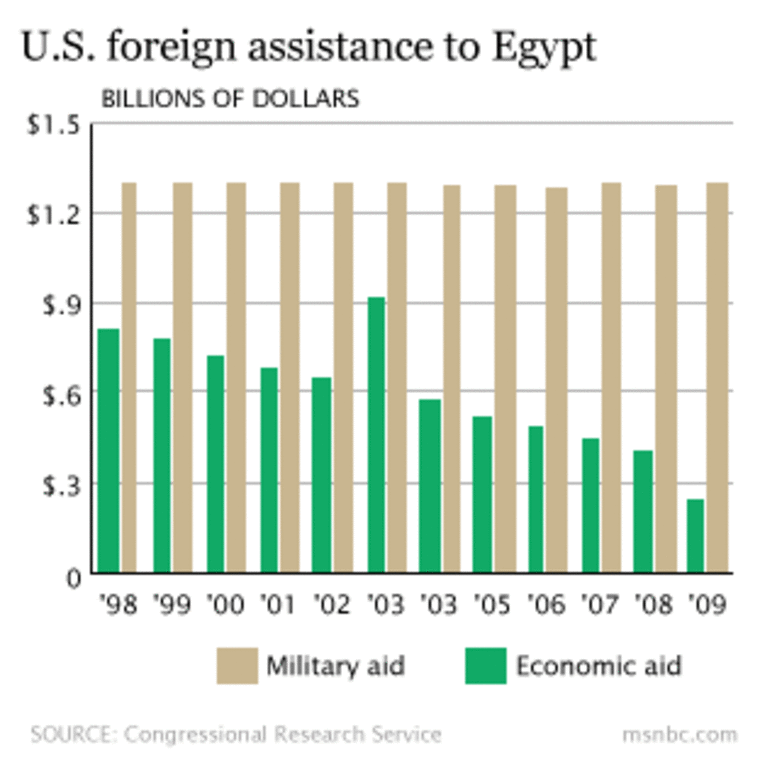 But Kurtzer acknowledged, "There's great concern in Washington about the stability and longevity of the government."
David Bender, a Middle East specialist at Eurasia Group, a political risk consulting firm in Washington, D.C., said a worst-case scenario would see a strong backlash against the U.S. for its longtime support of Mubarak.
"The nightmare for the United States is a kind of replication of Iran in 1979, where there are huge protests against the authoritarian ruler identified as being close to the United States, and that ruler falls, and then the U.S. is left with very few levers of influence in the new regime," he said.
There is a sense among many Egyptians, he said, that much American aid "goes directly or indirectly to supporting the security services, which have been used to suppress dissent. So there's a risk of there being significant anger at the United States."
"There are almost innumerable scenarios at this point," he said. "But one possible scenario is that a hard-line government comes to power and takes an anti-American policy and cancels the peace treaty with Israel."
Strategic value of Suez Canal The Suez Canal is also a concern, Bender said.
According to the 2009 CRS report, the U.S. Navy sends an average of a dozen ships through the canal every month and "receives expedited processing for nuclear warships to pass through the canal, a valued service that can normally take weeks otherwise required for other foreign navies."
"A lot of U.S. military strategy in the Middle East and, in the Persian Gulf especially, presupposes very close relations with the Egyptian government and essentially free access to use the Suez Canal," Bender said. If there are now questions about that access, he said, that may require changes in U.S. strategic thinking.
A fine line for U.S to walk Kurtzer said it would be difficult for the Obama administration to strike a balance between prodding reform and sympathizing with popular democracy.
"We don't want the (Egyptian) government to overreact," he said. On the other hand, "We would like the government come out of this in a manner that will sustain our relationship, but also will provide some opening for more voices. I don't know of a case where we've ever been able to balance ourselves on that tightrope."
Whatever the U.S. might wish, Kurtzer said, its ability to influence events in Egypt is limited.
"Even in a situation in which you are providing substantial assistance, you don't get to call the shots," he said. "The American people need to understand that. It buys you a seat at the table but this is an Egyptian government/Egyptian people issue. The United States will not be in a position of dictating decisions."
He said U.S. policy had to seek a middle way. "The argument of 'democracy now' or 'authoritarianism is safer' — both those arguments taken to the extreme don't work in terms of our own interests," he said.
Apart from the strategic danger to the United States, the crisis in Egypt poses risks to American firms that sell helicopters, tanks, and other military hardware to Egypt, and to American wheat farmers: Egypt ranks third among foreign purchasers of American wheat, after Japan and Mexico.
The CRS report describes U.S.-Egyptian co-production of the Abrams tank as "one of the cornerstones of U.S. military assistance to Egypt." Some of the tank's components are manufactured in Egypt and others made by General Dynamics in Sterling Heights. Mich.
The Cairo government has used also U.S. military aid to buy F-16 jet fighters from Lockheed Martin, and Chinook and Apache Longbow helicopters from Boeing.
So, from farmers in Kansas to aircraft workers making Chinooks in Ridley Township, Pa. there are many Americans with a very specific stake in what unfolds in Egypt.