/ Source: NBC, msnbc.com and news services
Looted stores, torched cars and the stench of blazing tires filled the streets of Cairo early on Sunday as clashes persisted between police and protesters seeking to drive President Hosni Mubarak from power.
The biggest immediate fear was of looting as public order broke down. Crowds stormed supermarkets, banks, jewelry shops and government buildings. Thieves at the Egyptian Museum damaged two mummies from the time of the pharaohs.

"They are letting Egypt burn to the ground," said Inas Shafik, 35.

On Saturday, the 82-year-old Mubarak, who has ruled Egypt for nearly three decades, bowed to protesters and named a vice president for the first time. In appointing intelligence chief Omar Suleiman to the new post, many saw Mubarak edging toward an eventual, army-approved handover of power. Many also saw it as ending his son Gamal's long-surmised ambitions to take over.
But the move did little to appease demonstrators, who urged the army to join them in forcing Mubarak to quit.
Police shot dead 17 people trying to attack two police stations at Beni Suef, south of Cairo, Reuters reported. Scores have been killed and more than 1,000 injured from several days of anti-government protests.
Thousands marched in Cairo by day Saturday, unmolested by troops who manned tanks on the streets. After dark, police there opened fire in at least one incident, looters roamed for booty, and the national tax office was set ablaze.

The capital descended further into chaos. NBC News' Richard Engel reported dramatic scenes of tanks and armored personnel carriers fanning out across the city of 18 million, guarding key government buildings.
Looters and protesters, many smeared in red, filled the streets, Engel said. Residents of affluent neighborhoods were boarding up their houses against gangs of thugs roaming the streets with knives and sticks and gunfire was heard in some neighborhoods.
Many communities have formed local militia to help protect their neighborhoods and streets from widespread violence, Al Jazeera reported.
According to various estimates more than 100 people have been killed during the week, in the capital and other cities. Medical sources say more than 1,000 people were hurt in Cairo, according to Reuters. Among the dead were three policemen killed in the capital.
State-run Nile TV reported early Sunday that about 1,000 inmates escaped from a prison in Fayoum, southwest of Cairo. The inmates were "on the streets causing chaos and families are scared," according to Nile TV, which said that several prison officers were killed in the uprising.
National treasures
The military was protecting major tourist and archaeological sites such as the Egyptian Museum, home to some of the country's most treasured antiquities, as well as the Cabinet building. The military closed the pyramids on the outskirts of Cairo — Egypt's premiere tourist site.
Would-be looters broke into Cairo's famed Egyptian Museum, ripping the heads off two mummies and damaging about 10 small artifacts before being caught and detained by army soldiers, Egypt's antiquities chief said Saturday.

Zahi Hawass said the vandals did not manage to steal any of the museum's antiquities, and that the prized collection was now safe and under military guard.
The two-story museum, which is home to the gold mask of King Tutankhamun that draws millions of tourists a year, also houses thousands of artifacts spanning the full sweep of Egypt's rich pharaonic history. It is adjacent to the headquarters of the ruling National Democratic Party that protesters had earlier set ablaze. Flames were seen still pouring out of the party headquarters early Saturday.
"I felt deeply sorry today when I came this morning to the Egyptian Museum and found that some had tried to raid the museum by force last night," said Hawass.
"Egyptian citizens tried to prevent them and were joined by the tourism police, but some (looters) managed to enter from above and they destroyed two of the mummies," he said. He added looters had also ransacked the ticket office.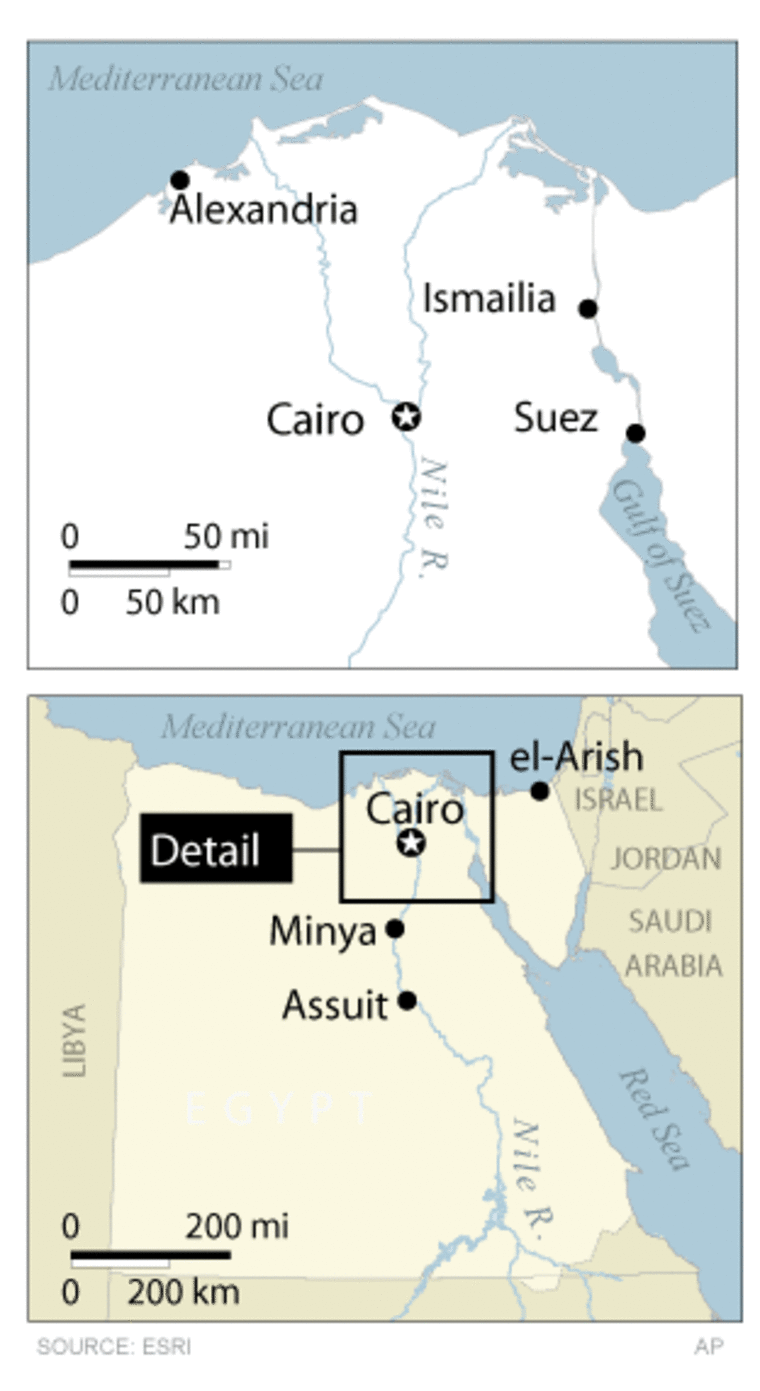 'Down with Mubarak'
Thousands of protesters defied a government curfew for the second night Saturday, standing their ground in the main Tahrir Square in a resounding rejection of Mubarak's attempt to hang onto power with promises of reform and a new government.
"What we want is for Mubarak to leave, not just his government," said Mohammed Mahmoud, a demonstrator in the square. "We will not stop protesting until he goes."
A few tanks were deployed in Tahrir Square. But there have been no clashes reported between protesters and the military and many feel the army is with them. On one tank was scrawled in black graffiti: "Down with Mubarak."
One army captain joined the demonstrators, who hoisted him on their shoulders while chanting slogans against Mubarak. The officer ripped a picture of the president.
"We don't want him! We will go after him!" demonstrators shouted. They decried looting and sabotage, saying: "Those who love Egypt should not sabotage Egypt!"
In contrast, protesters have attacked police, who are hated for their brutality. On Saturday, protesters besieged a police station in the Giza neighborhood of Cairo. They looted and pulled down Egyptian flags before burning the building to the ground.
Cairo residents boarded up homes and set up neighborhood watches of citizens armed with guns, clubs and knives Saturday as looting and violence engulfed the capital.

With the police absent from the streets, the army deployed tanks and armored personnel carriers but mainly around government buildings. As dusk fell and the chaos continued, the military spread out to neighborhoods across the city in a bid to quell the lawlessness.

Residents reported gangs of youths, some on motorbikes, roaming the streets, looting supermarkets, shopping malls and stores. Some of the gangs made it to affluent residential areas in the suburbs, breaking into luxury homes and apartments. The crackle of gunfire could be heard in the city center as well as outlying districts.

Downtown, thieves broke into the Arab International Bank and several cafes and eateries, including a McDonald's and a Hardees. The ruling party headquarters was plundered and torched, while a Carrefour supermarket in the south was also hit.
The protest movement is a culmination of years of simmering frustration over a government they see as corrupt, heavy-handed and neglectful of grinding poverty.
Meanwhile, an official at Cairo airport said 19 private jets carrying families of wealthy Egyptian and Arab businessmen have flown out of the capital.
The official said the jets left Saturday, most headed for Dubai. The passengers included the families of telecom mogul Naguib Sawiris, the executive chairman of Orascom Telecom, and Hussein Salem, a hotel tycoon and close confidant of Mubarak.
President Barack Obama on Saturday convened a meeting of his national security team at the White House. He reiterated his focus on opposing violence and calling for restraint; supporting universal rights; and supporting concrete steps that advance political reform within Egypt, the White House said.
Obama made the same point when he spoke to Mubarak by telephone late Friday.
Mubarak's future
Mubarak sacked his Cabinet Saturday and promised reforms to try to quell the protests.
The president had been seen as grooming his son Gamal to succeed him, possibly even as soon as in presidential elections planned for later this year. However, there was significant public opposition to the hereditary succession.
The appointment of  close confidant Suleiman, 74, as vice president answers one of the most intriguing and enduring political questions in Egypt: Who will succeed 82-year-old Mubarak?
Like Mubarak, Suleiman has a military background. The powerful military has provided Egypt with its four presidents since the monarchy was toppled nearly 60 years ago. He has been in charge of some of Egypt's most sensitive foreign policy issues, including the Palestinian-Israeli peace process.
Suleiman, additionally, is widely seen as a central regime figure, a position that protesters were likely to view negatively.
Mubarak also named his new prime minister Shafiq, the outgoing civil aviation minister and fellow former air force officer.
Both appointments perpetuate the military's overriding role in Egyptian politics.
Internet access appeared blocked for a second day to hamper protesters who use social networking sites to organize. And after cell phone service was cut for a day Friday, two of the country's major providers were up and running Saturday.