/ Source: The Associated Press
Where anti-capitalist protesters failed at the World Economic Forum, the protests in Egypt have become the most-talked about subject at the annual Swiss Alpine retreat of global political and business leaders.
"Obviously what's going on in Egypt has colored everything," said Adrian Monck, the forum's managing director.
He estimated that Egypt's popular uprising against President Hosni Mubarak featured in two thirds of debates that normally focus on issues such as the global economy, cybercrime and food security.
Though the constantly changing events in Egypt were omnipresent, there was still business to get down to at the annual five-day gathering.
Key global trade officials spoke of their optimism that a new deal to liberalize international commerce can be finalized, but offered little in the way of concrete progress to indicate they can reach agreement before the end of the year.
Meanwhile, about 120 demonstrators marched down the street behind the Congress Center where the World Economic Forum's annual meeting was winding down.
The event was peaceful until a brief skirmish near a train station about a kilometer away from the venue. Police fired rubber bullets at some of the protesters who tried to break through a security perimeter.
Some of the demonstrators carried a banner that read "Tunisia equals Cairo equals Davos."
It was a nod to the claims by critics that the five-day meetings serves as nothing more than a fancy get-together for the world's business and political elite without regard to common citizens.
But inside, concern over the protests in Egypt was palpable, with many calling on Egyptian President Hosni Mubarak to ensure protesters were guaranteed freedom of expression and speech.
"I think that we have to see how things move today and, obviously, the key here is for President Mubarak to respond to the needs of his people in a way that is more directly connected to their frustrations, much more so than apparently yesterday's speech succeeded in doing," Sen. John Kerry, the chairman of the Senate Foreign Relations Committee, told The Associated Press on the sidelines of the forum's annual meeting.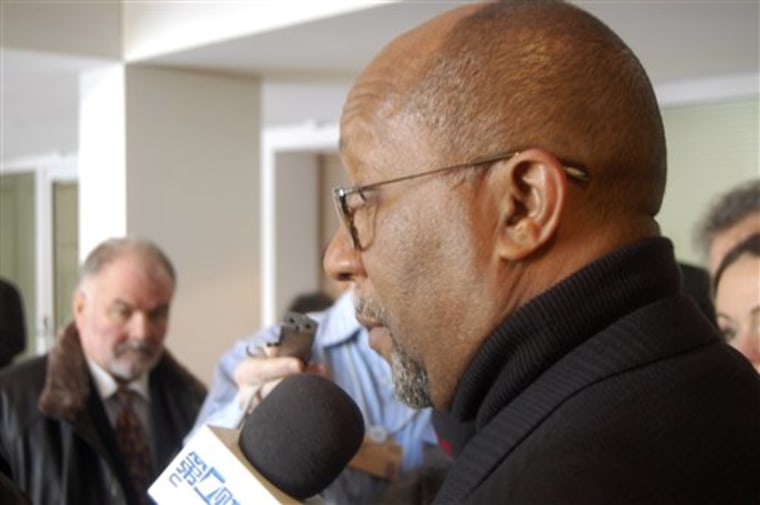 Kerry's comments came just minutes after Egyptian state television reported that the Cabinet of Prime Minister Ahmed Nazif had resigned on Mubarak's orders.
Salil Shetty, the head of Amnesty International, told AP that Mubarak's decision to fire his Cabinet won't quell the anti-government protests that have shaken the country for five days.
"The idea of changing your Cabinet is a bit of a joke. People are very clearly saying they want very fundamental change, constitutional change," he said.
Still, there was plenty of discussion, debate and dissent at Davos. The head of the World Trade Organization said a meeting of ministers from some two dozen countries in the Swiss ski resort of Davos had been "very constructive."
"The ministers gave a strong signal," Pascal Lamy told reporters on the sidelines of the World Economic Forum to which the trade talks are pegged each year.
Switzerland's economy minister, Johann Schneider-Ammann, who hosted the trade talks, said that there was "a sense that we are in the end game and that if Doha is done, it needs to be done this year."
EU trade commissioner Karel De Gucht concurred. "We should get a deal in July," he said. "For that we need redrafted texts in March and sustained negotiations by the senior officials till they get to an agreement."
But talk of any firm timeline was dismissed by America's top trade official.
"There was no real agreement on the timeline," said U.S. Trade Representative Ron Kirk, opening up the prospect that talks to conclude the so-called Doha round of trade negotiations — now in their tenth year — might not be completed in 2011.
Differences between the U.S. and China are seen as the main obstacle to a deal, and Kirk reiterated Washington's position that major developing economies had already benefited significantly from past free trade agreement and would gain even more from what is already on the table.
Negotiators' inability to agree on what is described as the "last 20 percent" has spooked business and political leaders.
Pushing the talks into 2012 — a U.S. presidential election year — would make a conclusion even less likely because the sensitive issue of trade would be a hard sell for politicians of any stripe.
German Chancellor Angela Merkel went so far Friday to warn that no agreement this year could set trade talks back by decades. Lamy, the WTO chief, said earlier this week that failure would undermine the international commerce rules painstakingly elaborated over the past 50 years.
Warnings of a new mercantilism have featured prominently at this year's Davos Forum, with some seeing the first signs of trade wars brewing that could undermine the fragile global economy.
"We are going to see the recovery of nationalism and protectionism," said Jose Sergio Gabrielli de Azevedo, president and CEO of Brazilian oil company Petrobras. "I think we're going to face some type of currency war."
"The U.S. is going to try to use weak dollar policy to help recovery in the U.S., and Brazil, India are not going to accept that and will fight back, and then we're going to see some struggle and conflicts," he said.
Washington, too, has accused Beijing of keeping the Chinese renminbi artificially weak to maintain its cheap labor advantage.
Meanwhile, the euro's drop in the wake of the Greek and Irish bailouts has actually benefited some economies, such as Germany, whose export industries have flourished over the past year.
Ministers from Germany and France nevertheless made clear at Davos that they wouldn't risk letting the bottom fall out of the euro, insisting that any future shocks to the 17-nation currency were unlikely.
"I think the euro will be stable," German Finance Minister Wolfgang Schaeuble said.
Christine Lagarde, France's economy minister, said "I think the euro zone has turned a corner. Let's not short Europe and let's not short the euro zone."
China's growth and worries about Europe's debts have been another focus of attention among the 2,500 business and political leaders discussing the state of the world economy in Davos this week.
___
Angela Charlton and Tomislav Skaro contributed to this report.