/ Source: NBC News and news services
Thousands of Americans and other foreigners scrambled Monday to flee unrest in Egypt, sending Cairo's crammed international airport into a scene of confusion.
The State Department said more than 2,600 Americans had contacted U.S. officials seeking government-chartered evacuation flights from Egypt, and more than 220 had already left.
Passengers' nerves frayed, shouting matches erupted and some travelers even had a fistfight as thousands crammed inside Cairo airport's new Terminal 3. In an attempt to reduce tensions, the airport's departures board stopped announcing flight times — but the move simply fueled anger over canceled or delayed flights.
Making matters worse, check-in counters were poorly staffed because many EgyptAir employees had been unable to get to work due to a 3 p.m.-to-8 a.m. curfew and traffic breakdowns across the Egyptian capital.
"It's an absolute zoo, what a mess," said Justine Khanzadian, 23, a graduate student from the American University of Cairo who was among those waiting at the airport for hours to leave Egypt. "I decided to leave because of the protests, the government here is just not stable enough to stay."
Food was scarce at the airport, with people buying up chocolate in the duty free shop. Airport staff shouted at travelers to get in line, but many were in no mood to listen. The scheduling board listed flight numbers without destinations or times of departure.
Occasionally, an official emerged and shouted out the destination of a departing flight, triggering a rush of passengers with boarding passes. The process worked smoothly for nationals of countries that had sent planes — Denmark, Germany, China, Canada — others had no such support.
By curfew time, some people who had apparently failed to get on a flight out of Egypt had boarded buses for the ride back into Cairo.
A U.S. military plane landed at Larnaca Airport in Cyprus on Monday afternoon ferrying 42 U.S. Embassy officials and their dependents from Egypt.
Officials told NBC News that the plane went to Egypt to drop off up to a dozen Marines to augment the U.S. Embassy security force. Rather than return empty, military officials allowed about 70 board for the flight out.
James Ellickson-Brown from the U.S. Embassy in Nicosia said at least one more plane was expected Monday with about 180 people — most of them U.S. citizens.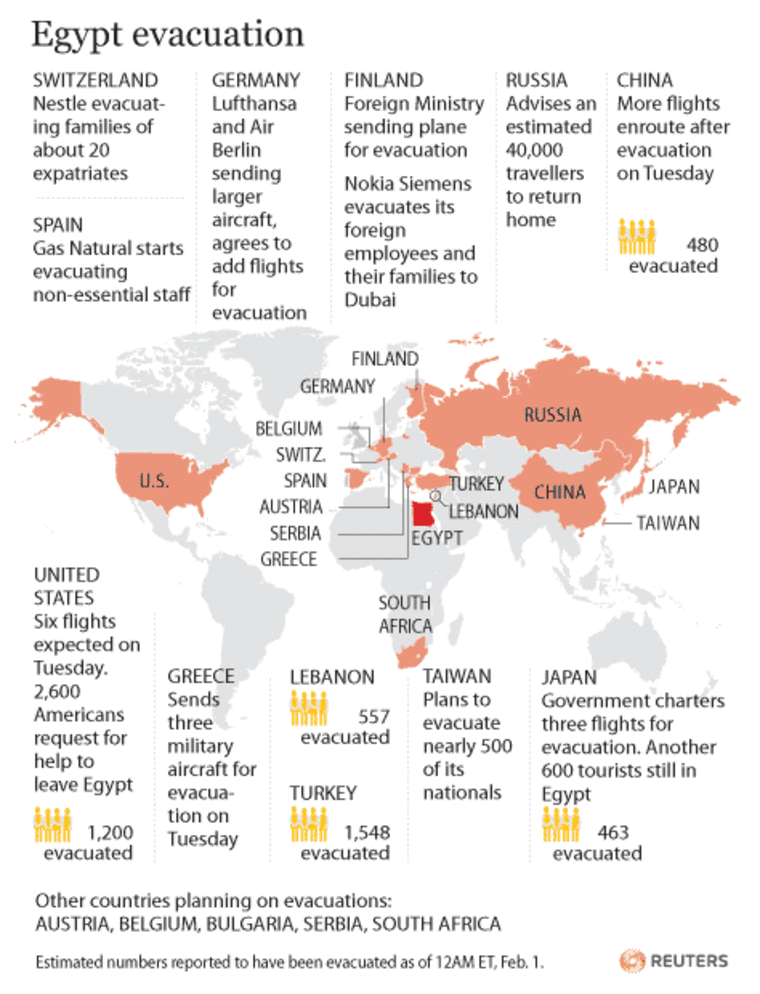 The U.S. government evacuated about 1,200 American citizens from Egypt on nine flights Monday and at least six more flights are planned for Tuesday, State Department spokesman P.J. Crowley said.
Crowley said two flights were due to leave Cairo soon, bringing the total number of flights carrying Americans to nine. He said 2,600 people had contacted the U.S. Embassy seeking help getting out of Egypt.
EgyptAir resumed its flights Monday morning after a roughly 14-hour break because of the curfew and its inability to field enough crew. Over 20 hours, only 26 of about 126 EgyptAir flights operated, airport officials said, speaking on condition of anonymity because they were not authorized to brief the media.
The officials said many countries were working to evacuate their citizens, with Turkey sending four flights, Israel and Russia sending two planes each and the Czech Republic one. They said those additional flights had helped ease the airport's swelling and restless crowds, but those gains were likely to be short-lived as other foreigners and Egyptians poured in.
Greek oil worker Markos Loukogiannakis, who arrived in Athens on a flight carrying 181 passengers including 65 U.S. citizens, said confusion reigned at Cairo airport and travelers had to negotiate a string of checkpoints just to get there.
"In a 22-kilometer (14-mile) route from our suburb to the airport we had to get through 19 checkpoints, including nine manned by civilians," he said. "There were lots of people gathering at the airport and it was very difficult to get in."
He said security had deteriorated sharply over the past three days in Cairo after police withdrew from the streets.
"There was a wave of attacks by criminal elements who engaged in burglaries and wrecked shops and banks. There was a lot of shooting and residents took up the burden of protecting their property," he said.
Jane Travis, an American tourist from Pine Grove, Pennsylvania, who was evacuated to Athens, said she and her husband heard shooting from their hotel.
"We are very concerned that there was no warning from our State Department before we came on this trip," she said. "From our hotel, which was well guarded, we heard the gunshots and it was very terrifying."
Wendy Jonas told the Telegraph newspaper of London said that her mother, Lesely Styan, 60, from Crawley, West Sussex, and four friends were among those stuck in Cairo.
"She spent Saturday night sleeping under an escalator and they are just panicked and crying all the time," Jonas said. "Mum told me the toilets are an absolute nightmare and the airport ran out of food on the land side. There has been violence outside and we are worried looters will make their way to the airport."
Americans Valerie Doescher and Nelson Clark arrived in Istanbul on Monday aboard a regularly scheduled Turkish Airlines flight and were relieved to be out of Egypt.
Doescher said she left after protests near the building where she was interning "grew in a completely exponential way." Clark said his three-hour drive brought him to an airport that "was a nightmare."
In a geopolitical shift, even Iraq decided it would evacuate its citizens, sending three planes to Egypt — including the prime minister's plane — to bring home for free those who wish to return. Thousands of Iraqis had once fled to Egypt to escape the violence in their own country.
About 800 Iraqis had left Cairo by Monday afternoon, said Capt. Mohammed al-Moussawi, a crew member for the prime minister's office. He said the flights would continue until all those who wished to return had done so.
Hundreds of Indian nationals were evacuated, with 316 arriving Monday in Mumbai on board a special Air India flight and another 275 expected to reach Mumbai later in the day.
An Azerbaijan flight carrying 103 people and the body of an Azeri Embassy accountant killed in the unrest arrived in Baku, and Turkey sent five planes to Cairo and Alexandria, evacuating 1,548 Turkish nationals.
Indonesia was sending a plane to Cairo to start evacuating some 6,150 Indonesians — mostly students and workers — and SAS Denmark was flying home some 60 Danes.
China sent four planes to help pick up an estimated 500 Chinese stranded in Cairo and warned citizens not travel to Egypt.
That echoed earlier warnings from Britain, Sweden, Finland, Norway, Denmark and the Czech Republic, which all advised against all nonessential travel to Egypt. Many European tour companies canceled trips to Egypt until Feb. 23, while others left the cancellations open until further notice.
Air Partner, which brokers charter aircraft, said it was working round the clock to help companies ranging from oil firms to supermarkets and telecoms groups to get employees out.
"By the close of business today, we will have flown 800 people out of Egypt on 14 flights to a range of safe havens, including Dubai, the U.S. and Europe," it said in a statement.
Resorts calm
Tour operators say they will fly home all their customers this week when their holidays end, or on extra flights, stressing there has not been any unrest in Red Sea resort cities like Hurghada or Sharm el-Sheik. Still, food shortages were starting to be felt at some Egyptian resorts and some restaurants were refusing to serve foreigners.
All major German tour operators — among them TUI AG and Thomas Cook's German subsidiary — canceled day trips to Cairo and Luxor.
Germany, which sends about 1.2 million tourists to Egypt a year, was not officially evacuating its citizens. But Deutsche Lufthansa AG on Monday sent an additional flight at the request of the foreign ministry to bring more German tourists home. When it arrived back in Frankfurt on Monday night, the evacuees told of the chaos in Cairo.
Gunnar Gerring of Nordhorn in northern Germany said he witnessed shooting and looting in the last few days before turning up to chaos at the airport.
"We have an apartment in Cairo were we sat, barricaded ourselves and didn't do anything," Gerring said. "Now we are back home and everything is good."
Germany foreign ministry spokesman Dirk Augustin said thousands more Germans currently live in Egypt, with up to 7,000 around Cairo.
Britain's Foreign Office estimates there are around 30,000 U.K. tourists and long-term residents in Egypt, but it said Monday it has no plans to evacuate British citizens. Foreign Secretary William Hague has advised against all but essential travel to Cairo, Alexandria, Luxor and Suez and recommended that people currently in those cities leave on commercial flights when they can.
British Prime Minister David Cameron's office said that most Britons, unlike tourists from the United States and other nations, are on vacation at beach resorts on the Red Sea.
German tour operator Rewe Touristik advised clients booked on a holiday in Egypt through Feb. 7 to cancel their trip and allowed them to switch to another destination without surcharge. The company has 3,100 clients in the country.
Many companies organized their own evacuations for their workers. German utility company RWE said its oil and gas subsidiary RWE Dea repatriated some 90 people — employees and their families — with a chartered plane that arrived in Hamburg on Monday.
The Danish company shipping company A.P. Moller-Maersk A/S chartered a plane to pick up relatives of its Danish employees in Egypt. The company said there were no terminal operations in Egypt on Monday and the Maersk Line, Safmarine and Damco offices were closed.
Air France canceled its daily flight from Paris to Cairo on Monday and planned to increase its capacity Tuesday by an extra 200 seats.
Portugal sent a C-130 military transport plane to evacuate its citizens. Greece was sending three C-130 military transport planes to Alexandria on Tuesday and Polish airline LOT was flying to Cairo.