With the start of the annual Muslim festival of Eid al Adha on Sunday, drawing thousands of believers from around Washington state to Seattle for prayer, political activists saw an opportunity. A team of volunteers roamed the crowd, or manned booths, signing up those qualified to vote. A major push for Muslim voter registration drive was on at similar gatherings throughout the country.
Coming on the heels of the Hajj, the holiday draws out devout Muslims as well as more casual followers. "It's a perfect opportunity for people to exercise their responsibility and become more politically aware," says Hasan Mansouri, government affairs coordinator for the Council on American-Islamic Relations (CAIR), one of the national groups running the registration drive. "And it comes at a perfect time, about a month before Super Tuesday."
Never before have the stakes seemed so high for Muslim Americans.
"There is a sense of crisis in the Muslim community," says Jamal Gabobe, a U.S. citizen born in Somaliland. Gabobe, who teaches comparative literature at the University of Washington, has been in the country for decades but says he is registering to vote for the first time in 2004. "There are a lot of issues coalescing, with the Iraq war and the war on terrorism. Being a Muslim, even if you are not interested in politics, you have to react, to be heard."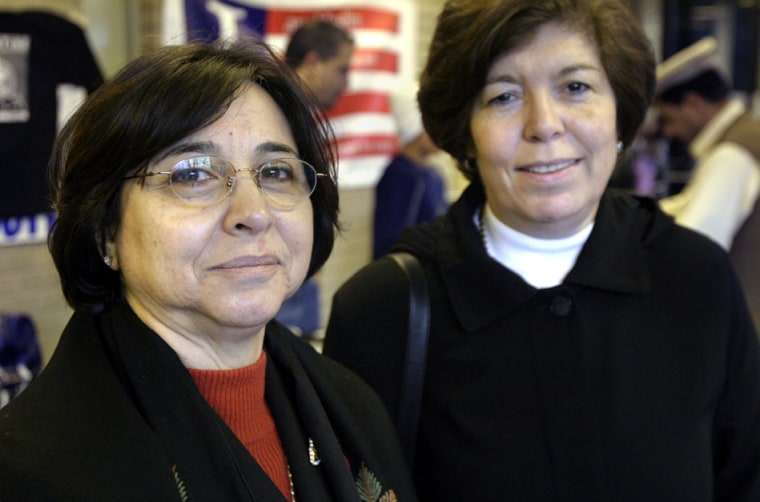 To the extent that the get-out-the-Muslim-vote effort succeeds, it will largely benefit the Democrats because it is energized by anger over the Bush administration's Patriot Act and what is perceived as an anti-Muslim bias behind the Iraq Iraq war and Israeli-Palestinian policy.
According to Nuom Fariz, a long-time citizen who was born in Jordan, this is the most political interest she's seen in the U.S. Muslim community since her arrival in 1973. She says the majority of Muslims are interested in Dennis Kucinich and Howard Dean. "But if it comes down to it, they will vote against Bush... The vote is heavy on our minds."
Policy, mood flip flop
According to CAIR, 78 percent of Muslims voted Republican in 2000. It was a departure from previous elections, when this community tended to side with the health and education policies of Democrats. But conservative family values that Bush touted were attractive, as was his hints that he would seek to eliminate the 1996 Secret Evidence Act, which many Muslims believe targets members of their community.
To some extent, Democratic candidate Al Gore also lost the population by failing to address a host of concerns about the Middle East--as in the state of Michigan, for instance. Gore still won the state by a modest margin.
But in the post 9-11 era, the Bush administration pushed through the USA Patriot Act, expanding secret detentions, use of secret evidence as well as expanding FBI powers to investigate individuals. Policy toward Palestinians, Iraq and Iran has also angered many who trace their origins to the region. "Many Muslims feel somewhat betrayed after voting for Bush in 2000," says Mansouri of CAIR.
A survey commissioned by the Arab American Institute and conducted by Zogby International showed that among this constituency, Bush's favorability rating declined to 38 percent in January 2004, from 83 percent in October 2001. Anecdotally, at least, the trend is the same among Muslim Americans.
But in absolute terms, the Muslim community is small. Their ability to affect the outcome in this year's elections depends on influence in states and in local elections where voters are quite evenly divided.
Precise numbers of Muslims who are voters or eligible to vote are hard to determine, since religion is not a census question, and often not an exit poll question. By some estimates, there are as many as 6 million Muslims in the United States, including non-citizens. Arab Americans, about one-third of whom are Muslim, have a largely Democratic bent as well, number about 3.5 million in the United States.
Spheres of influence
The Muslim Electorate Council of America, which cross-referenced between mosques and county registration lists—estimates that there are more than 2 million eligible Muslims eligible to vote in the United States, but only about 57 percent of them are registered. The total is divided more or less equally among African American Muslims, Muslims with Arab roots and Muslims with South Asian roots.
"We have to be realistic," says Aslam Abdullah, founding director of the Muslim Electorate Council and editor of Minaret Magazine. "Muslims cannot be influential in all states—only in states where race is very tight, such as Arizona, Oregon, Colorado, Minnesota and Florida. If Muslims can mobilize themselves they can make a difference."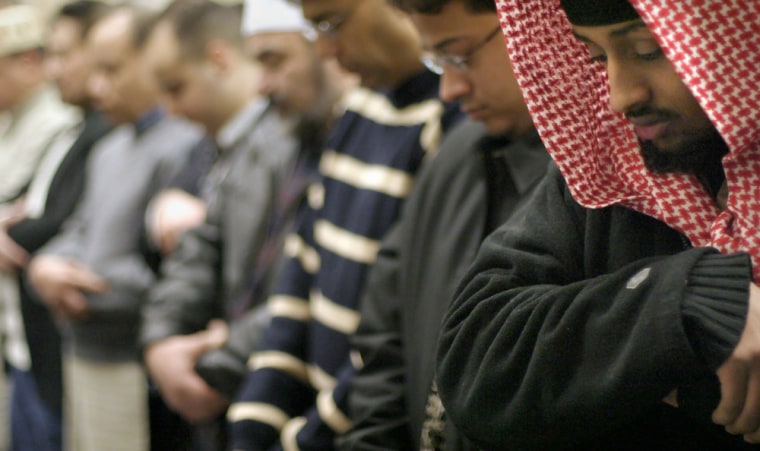 Abdullah sees Muslim influence making itself felt only if 85 percent of eligible voters are registered and at least 70 percent of those eligible come out to vote. He sees 37 Congressional races and five Senate races where Muslims could make the difference, should they vote in a block.
Whether Muslims come out to vote, he says, will be influenced by two hard-to-measure factors: "If Democratic candidates involve and include Muslims in their campaigns, many will come out and vote," he says. "If (Attorney General John) Ashcroft, or the Bush team, creates a kind of fear complex in hearts of Muslims, or a fear of retribution, then they may not come. A lot of Muslims feel intimidated in light of the Patriot Act, and (use of) secret evidence, where anything could happen."
In Michigan, where the race could potentially be close, Arab Americans make up about 100,000 of the state's 4 million voters. Their vote could swing local races as well as the state's presidential vote, but they are also a well-established, and relatively well-to-do immigrant constituency that could influence the outcome in other ways. "The Arab vote is important and it is important to get them involved because they are willing to contribute financially and contribute workers for campaigns," says Ed Sarpolous, vice president EPIC-MRA, an independent polling firm in Lansing, Mich.
Among those sources of new Muslim voters are young Muslims who make up a large proportion of the whole population. To reach them, the Muslim Electorate Council has run an Internet voter registration campaign over the past six months, signing up some 5,800 people.
Another group activists are targeting is older first-generation immigrants who have lived in the United States for decades, but have steered clear of politics, spending most of their energy just getting by. "These are people who arrived (as early as) the 1960's," says Abdullah. "They are housewives, taxi drivers, ordinary workers, people who still have trouble with the English language."
In Florida, where the presidential vote was bitterly fought and contested down to the last vote in 2000, there is a large Muslim population, which could bump the state into the Democratic camp. On the flip side, say some analysts, many Jewish voters may switch their vote to Republican, canceling out this effect.
Democratic opportunity
The opportunity of garnering Muslim and Arab American votes has not been lost on the Democratic candidates.
But of all those who have courted the population, Dennis Kucinich seemingly has been the most active. He has policy-based appeal--he voted against the Patriot Act and has been an outspoken opponent of the war in Iraq. He also makes sure mosques, and Muslim organizations are on his agenda as he stumps around the country. He was recently endorsed by the Arab American Political Action Committee.
"Kucinich is seen as having courage for standing up for this community," said Beth Flynn, events coordinator for the state Kucinich campaign, who was attending the Eid celebration at Seattle Center. She says they also like his stand on health care and education.
In Seattle this week, the Kucinich campaign went a step beyond the others who were represented at a dinner for influential Muslim on Saturday night--providing campaign materials in Arabic.
Howard Dean is also popular among Muslims because of his consistent stance against the war in Iraq and his positions on jobs and the economy.
John Kerry, Joe Leiberman, and John Edwards may have less appeal on these issues. All voted in favor of the war in Iraq and in favor of the original Patriot Act. But they have all expressed opposition to "Patriot Act II," which would further expand authority to detain and investigate U.S. citizens. Muslims also tend to view Kerry's position on the Israeli-Palestinian conflict as sympathetic to Palestinians.
Still, chances are that the Democratic candidate will not have to work very hard to win American Muslim vote in 2004, nor that the Bush campaign will do much to win it back.
Husnia Koutainay, a Palestinian American says attitudes have done a "complete flip-flop since 2000," when many Arab and Muslim Americans supported George W. Bush. "He presented himself completely differently then. He's done a 180 degree turn. Everything that is happening drives us away from Bush."