To many, Lake Tohopekaliga is a wildlife and recreational oasis--in the midst of urban sprawl.
Referred to locally as "Toho," the lake, which lies southeast of Orlando's famed Walt Disney World, is host to bald eagles, sandhill cranes, waterfowl, wild hogs, deer and alligators.
It is also known for its waterfront homes, and a world-class sports fishery, making it an important tourist destination that brings millions of dollars to the local economy.
A closer look, though, reveals a simmering problem. Wildlife officials say Lake Toho is in ecological trouble, requiring an aggressive cleanup.
Almost all 39 miles of shoreline are clogged now with acres of thick, black muck, and unwanted vegetation which choke out spawning habitat for largemouth bass and other fish.
Biologists said years of nutrient runoff from Orlando and Kissimmee accelerated the build-up of plants and organic material. A man-made flood-control system also prevented the lake from cleansing itself naturally through drought and flooding.
Mikel Hulon, of the Florida Fish and Wildlife Conservation Commission, said, "The lake just continues to build up with organic sediments and gets smaller and smaller and smaller as the shorelines encroach to the middle of the lake."
After dropping the lake's water level by six feet, they plan to use bulldozers to scrape away up to 10 million cubic yards of muck and overgrown plants. The material will either be hauled away, or re-deposited in the lake to make 30-50 fifty small islands.
Hulon said it is a necessary fix, adding, "It's like maintaining your garden. You have to go in and periodically weed your garden."
This will be the fourth time Lake Toho has been drawn down to improve aquatic habitat.
Many anglers believe this latest, and most dramatic, attempt will vastly improve an already impressive fishery. "It will be a fisherman's paradise," said Kenny Vestal, visiting from Sidney, Ohio.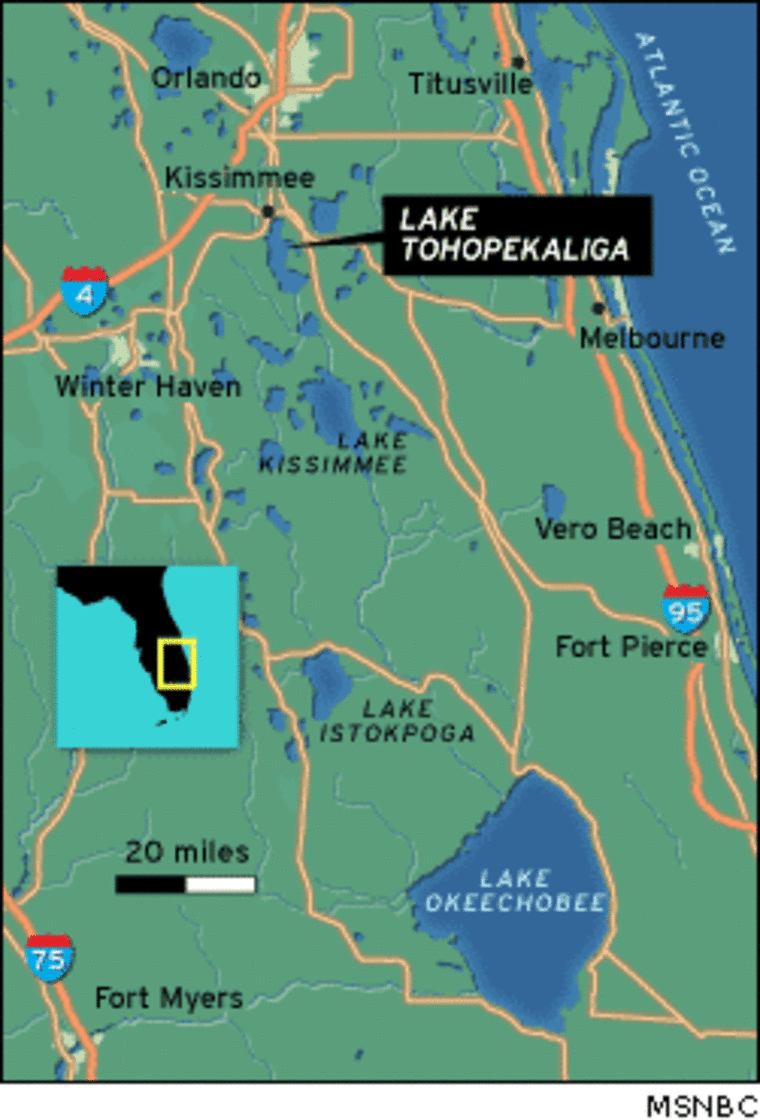 To siphon Lake Toho, officials first dropped the water levels of three other lakes connected to the south.
Water from Lakes Cypress, Hatchineha, and Kissimmee was moved down the Kissimmee River to Lake Okeechobee. It was also sent across central Florida to the Gulf of Mexico and the Atlantic Ocean.
Opponents of the project said when the drawdowns began, Lake Okeechobee was already swollen by heavy rains, and claimed the last thing it needed this fall and winter was more water.
Okeechobee fishing guide and lifetime resident Manning Dyals said high water levels have already destroyed miles of bulrush and other plants, and argued the Toho drawdown just prolonged the problem. He said there are areas of the lake where he no longer takes fishing charters.
Gail Powers, owner of Gail's Bait Pail, a tackle shop, and the president of a Lake Okeechobee business owners association, said, "We're sacrificing the ecosystem for one pet project."
Powers argued the Toho cleanup should have been delayed to a drier year. While she boasted of spectacular fishing this year, she said she worries about future years, and the economic impact, if Okeechobee water levels aren't better controlled.
Mark Perry, the executive director of the Florida Oceanographic Coastal Center, in Stuart, said an overflow of freshwater entering the brackish estuary "creates the killing or dying back of oyster beds, sea grass beds and fish lesions."
He added, "We've drowned Lake Okeechobee, so now we're having to dump the water again."
Concerns are also raised about a massive 20-year project to restore the natural flow of the Kissimmee River, which connects the drawdown areas with Lake Okeechobee.
Aboard an airboat in the middle of the river's floodplain, Paul Gray of Audubon of Florida, said the area could be harmed — ironically — by drought. He said when the Kissimmee River's flow is severely reduced to allow Lake Toho to refill with rainwater, a harmful dry spell could last for two years.
Surveying acres of new plant growth, he said, "All these marshes will dry out. All these birds will have to go somewhere else."
Recently environmentalists tried to convince a federal judge to halt the Toho project, but failed.
They argued the benefits of the project outweigh any temporary hardships, which they said would be minimal.
Opponents countered that most of the water bound for the storage areas still has to pass through Lake Okeechobee, at a time when water levels remain too high.
The accelerated growth of unwanted vegetation along the Lake Toho shoreline, and the concerns downstream over the effects of the restoration plan, they said, underscore a broader point — the dangers of man toying with nature's delicate balance.