Today we got the best look yet at Google's anti-iPad, the Android 3.0 Honeycomb tablet OS. Though much has been shared previously, it's finally clear what Google is doing to differentiate its tablets from the iPad — and what Google thinks works so well on Apple's platform that they're borrowing it for themselves.
Hit the home screen
Google knows that the home screen is the chief battleground for smart phones and tablets right now. When you go to the iPad's home screen, the icons just kinda stare up at you. Nothing comes to life until you've clicked on an app. On the Android Honeycomb tablet OS, the home screen can be alive with activity from various widgets, including stacks, grids and lists, all showing content that changes whenever updates arrive.
Even switching from one app to another from the home screen is a dynamic experience — like the latest desktop OSes, you can see an updated thumbnail of the app you're switching to before you click on it.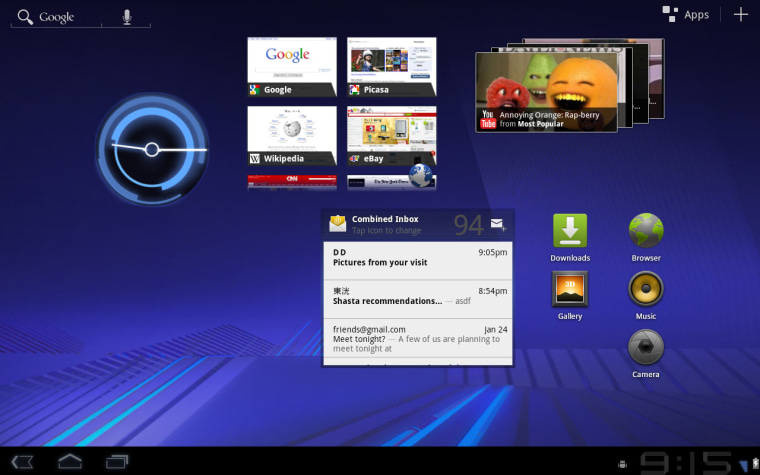 Notified, not annoyed
Notifications can be super annoying, and they're definitely not one-size-fits-all. Currently on the iPhone and iPad, there are pop-ups that all look the same, and either take you to the source of the alert, or get dismissed, never to be seen again. Honeycomb, of course, has the system tray, which lets you ignore meaningful but poorly timed notifications until later. But there are now also new pop-ups of different sizes, that can show up in different places. Meanwhile, the system tray itself is designed for a bottom-up glance, with the transparent "holographic" user interface.
Go native, go big
The trouble with the Samsung Galaxy Tab was that not even Google wrote specific apps for its 7-inch screen. For Honeycomb, which will make its first appearances on the Motorola Xoom (on Verizon) and the LG G-Slate (on T-Mobile), Google wrote a lot of native apps. Big ones. Gmail was spotted when Google unveiled the Honeycomb preview, but the Music player is pretty good looking, too, with a "Cover Flow"-like album view. YouTube launches as a tiled wall of videos, and Google Reader has three-dimensional turning pages.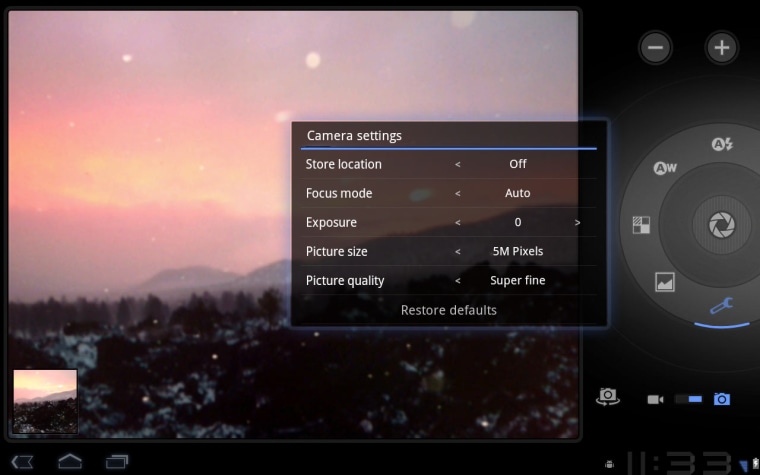 I have always laughed at the idea of a tablet with a front-facing camera — holding a giant slate seems weird. But Google proved that a tablet can provide a great large interface for cameras. Here you can see the dial selector for standard features, plus pop-up transparent menus, all the while keeping the shot itself on screen as large as possible. It's impressive, and probably useful — as long as the camera itself is up to snuff.
Developers, developers
Though there's nothing mind-blowing about the apps presented Wednesday, it was good for Google to take a page from Apple's book and show off the wares of its developer friends. CNN, Disney Interactive and SouthPeak Games all took the stage.
Besides the show of friendship, Google is accommodating developers in many ways, at the software level. One great example is "fragments," boxes that developers can put in their apps that will show up as a full screen on a phone, but as one of several tiles (or "fragments") on the tablet screen.
Google is also building new security and DRM support into the newest OS, so that there can be apps that require encrypted storage or password expiration, for instance, and media apps that stream audio and video can bring their own DRM to the platform. That's good news for you, since it may be the thing that Netflix and others have been looking for in order to bring the Hollywood content to Android.
More power
Google is also stepping on the gas pedal, harnessing more power for the Honeycomb OS in the form of hardware acceleration of graphics, better support for 3-D graphic rendering and the ability to manage apps and system software on multicore processors. This is a given since the forthcoming Motorola and LG tablets will have dual-core chips, but it's good stuff, and it's another thing that will make developers — particularly game developers — quite happy.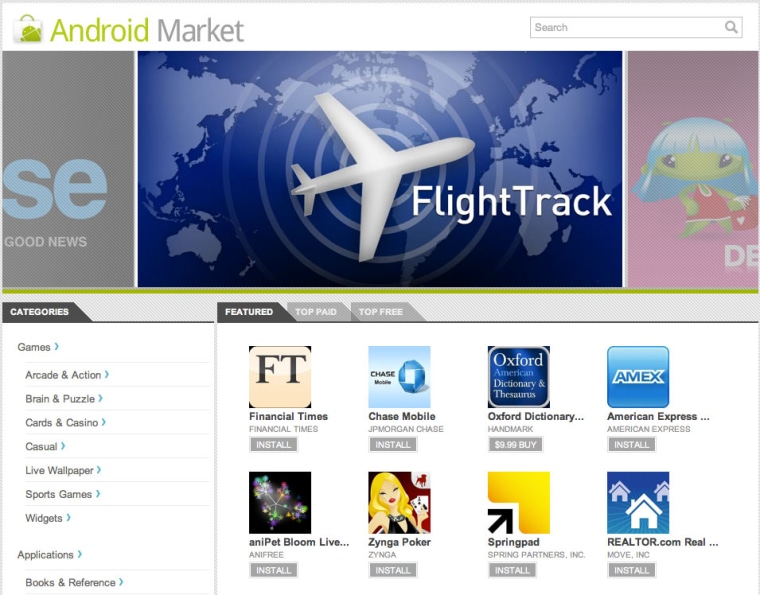 Buy on Web, buy in app
Google's final point was one that sounded great to both customers and developers alike: You can finally buy Android apps on the Web, and you can finally buy "virtual goods" inside apps. Both of these were advantages Apple had.
The Web store just makes sense: You shop on a larger screen, and easily scan reviews, specs, and even "permissions," the resources an Android phone needs for an app to do its job.
Once you pay, via a credit-card-based account, the phone or tablet begins to download the app automatically — there's no sync with a computer involved. There's a management page to sort through your apps, and to determine which apps go to which devices, if you have a few. (More on the all new App Market here on Technolog.)
As for in-app purchases, that helps developers make money in ways they just can't otherwise. If someone has a magazine app, for instance, they can pay for each issue and load it as it's published, without having to download a whole new app every time. Gamers can buy levels or special gear while they play, without interruption. Google has had a hard time getting developers excited about Android, and this is sure to make a difference for many.
Can Honeycomb sting Apple?
With Honeycomb, Google is bringing a lot to the tablet that it never gave to the phone, and the phone still managed to take off, becoming the No. 1 smart phone platform in the world in a few short years. The iPad is a great platform for app developers, but it's not without its flaws. We still have to see how Honeycomb works on a finished product — all of this new functionality can't possibly come without some tradeoffs in battery life, in support for older Android versions, or, let's face it, in overall confusion over Android device features. By adding so much, Google may end up making tablets too much like Windows PCs, which customers have turned away from in their embrace of smart phone and the iPad.
It's also worth mentioning that though Honeycomb is officially version "3.0" of the Android operating system, it's current implementation is for tablets only. We'll see many of these features in Android phones, for sure, but right now, Google has not shown off a "small screen" version of the OS.
With so many things remaining to be seen, today we at least got a good sense of what Google is doing to confront Apple's tablet success, and how serious they are, at last, about the cool new category. That's good news for everybody.
More of Wilson's Android tablet coverage on msnbc.com's Technolog:
Catch up with Wilson on Twitter at , or join the conversation on .