/ Source: msnbc.com staff and news service reports
Hard ice and heavy snow slid off Cowboys Stadium's domed roof Friday, injuring six workers hired to prepare the venue for the Super Bowl, authorities said. The accident followed a storm that dumped 5 inches of snow on Dallas roads and runways, complicating Super Bowl travel plans.

One man was struck in the head and another was hit in the shoulder, said Arlington Fire Department spokesman Pete Arevalo. They were in stable condition Friday afternoon. The other four injuries were considered minor. Initial reports conflicted on the number of injured and the severity of the injuries.

Food service worker Doug McCracken said he and a friend pulled up to the area just in time to see what looked like snow flurries blowing off the building. Wonder turned to shock when he realized someone had been hit.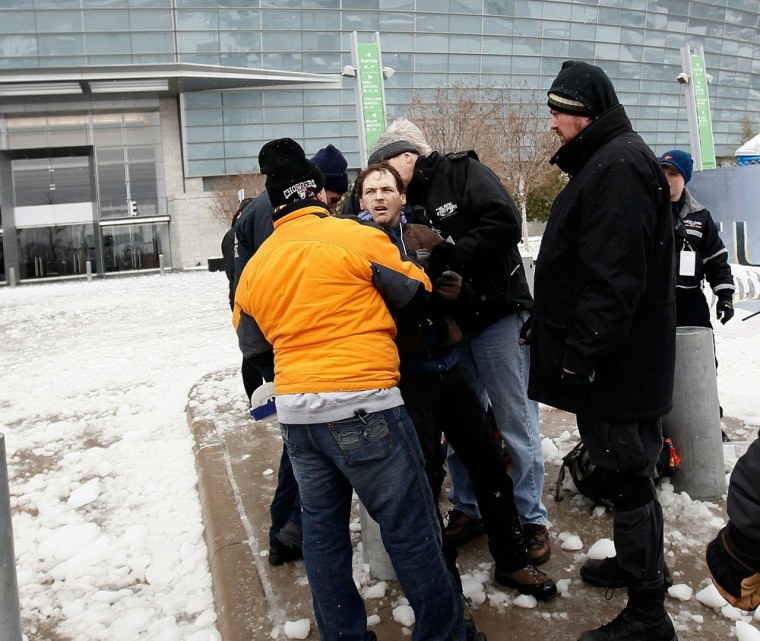 "What we saw was hard ice. It shattered, it was everywhere," McCracken said. "We thought maybe it was snow at first but it was ice. Hard ice."

Arevalo said the area around the stadium will remain off-limits until the ice on the stadium is gone. He said the NFL has raised the temperature inside in an attempt to melt the ice before it can come down.

Officials immediately closed off all but one entrance and kept people 100 feet away from the stadium.
"All stadium entrances have been closed except for the truck tunnel, which is away from the building by a very safe distance," as saying.
Emergency crews had not factored in ice as a Super Bowl problem since the stadium had never had snow, Arevalo told the Dallas Morning News. "That's one thing we didn't take into consideration," he said.
Earlier Friday, many Dallas roads were closed due to snow and ice.
An area that usually sees highs in the 50s has had subfreezing temperatures since Tuesday morning. And while warmer temperatures are on the way, snow and ice will still be on the ground Sunday.
Dallas felt the chill Friday with the mercury resting at about 20, forcing organizers of at least one celebrity-filled Super Bowl event to move their Saturday celebrations inside.
A winter storm warning was in effect Friday for Arlington, the Dallas suburb where the Pittsburgh Steelers and the Green Bay Packers will play in Cowboys Stadium. Forecasters expect a mostly sunny Sunday with highs in the 40s, but just in case the retractable roof of $1.3 billion stadium will be closed.
Houston saw icy roads that led to some 200 crashes by midmorning, including one death on Interstate 10, Several freeways were closed down due to the ice, and could stay closed until Saturday.
Hundreds of flights were canceled just as tens of thousands of Super Bowl fans were trying to fly in for Sunday's game.
In Dallas, Love Field, home to Southwest Airlines, was closed for the entire morning Friday, and more than 600 flights, half of them inbound, were canceled at Dallas-Fort Worth International Airport.
American Airlines, the dominant carrier at Dallas-Fort Worth, said it was giving priority to flights from Chicago, Pittsburgh and Milwaukee.
Sammy Sandu, a 32-year-old property developer from Kelowna, B.C., and his father made it to Dallas Thursday before the latest snowfall, but other members of their party weren't so lucky. Sandu's brother was still hoping to get in from Miami, while his friend essentially abandoned travel plans after an American Airlines flight from Vancouver was canceled.

Sandu had hoped to visit the JFK assassination site and attend several parties — he said his brother spent $1,500 on party tickets — but that all those plans were on hold.

"It looks like, 'Oh, no, I'm back in Canada,'" Sandu said. "It's just pouring down snow. Are we still at home, or have we left? We didn't drink that much last night, did we?"
Houston's airport saw nearly 900 flights canceled by midmorning.
In Houston, KPRC meteorologist Anthony Yanez warned the ice would be around for most of the day — and Saturday morning.
"The ice that's there now really is not going to move, it's not going to melt away, until a little after the lunchtime hour," he said. "And it's not going to melt away completely because temperatures in the afternoon won't climb enough."
"By 9 p.m., we're going to head back below freezing again," he added. "Tomorrow morning we'll see that ice again."
Most schools in the Houston and Dallas areas were closed Friday. The same was true in Brownsville, Corpus Christi and Austin, where even the 51,000-strong University of Texas shut down.
North Texas is still trying to recover from an ice storm on Tuesday — part of a massive system that brought tremendous snow and bone-chilling temperatures to a large swath of the country this week.
Neighboring Oklahoma, still recovering from up to 20 inches of snow earlier this week, meanwhile braced for yet more.
National Weather Service meteorologist Cheryl Sharp in Norman said snow began falling about 2:30 a.m. Friday and total accumulation could reach three to four inches in southeastern Oklahoma. Roads in the area are slick and yet more snow was forecast for Sunday.
Elsewhere Friday, the bitter cold seeped into the South, where icy roads were blamed for several traffic deaths in Louisiana and Mississippi. The system extended its grip as far east as North Carolina, where freezing rain was possible.
The frigid weather also disrupted natural gas service in New Mexico and caused water pipes to burst in Arizona. Snow- and slush-covered roads made driving hazardous across Texas and neighboring states.
Greyhound spokeswoman Bonnie Bastian says the weather disrupted travel through Texas, Oklahoma and parts of Arkansas and Tennessee.
"We are accommodating people as much as possible," she said. "We obviously know this is an inconvenience, but safety is our core value. We can't put people out on the roads if it's not safe."
By late Friday morning, 23-year-old Katrina Smith had been waiting in the Kansas City terminal for more than 30 hours. She was supposed to be in the city just 15 minutes to transfer buses as she headed from Denver to Tulsa, Okla.
In Vermont, a man buried up to his neck in snow that fell off his roof was saved by a trooper who spotted his head and gloved hand.

Police say 52-year-old Jean Butler of Newfane was raking snow off his house Friday when the snow toppled from the roof, trapping him for about two hours.

A neighbor heard his pleas for help and went to his house but didn't find anyone. She then called police.

Vermont State Police Trooper Genevra Cushman found Butler in the snow pile and started to dig him out.

Rescue and fire crews were called in to help pull Butler from the snow. Police say he was cold but in good spirits.