Seven Martian hills surrounding the Spirit rover's landing site would be dedicated to the crew of the space shuttle Columbia, NASA Administrator Sean O'Keefe announced Monday.
"These seven hills on Mars are named for those seven brave souls, the final crew of the space shuttle Columbia," O'Keefe said in an statement released by the agency. "The Columbia crew faced the challenge of space and made the supreme sacrifice in the name of exploration."
Columbia was commanded by Rick Husband and piloted by William McCool. The mission specialists were Michael Anderson, Kalpana Chawla, David Brown, Laurel Clark; the payload specialist was Israeli astronaut Ilan Ramon. All seven were lost on Feb. 1, 2003, when the shuttle broke up during re-entry through Earth's atmosphere.
The 28th and final flight of Columbia was a 16-day mission dedicated to research in physical, life and space sciences. The Columbia crew successfully conducted approximately 80 separate experiments during their mission.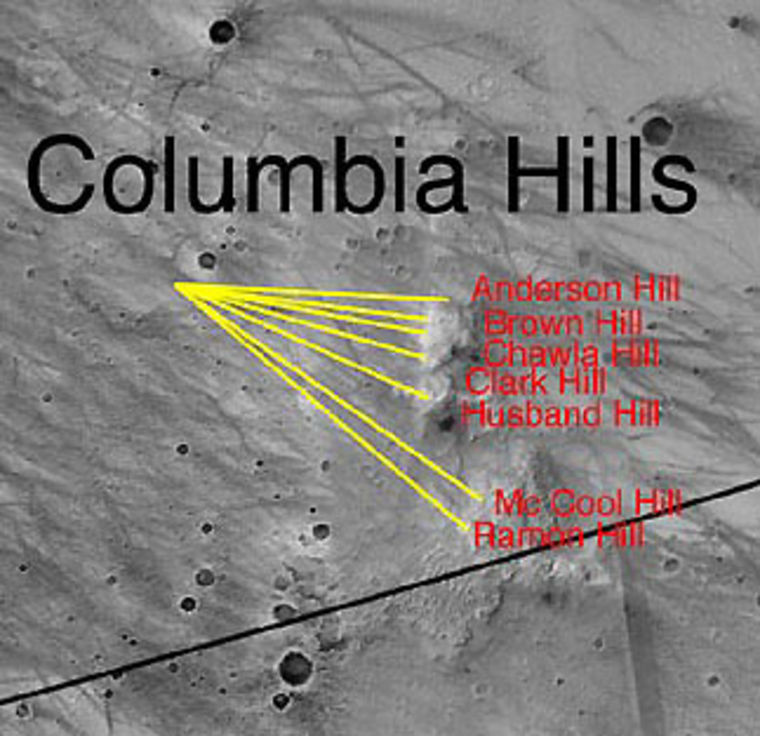 NASA will submit the names of the Mars features to the International Astronomical Union for official designation. The organization serves as the internationally recognized authority for assigning designations to celestial bodies and their surface features. A similar procedure likely will be followed for three other hills near the Spirit landing site, which NASA named after the three astronauts who lost their lives in the Apollo 1 fire on Jan. 27, 1967: Gus Grissom, Roger Chaffee and Ed White.
The  are to the northwest and southwest of the Spirit site in Mars' Gusev Crater, while the Columbia Hills are to the east and southeast.
Last month, Spirit's landing site was itself named , while the Opportunity rover's landing site was designated to honor the seven astronauts who lost their lives in the 1986 Challenger explosion.