/ Source: TODAY contributor
The Force was with TODAY Monday when the pint-size Darth Vader who has stolen America's heart came to Studio 1A and tried to wield the same powers that seemingly brought a Volkswagen Passat to life in this year's breakout Super Bowl ad.
He had an early success in the makeup room, apparently turning on a hair dryer with a thrust of his hands.
The diminutive Darth's efforts to channel metaphysical energies were more hit-and-miss when he tried to work them on a coffeemaker in the greenroom or on monitors in the TODAY control room — but 6-year-old Max Page's star power couldn't be stifled, even by the bulky helmet he wore.
Max's Super Bowl ad shows him in full Vader regalia, struggling vainly to use the Force to start a washer and dryer, rouse the family dog, and bring a baby doll to life. But when he heads outside to work his magic on his dad's 2012 Volkswagen Passat, he's shocked when the engine roars to life — little knowing that his father has started the car by remote control from the kitchen.
Beneath the helmet
On TODAY Monday, Max doffed his helmet to reveal a towheaded tyke with an impish grin. He was accompanied by his mother, Jennifer Page, who told Matt Lauer and Meredith Vieira that it's still sinking in on her that her boy is an overnight advertising superstar.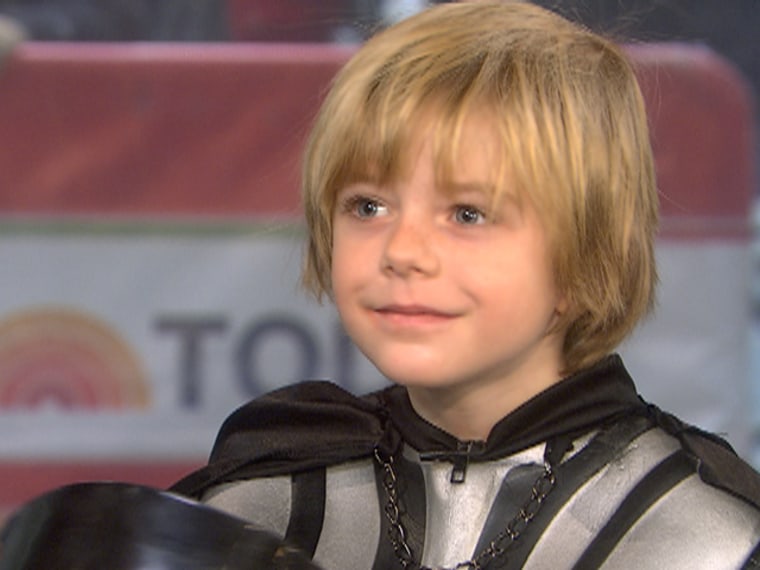 "It actually wasn't until halfway through the first day of filming that we even knew it was a Super Bowl commercial," she said. "I was like, 'Whoa, this is out of this world!' "
Max is no stranger to the camera — he's been performing since he was barely able to walk, and is known to soap fans for his recurring role as Reed Hellstrom on the CBS soap opera "The Young and the Restless." But 100 million Super Bowl viewers is a new galaxy of stardom.
Jennifer said she suspects Max won the gig over hundreds of other hopefuls because he acted naturally. He's never seen a "Star Wars" movie — too scary, he thinks — and only briefly looked up a picture of Darth Vader so he'd know what the character looked like.
Kid stuff
In an earlier TODAY segment, advertising executive Donny Deutsch — former owner of Donny Deutsch Advertising Inc., which booked the spot for Volkswagen — said that the real Force of the ad was seeing a kid do what kids love to do: make believe.

"I was watching with a group of people, and there was a 35-year-old guy [who] said, 'That was me, growing up on Star Wars,' " Deutsh said in a segment assessing this year's Super Bowl ads. "If you have kids, that's just it; that's kids."
Volkswagen and its agency made an unconventional choice with the commercial: Instead of retaining the element of surprise until Super Bowl Sunday, they openly leaked the spot on YouTube a week earlier. The tally of views there grew so fast, it had Jennifer Page seeing stars.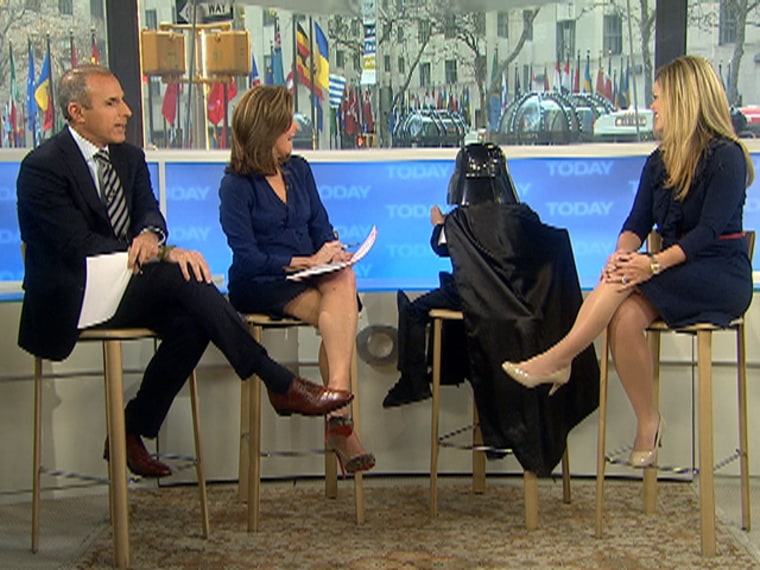 "The first night it was at 60,000, and I went to bed," she told Lauer and Vieira. "When I woke up the next morning it was at a million, and then my mind couldn't comprehend after that."
That some 8 million people ultimately watched the commercial before it even hit national TV Sunday was a stroke of advertising genius, USA Today business reporter Laura Petrecca told TODAY during the Super Bowl ads segment.
"A crowd at a Super Bowl party — how many people are going to stop and pay attention to a Darth Vader?" she said. "But if people say, 'Hey, hey, don't talk now, watch this ad because it's getting a lot of buzz,' you're going to pay attention."
Little Max told Lauer and Vieira that the buzz also extends to his classmates "a lot," he said. "Some friends said they can't see it, they wished they could."
Surgery at 3 months old
Max's overnight stardom is all the more remarkable because of his serious health issues. When he was an infant, he was diagnosed with the heart defect Tetralogy of Fallot.
"He had his first surgery when he was 3 months old at Children's Hospital in Los Angeles," Jennifer Page explained. "They saved his life and gave him back to us about a week after his first surgery. He had to have a pacemaker put in, so he has maintenance on that.
"He's still routinely at the hospital, but we try to make it fun; we have blankets and bears and we try to make it not so scary."
Max's prognosis for a healthy life is good, but his condition puts his acting career in perspective. His mom said that little things mean more than 100 million pairs of eyeballs: She recalled seeing a father watching his son tear around a garden at a press conference for Max, and the dad's saying, "Just to see him run and play is enough."
"That was always enough for us, too," Jennifer Page said. "Just to see that little ray of hope of what a couple of years ahead looks like. He can do anything."