Wisam Rady was working in his studio as usual when he first saw the video of Saddam Hussein on a tiny 5-inch black-and-white television. A mesmerizing image of the ragged former dictator, fresh from his "spyder hole" baring his tonsils for all the world to see.
How the mighty had fallen, Rady thought in December, as the once-defiant ruler of Iraq was being inspected for lice by U.S. soldiers.
It was too much to believe. Rady wept uncontrollable tears of joy.
An odd reaction, one might think, for someone who used to make a living glorifying the old regime. As an editorial cartoonist for the Al Jumhuriya newspaper, a Baath party organ, Rady was a first-rate propagandist. But that was just his day job.
"I had to have a job, I had to make money," he said, while finishing one of his latest paintings.
Saddam's Ministry of Information, which oversaw the work of writers and artists during the regime, provided a list to each Iraqi newspaper of how to portray Saddam (a symbolic falcon). the Iraqi flag (always as a top banner) and the military (strong and heroic).
Looking at a collection of yellowing newspapers containing his work, the drawings, with their flapping flags, birds of prey, and unflinching defenders of the homeland, are reminiscent of the melodramatic, patriotic excess of the old Soviet propaganda machine. Rady could produce them without thinking and often did.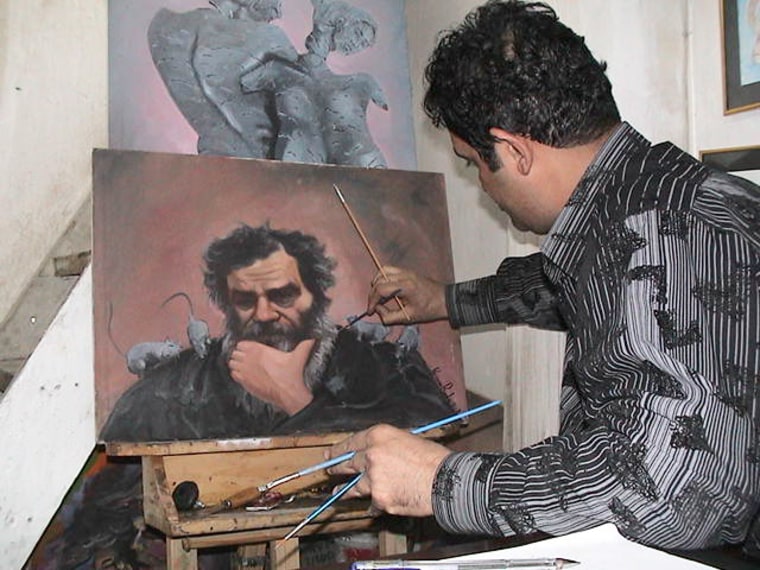 But now he is free to paint what he wants -- and it's Saddam again.
But now on his canvas is the unmistakable visage of post-capture Saddam, his eyes vacant, his hand touching his scruffy beard, similar to Rodin's "Thinker," complete with four rats perched on his shoulders.
Imprisoned by Saddam
For although Rady worked for the regime, he also suffered under Saddam.
The painter said he received a a 20-year sentence on a trumped-up charge after he was found sleeping with the daughter of a government minister.
Lucky for him, he only served a year and half of the sentence before being freed. But it was a year, he said, in which hell would've made a nice holiday.
It was spent in Iraq's Abu Ghraib prison, infamous for its sprawling wretchedness, sadistic guards, and merciless criminal population. 
"I learned my lesson," Rady said. "For the rest of my life I will never be with a rich girl again, only poor ones." 
Growing up poor
It's surprising Rady, the son of an army sergeant and the middle child among 11 children, could have breached Baghdad's inner power circle with a romantic liaison.
It's even more remarkable because he grew up a Shiite in one of Baghdad's poorest suburban slums, Ath Thawra, which the dictator renamed Saddam City because so many of the young men who died in the Iran-Iraq War were drawn from there. After Saddam's fall it was renamed Sadr City, after a Shiite imam killed by the regime.
Rady, as a child in Ath Thawra, had to peddle trinkets on the street to help his family make ends meet. He also used some of his earnings to buy arts supplies: pencils, paper and paints. By the third-grade he won first prize, 100 dinars (about 10 cents) in a school contest — in which glorifying the regime was the goal. It was a prelude to his later career.
Now 36, Rady still lives at home with his parents in Sadr City. He lives with his family partly because they are so close and partly as a result of his prison time.  His time at Abu Gharib deeply wounded him, he said. 
The rats on Saddam's shoulders
It may seem strange to try to heal in Baghdad, a city so strewn with garbage that goats feast along the median strip, among the passing traffic.
It is also the inspiration for the rats on Saddam's shoulders.
"There were no rats in Ath Thawra," Wisam said. "And then one morning we awoke and the city was infested with them. It was a scheme by Saddam to make the people sick."  Or so the people of the city believed.
Rady says he first did the post-Saddam capture paintings for his own catharsis. He shot a digital picture of the television video and turned reality into artistic realism.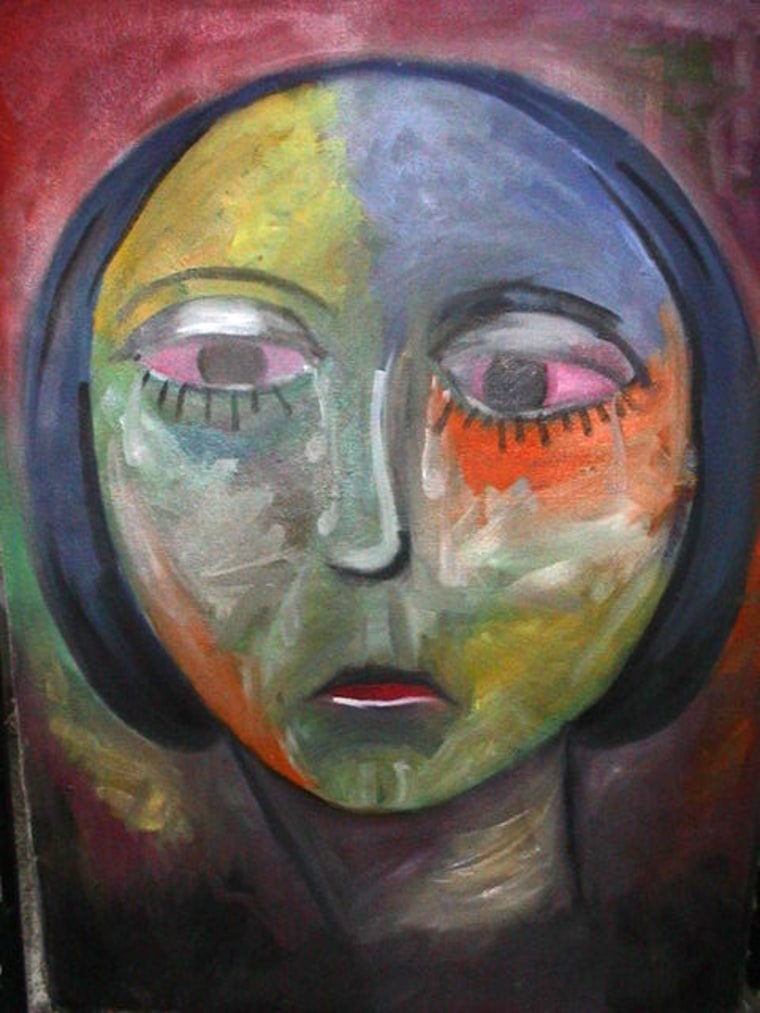 When he added the rats, the work somehow transcended the painterly necessities of so many Iraqi artists who knock out quick commissions on popular contemporary motifs. Now the work was more than just a colored mirror of a current event. Now the work found an audience.
Local newspapers began doing stories on Rady. American Army officers and western journalists began buying the paintings at $100 a pop. A steal, by Soho standards, but a good price in postwar Iraq.
At his home, Rady's mother, covered from head to toe in black but an animated presence nonetheless, expressed her opinion on the Saddam portrait. "Saddam," she laughed, "it should have been something much worse than rats on his shoulders."
She said she's happy with his current success, but worried about him during the regime.
At one point, Rady drew an unflattering image of Saddam's right-hand man, Izzat Ibrahim al- Douri -- now the coalition's most-wanted man in Iraq -- and had to go into hiding for three months. It took a 500,000 dinar bribe to a Ministry of Information official (about $250 at the time, an absolute fortune) to undo the damage.
Depicting Iraqis suffering
For years, Rady painted pictures of Iraqi suffering. But he did it out of sight, in a small, dark, seventh floor-apartment, where Saddam's henchmen and women could not see them. These paintings did not glorify the regime, Saddam or the Baathists.
After the donkey toil of the day, he moonlighted to create works that challenged the public face of the Saddam's Iraq.  It was work that could've put him behind bars again — or worse.
Rady described his work as pictures of the collective Iraqi soul; an intelligent, innovative, proud people forced to live the daily lies of Saddam's thuggish, egocentric rule. As as a result their inner turmoil was represented by subtle physical deformity, crossed eyes, misshapen heads, and rendered in carnival colors.
It was surreptitious protest, seen only by friends and fellow artists he could trust. But it was also a spiritual antidote, a firewall to separate his daytime government obligations from his nighttime passion.
Rady has larger goals than to just be known as the artist who paints Saddam with rats. He says he will stop painting those kind of pictures very soon.
Rady sees the irony in now finding success depicting realistically, a man whom he was once paid to depict mythically -- a man he despises, yet one who inspired him to document the pain of a nation, and his own.