Microsoft has now released the almost final version of Internet Explorer 9, the successor to the most popular browser of all time, Internet Explorer 8.
Internet Explorer, as a franchise, has always been somewhat mediocre. It has never been a bad browser per se, but with almost zero competition for half of its life, it has never been to encouraged to overachieve. Then a threat to Microsoft's crown emerged: Firefox. Internet Explorer could no longer rest on its monopolistic laurels; it had to compete! It wasn't until the launch of Google's Chrome browser in 2008, however, that things really heated up.
2010 saw a frantic battle between Microsoft, Mozilla, and Google to one-up each other in terms of Web browser performance and functionality. For the most part, the browsers haven't concerned themselves so much with usability, but now — now that it's 2011, the browsers are ready for prime-time consumption. Internet Explorer 9 has been polished until it shines — and if the only browser you've used until now is Internet Explorer 8, you're in for a rather big and pleasant surprise. (Msnbc.com is a joint venture of Microsoft and NBC Universal.)
Before we get started, if you have a Windows Vista or 7 computer, download the Internet Explorer 9 Release Candidate. You may need to reboot your computer after installing, so bookmark this page!
Epic changes
The most significant change to IE 9 is its interface. Almost every button and menu has been hidden away, leaving just three little buttons in the top right corner and a few tiny buttons in the address bar.
Microsoft says that only a tiny minority of users actually configure their browsers, so why bother cluttering the interface up with useless icons? Still, if you want to access the menu bar (File, Edit, View, etc.), just hit the Alt key on your keyboard and it will pop up. Almost everything can be accessed from the Cog menu in the top right corner, too.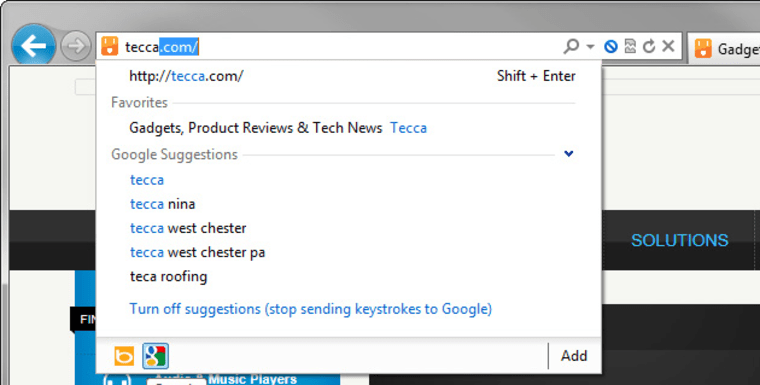 You will notice that tabs are now in line with the address bar — and there's no search box. Search has been integrated with the address bar (dubbed the "One Box" by Microsoft), which means you simply start typing in the box, and IE 9 works out whether you are searching, typing an address, or looking for your favorites. Bing is the default search provider, but you can change it by clicking the Google icon at the bottom.
Security and privacy
In December 2010, the FTC strongly suggested that Web browsers implement "Do Not Track" functionality to give users a choice in whether they are tracked by advertisers across the Web.
IE 9 implements Do Not Track in the form of Tracking Protection Lists, which are human-curated lists of targeted advertising companies. By using these lists, you can prevent advertising companies from knowing what you search for, what you buy online, and more. Once you have IE 9 installed, just visit the Tracking Protection Lists site and choose a list to add.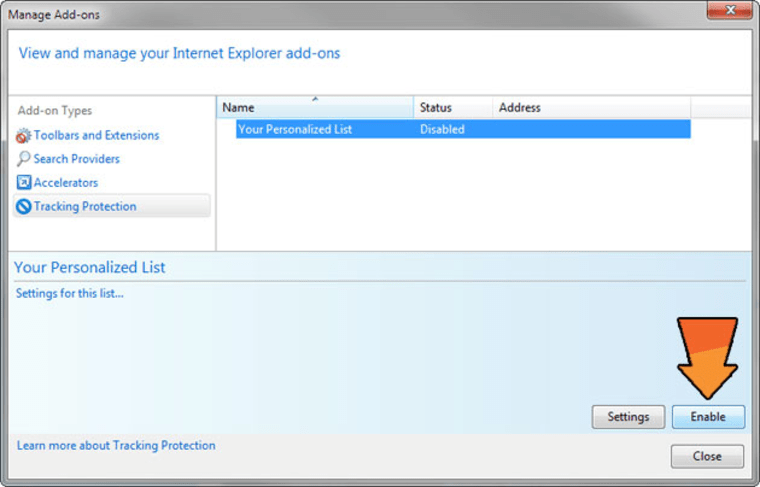 The other option is that IE 9 can automatically block companies that try to track you. Click the Cog in the top right corner, Safety, then Tracking Protection. For Your Personalized List, click Enable in the bottom right corner.
Making a return from Internet Explorer 8, you can also use InPrivate Browsing if you're surfing on a public computer or sharing a computer that other people use. InPrivate Browsing doesn't leave any tracks, so you don't need to worry about other people seeing your search history or which sites you've visited. To enable it, hit the Cog, Safety, then InPrivate Browsing. Alternatively, you can hit Ctrl+Shift+P on your keyboard.
Pinned sites
The coolest new feature in IE 9 is pinned sites, which allows you to launch your favorite websites straight from your Windows taskbar (the bar at the bottom of your screen). Pinning a site is really easy: just visit a website, then click and drag the site's tab down to your taskbar. Now, when you want to check the website, just click the icon!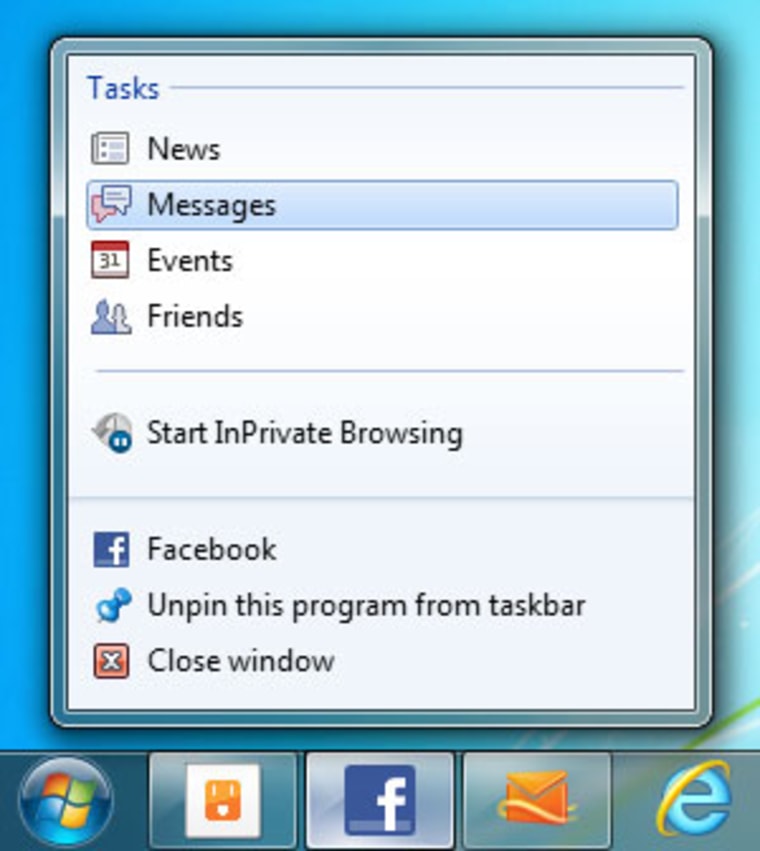 There's no limit to how many pinned sites you can have, so go ahead and make one for Facebook, Hotmail, Twitter, or whichever websites you regularly visit.
It doesn't stop there, though. For some sites such as Facebook, you can right click the pinned site to access a "jump list" of direct links. Instead of opening the site and navigating, you can jump straight to it from the pinned site — very cool.
Finally, pinned sites can also provide notifications. If a new e-mail arrives in your Hotmail inbox or something happens to your feed on Facebook, the pinned site will display a notification. Again, this only applies to some sites, but as IE 9 gains traction, more sites will support it.
Aero Snap
Finally, if you're using Windows 7, you can do a very cool thing with your IE 9 browser tabs called Aero Snap. Click a tab and drag it against the left or right side of your screen, then release the mouse. Your tab will stretch to fill exactly one half of your screen! Now take another tab and drag it to the other side of your screen — voilà! Side-by-side browsing. You might find this is particularly useful for comparing products on different websites, or copying and pasting from a website into an e-mail.
If you want to put the tabs back together, drag a tab over to another one and they'll group back up.
Give it a try
IE 9 is a great step up from previous editions of the browser. It offers a lot of improvements, both in the usability department and in security. This makes it a strong competitor with other modern browsers like Firefox and Chrome.
More stories from Tecca: