The three-story Victorian house looks like any other traditional British dwelling in a bustling commuter town. Red brick, white trim, stained-glass door and gravel driveway, all contained within a neat fence.
But inside, Turkish rugs overlap across the floors, exotic Moroccan lanterns hang in the place of chandeliers and tiles covered in Arabic calligraphy adorn the walls. The musky smell of incense hangs in the air.
This is the headquarters of the Khayaal Theatre Company, a charitable group that interprets classic Muslim literature and turns almost-forgotten stories into plays. Its mission is to highlight the Islamic world's rich cultural heritage and demystify the religion, thereby combating prejudice and misunderstanding.
"We believe that through working with these stories, making them more accessible to a wider contemporary audience, we can help to disprove the much bandied-around concept or thesis of a 'clash of civilizations,'" said Luqman Ali, chief executive and artistic director of Khayaal.
The deadly July 7, 2005, bombings on subway trains and buses in London and the bungled attack targeting Glasgow Airport in 2007, along with vocal Islamist clerics preaching an extremist message, have stoked hostility toward Muslims by an already immigrant-wary slice of Britain. Increasingly heated rhetoric on both sides has prompted people like Ali to take action to quell tensions between Muslims and non-Muslims.
Khayaal (which means "imagination") tours the U.K. performing at schools, universities, community centers and even Christian conferences.
Drama is the "path of least resistance" for many Britons wary of Islam, Ali says. "People are afraid of that which they don't know." Awakening people's imaginations is progress.
Roughly 2.9 million Muslims live in the U.K., or 4.6 percent of the total population, according to research by the independent Pew Forum on Religion & Public Life. That percentage has more than doubled since 1990 and is expected to double again by 2030.
Changing mindsets
While the majority of Muslims are not Islamists, who believe in a society based on Islamic Shariah law, many British Muslims regularly encounter animosity. The nonpartisan Gallup Center for Muslim Studies reported in 2007 that Muslims living in London were twice as likely as the general public to say they had experienced racial or religious discrimination in the past year (28 percent versus 14 percent). According to the report, religiously aggravated crimes were also rising and in the majority of cases (67 percent) the religion in question was Islam.
The British government's attempts to tackle these issues have sometimes triggered animosity. The Quilliam Foundation, a think tank that studies Islamist radicalization, lobbies the government, police forces, schools and other public bodies to improve their methods in fighting extremism. It challenges them to take into account tensions between Muslims and the British public.
"The main two points are to identify that yes, extremism is a problem, it's real and it's dangerous, and to ensure that any kind of policies surrounding it are only tackling extremists, not Muslims," James Brandon, director of research and communications at Quilliam, told msnbc.com.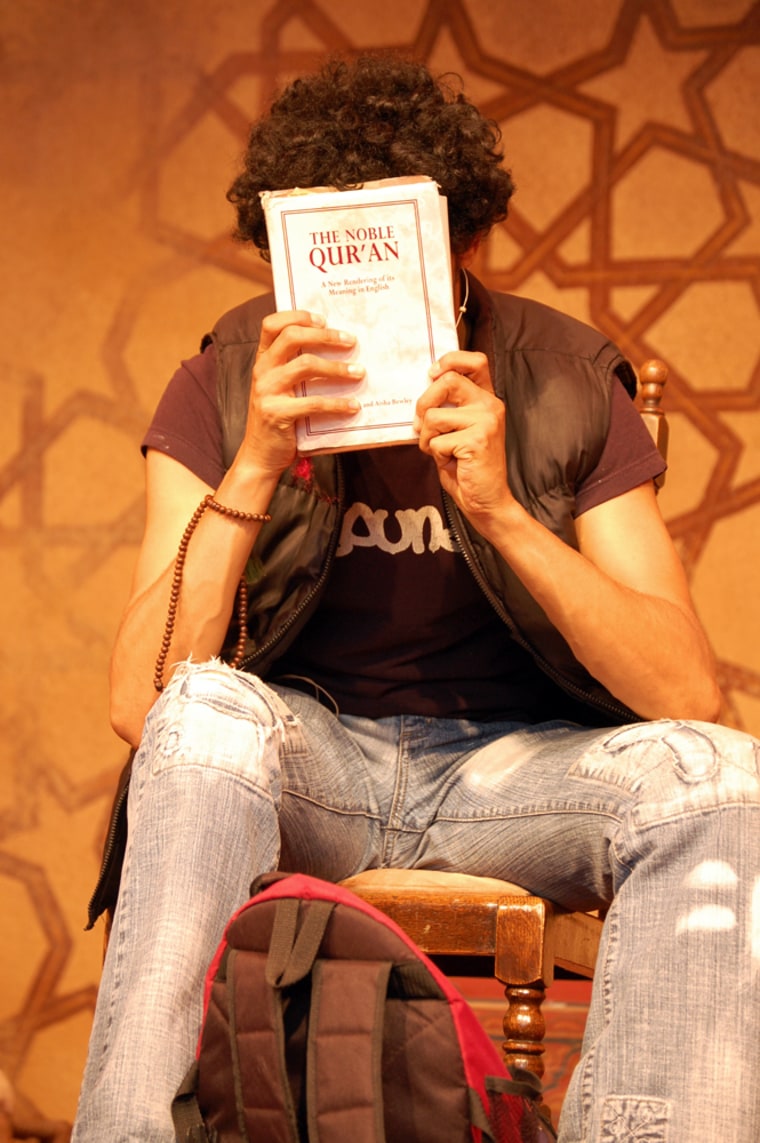 Quilliam was established in 2008 by two former Islamist activists, Maajid Nawaz and Ed Husain, who gradually became critical of their own ideology and then renounced it altogether.
Its researchers examine the most precise of topics – for instance, what kind of language to use when discussing Islam and extremists. One Quilliam report argues that using the term "the Muslim community" reinforces the Islamist belief that a Muslim's politics and day-to-day life should be determined only by his or her religion. Instead, it says, people should use terms such as "Muslim citizens" or "British Muslims."
It may sound like a minute and overly specific point to focus on, particularly when placed within the context of wider efforts. The British government's counter-radicalization Prevent program had a budget of £140 million ($226 million) in 2008-9. Amid controversy over its effectiveness the strategy is now being reviewed. Quilliam's yearly budget, meanwhile, has been roughly £1 million ($1.6 million). But even small gains make a difference, Brandon says.
"It's about changing people's mindsets. And they can't change overnight."
Intellectual battle
Dr. Taj Hargey, chairman and chief executive of the Muslim Educational Centre of Oxford and an imam, has positioned himself as a kind of translator for those spewing anti-Muslim rhetoric on one side and violent ideology on the other.
He studies the Quran analytically with his congregation, which is open to everyone – men, women, Muslims, non-Muslims – and combats radical Islam by demolishing its arguments.
Hargey describes his mission as two-fold: showing Muslims that the extremist ideal is not based on the Quran, and showing the non-Muslim public that Islam is not incompatible with the West.
"Extremism is not what Islam teaches," he told msnbc.com.
Hargey, who is conspicuously clean-shaven and shuns "traditional" Islamic dress, holds ultra-conservative clerics responsible for the violent, militant and misogynistic views held by some Muslims. Those beliefs, he argues, come from the hadiths – the Prophet Muhammad's teachings that were recorded some 300 years after his death – and not from the Quran. He likens those post-mortem writings to the way a "big fish" tale evolves over time.
But clerics are not the only ones at fault for the tensions simmering across Britain, he believes. Hargey is also fiercely critical of ordinary Muslims, who he says have themselves to blame for responding to European resentment by retreating into their own communities. By creating an "apartheid ghetto" they are actually allowing the forces of anti-Muslim bigotry free reign, he says.
"We give them the gun, we give them the bullet, then we tell them to shoot us," Hargey maintains.
According to Hargey, external symbols of Islam such as headscarves and burqas come across as alien and backward to many Europeans and exacerbate tensions further. He likes to remind people that those practices are not dictated in the Quran – in fact, the word "burqa" is not even mentioned. Head coverings have their origins in early Jewish and Christian cultures.
His harsh assessments invite strong criticism, of course, but he is undeterred.
"This battle must be waged intellectually," Hargey said. "We can win this fight because we have the text on our side."